Gateway Gallery starts this year's KulturaSeryewith the webinar ARTHENTICITY: Copyright and Responsible Art-Making.  
Artists love to create. When creating an original work of art, be it in visual arts, dance, or music, one has to know the importance of protecting one's work through a copyright. In a similar manner, users of created works should know how to use them responsibly to avoid any legal complications.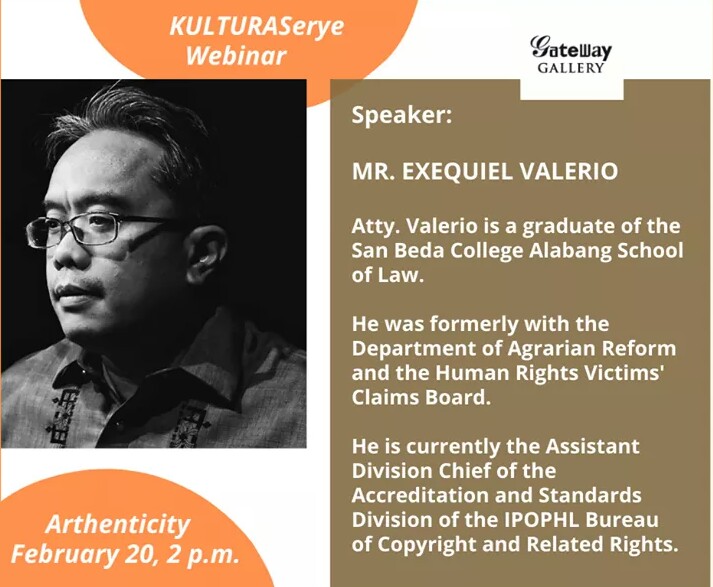 KulturaSerye's ARTHENTICITY will enlighten viewers on this neglected aspect of art-making. It will present the current copyright landscape, define it, its processes and mechanisms. It will also discuss current and pending laws that will cover the issue of copyright.
The webinar is most ideal for creators, designers, teachers, students, and art enthusiasts to gain a better understanding of copyright laws in the country in order to protect their works. It is co-presented by the Intellectual Property Office of the Philippines and the J. Amado Araneta Foundation.
Atty. Exequiel Valerio, resource person of the Intellectual Property Office of the Philippines, will deliver the talk. Atty. Valerio is a graduate of San Beda College-Alabang, School of Law. He is formerly with the Department of Agrarian Reform and the Human Rights Victims' Claims Board. He is currently the Assistant Division Chief of the Accreditation and Standards Division of the IPOPHL, Bureau of Copyright and Related Rights.
The 6th KulturaSerye webinar will be streamed live free on February 20, Saturday, at 2:00 to 3:30 p.m. from the Gateway Gallery Facebook Page (GatewayGalleryPH). The webinar is open to the public and does not require pre-registration. Viewers will also get an electronic certificate by filling up an online feedback form at the end of the talk.
To know more about the event, please go to https://www.facebook.com/events/2827473810902636/. You may also contact Gateway Gallery at gatewaygallery@aranetagroup.com, 8588-4000 local 8300, or via its social media at Facebook (GatewayGalleryPh), Instagram (gateway.gallery), Twitter (gateway_gallery), and YouTube (Gateway Gallery).
Gateway Gallery is the art museum of Araneta City. Though closed at the moment due to the pandemic, it currently operates the Gateway Gallery Learning Lab, a safe and conducive work space for teachers, students, and workers from home.  Reservation is requested for those who will use the Learning Lab.
Managed by J. Amado Araneta Foundation, Gateway Gallery is located at the 5th Floor, Gateway Tower, Araneta City, Quezon City.