While the pressure to live more sustainably is a huge commitment, it should not deter you from leading a more planet-loving lifestyle. Oftentimes the little things we choose to do can make a lasting impact over time.
With that in mind, here are some simple self-care tips that can benefit both you and the environment.
Switch to coffee beans
Nothing beats a good cup of joe in the morning, during work breaks, or even at night. You probably have a line of instant coffee packets in your pantry right now. However, those same coffee packets, which are most often made with non-sustainable materials like plastic, contribute to excessive waste in the environment. Try switching to ground or whole coffee beans and make a delicious cup with the use of a good French press. Not only do they taste (and smell) better than their instant counterparts, but you can also lessen your use of plastic. You also help support local coffee farmers when you buy their produce directly.
2. Explore natural alternatives for your skin
Some of you may like to take the time to relax and give yourselves a mini spa-day at home, with your favorite sheet masks and skincare essentials. But a lot of your favorite skin remedies are packed in plastic – even the sheet masks themselves! Lessen your plastic usage by exploring some natural remedies to try on your skin that you can easily get in your kitchen. Many natural face mask recipes are available online for you to try! So give yourself the spa day you deserve with a tomato face mask for skin brightening or a honey sugar scrub for smoother skin. Better yet, try incorporating these natural ingredients into your diet for a healthier look in the long run.
3. Lather, rinse, and reduce water wastage 
Taking long showers is a sure fire hit to help melt away those impurities on your skin, or that stressful day you just had. Those long showers, however, do not help the environment as they waste a lot of water. If you like heated showers, you waste both water and electricity. Save resources by switching off the shower or your faucet when you're soaping or shampooing. If you're willing to go the extra mile, finding other alternatives to long showers could also work wonders such as aromatherapy or meditation.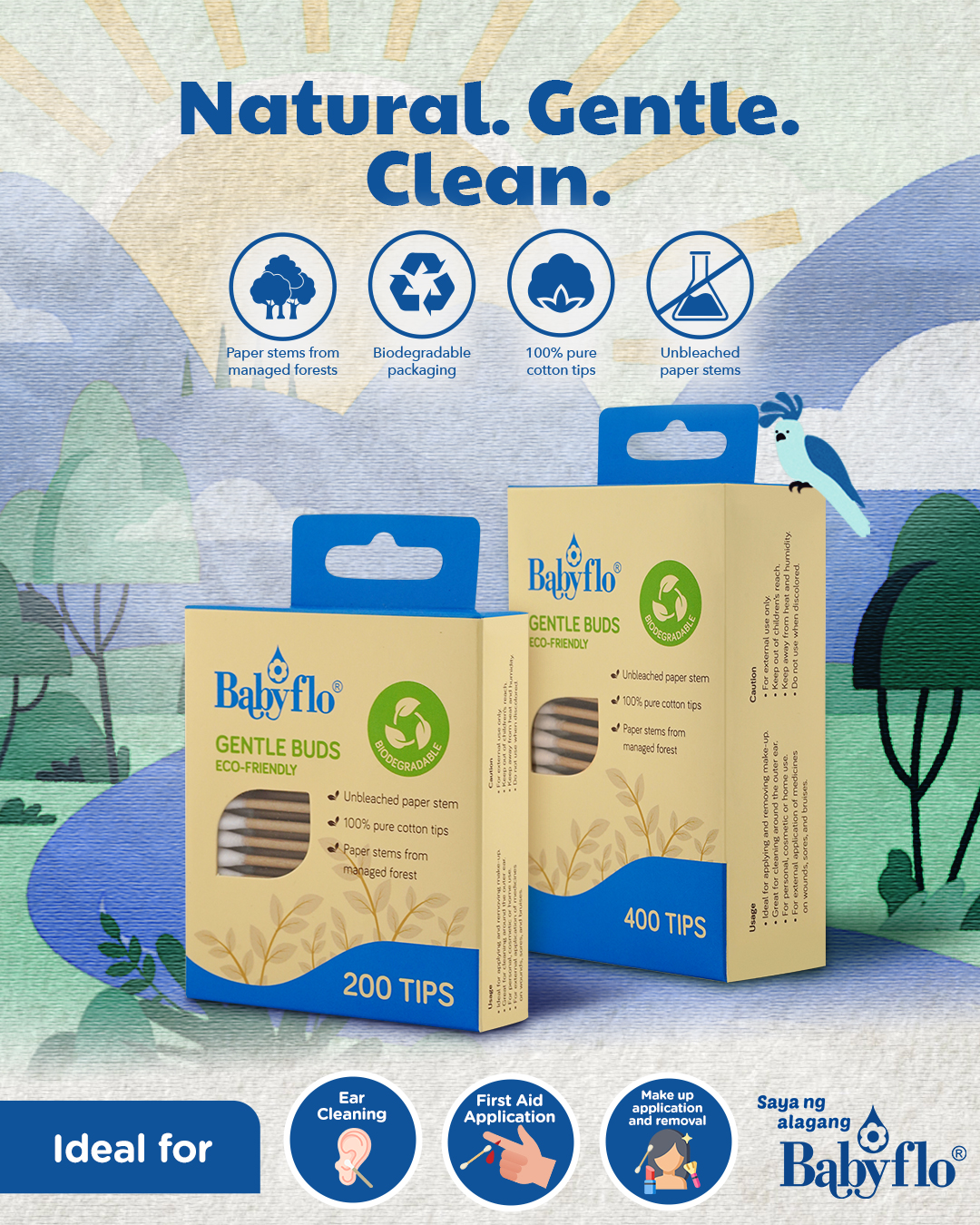 4. Be kind to Mother Earth, choose paper stems for your cotton tips
Cotton tips, or cotton buds if you prefer, are one of the most commonly used self-care tools available today, with their flexible use in everyday hygiene, makeup, first-aid, and even arts and crafts. You may even be using cotton tips right now in your self-care routine, with a full pack of them in your personal drawer. It is not advisable to reuse cotton tips, yet a lot of them are made of plastic, and you may unknowingly be contributing to more excessive plastic waste that could be detrimental for our environment. Luckily, there are now cotton tips available in the market that are made of biodegradable materials with zero plastic. Consider switching to paper-stemmed cotton buds, which can drastically reduce your plastic usage, especially if you use them heavily.
If you are looking for the perfect eco-friendly option for your cotton tips, Babyflo Gentle Buds Eco-Friendly is the first Earth-minded cotton buds now available in the Philippine market. Made of 100% pure cotton tips, unbleached paper stems that come from responsibly managed forests, and biodegradable packaging, families can now make their personal care routine greener.
Make your personal care routine more sustainable with Babyflo Gentle Buds Eco-Friendly, the first Earth-minded cotton buds in the market.
Make that greener choice today and enjoy your self-care routine all while helping save the planet – one bud at a time!
Start your sustainable self-care routine with Babyflo Gentle Buds Eco-Friendly, now available in Mercury Drug, Puregold, Robinsons, Metro Gaisano, and other retail stores nationwide and online. For more information, visit https://philusa.com.ph/ or check out Babyflo's social media pages www.facebook.com/BabyfloPH and https://www.instagram.com/babyflo_ph/.