For us girls living in our ~*main character*~ moments, our busy schedules and adventure-ready suitcases keep us hyped for our next core memory. But BAM! Our trusted pads missed the memo, causing unwanted leaks and discomfort. Hence, the kapos pads!
Kapos Pads and Kapos Days Red Day Struggles: #KaposStories
Sad but this feeling of kapos from our kapos pads (formerly our most trusted pads) give us the feelings of being insufficient, short-changed, and placed in a spot of constant worrying – that we worry of the possibility of getting leaks from our periods.
Different girls shared their experiences with their kapos pads through their #KaposStories: @bellabolanos_, a medical student, got major FOMO after skipping a post-class hangout because her trusted pad had reached its limit. Skater girl, @usagiskates, had to hit the brakes when she realized her regular pad couldn't keep up with her long days on the trail. And K-Pop Concert Girlie, @mooniquejpg, can only pray that her red days won't fall on a concert day for fear her pad will be kapos and interrupt her fun.
Isn't it worrysome on how our formerly most trusted pads (again, our kapos pads) either make or break our period days?
Among the #KaposStories that made so much buzz is Maymay Entrata's.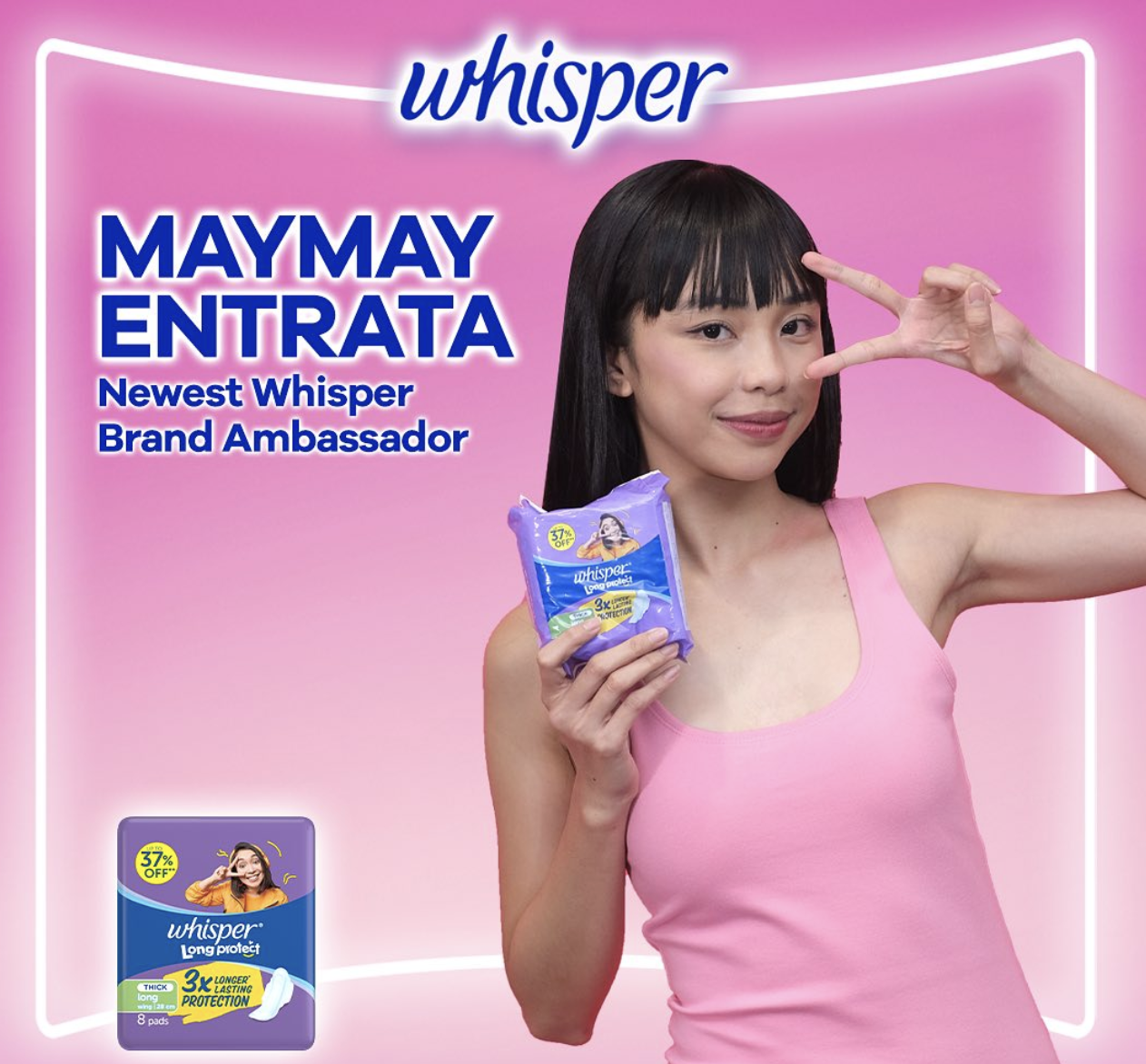 Maymay: Kapos Pad Means a Kapos Life
Maymay, our ultimate AMAKABOGERA icon and the OG inspiration for many, isn't immune to these kapos moments either. Even the young celebrity has felt the blow of using kapos pads that have led to unwanted tagos.
Like other ladies of our generation, Maymay finds herself in a whirlwind of key life moments that she simply can't afford to miss – demanding rehearsals and concerts, back-to-back shoots, and all the fun yet slightly tiring adventures in between. That's why for a Pinoy celebrity like Maymay, a kapos pad just won't make the cut.
As seen in her Instagram Story, Maymay is putting an end to settling for short pads that lead to a kapos life after realizing that there is a better pad that enables her to go longer.
Maymay Finally Makes the Switch
The NEW Whisper Long Protect completely won Maymay over. It's not just a change; it's putting the "change" in game-changer.
What sets the NEW Whisper Long Protect apart from the rest? Delivering 3x longer-lasting leakage protection (based on gush run-off test vs. Brand X), it ensures you stay protected and confident all day long. Plus, it has 40% longer length compared to regular pads. And the best part (because, yes, it still gets better)? It's affordable at an SRP of 45 pesos—nearly the same price, if not, cheaper than most regular pads and sulit for the length and protection it gives!
And so, Maymay, the newest face in the Whisper family, was officially welcomed by P&G's brand team together with esteemed Whisper Women Ambassadors last August 31, 2023. A monumental moment that's set to redefine her journey—and the journey of every girl who looks up to her.
Maymay Puts a Tapos to Kapos with the NEW Whisper Long Protect
Celebrating her switch to Whisper, Maymay confidently took on the White Jeans Challenge that's notorious for frustrating menstruating women on TikTok. But where most women failed, Maymay emerged victorious, all thanks to the incredible performance of her new period bestie—the NEW Whisper Long Protect.
Her followers were delighted and expressed great pride as they watched Maymay slay her seemingly endless day-to-day activities as an AMAKABOGERA icon all while in a middle of heavy period—and in white jeans no less! Who says we can't wear white?
#GoLangGoLonger with Whisper
With Maymay and Whisper Long Protect on your team, you're ready to conquer your period days, even while wearing those pristine white jeans!
Whisper's been on our side for ages, a constant bestie of girls, helping us go through our period experiences and making sure we never have those kapos moments. So, here's your sign to get on board with Maymay and the whole Whisper squad.
#GoLangGoLonger with Whisper Long Protect, now available for just 45 pesos in leading supermarkets nationwide and in Lazada, Shopee and TikTok Shop!