Pexels, the multimedia library dedicated to sharing diverse, free stock photos and videos, announced that it has made a major update to its algorithm to increase visibility of content that celebrates the LGBTQ+ community. This announcement follows Pexels' previous partnership with Nappy in March of 2018 to highlight photos representative of diverse cultures and races. A company that values inclusivity at its core, Pexels has been on a mission to improve its search results to provide more well-rounded offerings since it launched in 2014 and was later acquired by Canva in 2018. Now, in light of Pride month, Pexels is permanently adjusting its algorithm for all relationship-based search keywords to deliver more diversity across genders and sexualities, giving presence to all types of relationships.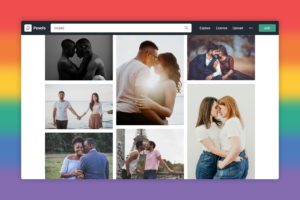 Pexels sets itself apart from its competitors with its artful, high-quality and curated library that offers over two million photos and videos for free. Additionally, Pexels' library is the first truly inclusive collection focused on diversity across cultures, ethnicities and genders. While other stock photo sites do have images to reflect diversity, these do not naturally surface in the search results.
To find these photos, users must use search terms that clearly indicate whether they want a photo of a straight or a same-sex couple. Pexels' algorithm update is focused on inclusivity and prioritizing LGBTQ+ imagery, democratizing all images, not requiring a user to delineate between same sex or other descriptors. Search terms like 'couple' or 'holding hands,' that typically only return images of heterosexual couples, now yield photos representing all races, genders and identities, increasing visibility and encouraging mainstream use. In a space that is crowded with cisgender, heteronormative, and white-washed content, Pexels continues be a pioneer in supporting underrepresented communities. The company hopes to empower its own community to tell better stories and inspire other stock photo sites to do the same.
"As one of the premier free photo and video libraries, we understand the power a photo or video can have," said Monica Silvestre, Head of Community at Pexels. "Media has the power to make or break ideologies, challenge the status quo and humanize experiences. Images fuel stories and create movements, and it's our responsibility as a global platform to act as a force for good; a force that helps power progress. This is why we're improving our learning algorithm. The next time someone searches for "couple" or "love" they will find refreshing content that reflects life as it really is around us—straight couples, same sex couples, interracial couples, non-binary folks and more."
In addition to the algorithm update, Pexels has amped up its efforts to partner with creators and companies that prioritize images and videos that challenge relationship norms and offer LGBTQ+ perspectives. The team will continue to adjust how its algorithm learns, making it intentionally calculate equal representation in order to offer its users choices they might not have previously considered. Pexels also employs a team of curators to specifically view, tag and boost submitted images to ensure the highest level of diversity and equality across the platform. Pexels encourages all photographers and creators to upload their LGBTQ+ photography to the platform.
For more information about Pexels, please visit pexels.com.