It has been said that the face of motherhood differs from one generation to another. Back in the 90s, moms would use film cameras to capture their child's best moments. Today, they turn to smartphones to upload photos on social media. To earn extra income, moms back then would visit their kumares to sell them goods. But these days, they can be more creative with their platforms, even using livestreaming tools to reach their market and provide for their families.
Indeed, modern parenting has been both easier and harder in many ways. But like family traditions, a mother's love and care remain as valuable, no matter how they change with the times.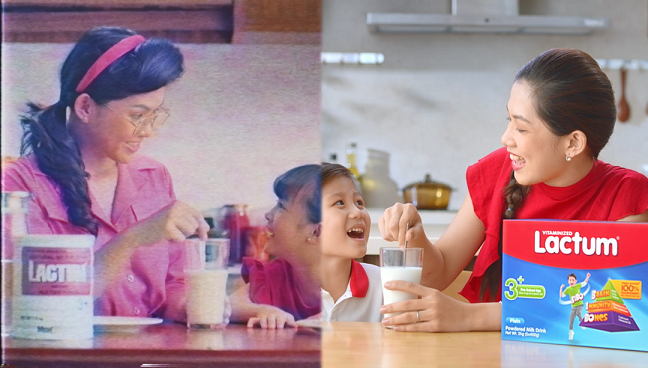 This Mother's Day, moms can feel waves of nostalgia as Lactum 3+ releases a video reminding everyone of a mom's unchanging love. Directed by award-winning director Pepe Diokno, the film presents side-by-side comparisons of a mom's varying experiences throughout different eras.
By watching the video, moms can take a trip down memory lane and remember what it's like being a parent in the 90s and now. They can look at how both parents and children grew with the times as textbooks gave way to tablets, photo albums to phone galleries, and landlines to smartphones. Viewers can also open their eyes and drum into the truth that in a world where change is constant, children can rely on one thing to remain the same — their mother's love.
Vitaminized Lactum 3+ has been a trusted partner of Filipino moms in the All-Around Development of their children for 30 years now. Since 1991, it has been a brand that grew with mothers from the start of their parenting journey, until their kids become moms themselves who are now living their own dreams.
Mothers across different generations will feel nostalgic and will be proud of all the love and joyful sacrifices they have made, showcased in the Lactum 3+ film.
Through the Lactum 3+ Mother's Day tribute, mothers across different generations can do a throwback and be proud of all the joyful sacrifices they have made. Reminisce your experiences by watching the Lactum 3+ Mother's Day video, now out on Facebook and YouTube.
Vitaminized Lactum 3+ has Vitamin C plus Prebiotic Inulin for Immunity, DHA for Brain and Calcium for Bones. With proper nutrition and stimulation, Vitaminized Lactum 3+ helps support a child's All-Around Development in immunity, brain and bones. Lactum 3+ is available in all leading groceries and supermarkets nationwide. Get exclusive deals when you shop at Shopee and Lazada.