Looking for fresh produce and food items after days of surviving on lockdown stocks and food deliveries? SM Supermalls' Farmers' Produce, a series of weekend caravans offering a farm-to-table experience, is returning to participating SM malls, starting with SM Mall of Asia (MOA) from September 4 to 6 and 13 to 16.
Organized in partnership with the Department of Agriculture and Resto PH, an organization of different restaurant brands in the Philippines, Farmers' Produce is going to be at SM MOA so residents of Pasay and nearby areas can buy fresh fruits and vegetables at more affordable prices, while helping local farmers and businesses that have been affected by the pandemic.
"The pandemic is far from over and Farmers' Produce will continue with its goal of helping provide livelihood to our farmers.  We have been doing this for several months now and we have visited several SM malls already. We are grateful to SM for its safety measures that enable us to do this project in a safe and healthy way," said Resto PH president Eric Teng.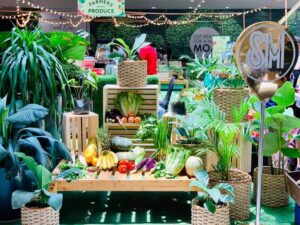 Farmers' Produce is located at SM MOA (Level 1, South Entertainment Mall) and  features various local farms, including Batangas City Banana Growers Association, Cada Farmers Agriculture Association, CocoPlus Aquarian Development Corporation, Farmer Juan Ranch Corporation, HDRD Tsuiteru Food Bar, Mama Agnes Enterprises, Munting Paraiso ni Yoly Farm, QueenB Apiaries, and Sarai Fruits and Vegetables Trading.
"Farmers' Produce has given us the opportunity to sell our products beyond our farms and localities. Oftentimes, many of our products are wasted because only a few people buy them. But now, we get to bring our products to different places and sell them to a lot of shoppers. Aside from that, this also allows shoppers to show their support to local farmers and give them the push that they need to get through this pandemic," said Ma. Joyce C. Villota, sales officer of Munting Paraiso ni Yoly Farm.
At the weekend caravans, SM shoppers can enjoy a variety of fresh produce, including eggplants, cabbages, pechay, potatoes, banana or saba, just to name a few. Customers can also find meat and fish, dairy and coconut products, rice, seedlings, herbs, and many more.
On top of that, several restaurants will be selling delicious meals that were prepared using the farmers' ingredients at pop-up booths at Farmers' Produce.
After the MOA leg, Farmers' Produce will continue to travel to SM Megamall from September 25 to 27 and October 2 to 4, and at SM Southmall from October 16 to 18 and 23 to 25, offering more Filipinos a fresh and awesome experience.
For more information, visit www.smsupermalls.com or follow @smsupermalls on all social media platforms.