As smart buyers, it always pays to purchase anything 'sulit,' especially when it comes to the things we'll use every day, like smartphones. These gadgets are critical to our everyday lives in the 'always-on' world, where people must stay connected with friends, family, and even colleagues, whenever and wherever they are.  
But, nowadays, having a smartphone is more than just about staying connected. It's more than just having the power to connect, and most certainly, there are more things that we need to consider in order for these trusty devices to be called a 'sulit' buy. 
For iPhone users, one particular model is worthy of being called a 'sulit' phone—the iPhone 11. From its camera specs, and reliable performance, to high-res display and sleek design, this model has become a staple and proves to be a 'sulit' buy as it enables users to experience all that they need and deserve from an iPhone. Here's why:  
High-res camera for high-quality photos, videos 
When looking for a mobile phone, the camera is one of the vital features you need to check. This is to make sure you can capture your every moment and experience in high-quality, especially now in the age of social media.  
From snapping a selfie, taking photos of scenic views, to even recording dance crazes, never let your camera hold you down when documenting your memories and parts of your life. Luckily, the iPhone 11 features a dual-camera system built with 12MP Ultra-Wide and Wide cameras to allow you to capture social-media-worthy photos and videos every day.
Reliable performance for everyday use 
Running low on power is one of your main problems when you are outside. It is a hassle to search for an energy source just to recharge your phone if you forget your power bank. Having a battery that can store enough power to fuel your device so it can last the whole day is a lifesaver.  
The good thing is that the iPhone 11 boasts a 3110mAh battery capacity that can provide the power you need all day. With a capacity that can deliver up to 65 hours of music experience or up to 17 hours of watching videos, there is no need for you to worry about your battery life all the time. 
Aside from the battery, ensuring its performance features can give you a smooth user experience when going through your day-to-day tasks or enjoying downtime on your mobile phone. Lags can interrupt your gameplay or interfere with your productivity as you work around your emails, online meetings, messages, and so on. Thanks to the iPhone 11's A13 Bionic processor and iOS 13 operating system, you can enjoy smooth performance when using the device, allowing you to play or multitask without the fear of slow response time.
High-definition display for a better viewing experience 
A mobile phone's display affects your overall user experience. As much as possible, you want a screen that can meet your visual preferences so you can appreciate your time on the phone. If you are searching for a higher-resolution display that shows accurate colors for immersive visuals, the iPhone 11 has a 6.1-inch Liquid Retina screen with a 1792×828 resolution, making every photo or frame you encounter come alive.
Water-resistant design for long-lasting use 
Buying a mobile phone is an investment. That is why you must ensure that you are only getting a quality device that can last long and is well protected if exposed to harmful factors that may damage its hardware. Worry no more because the iPhone 11 got you covered. As it is rated IP68, the device is water-resistant and can withstand common liquid spills and even two-meter-deep water for 30 minutes. With its enduring quality, you can guarantee you can use the device for a long time. 
Before finalizing your decision to buy the phone after checking its features, do not forget to consider its price and payment options. This will allow you to evaluate if the device is within or out of your budget while also giving you a chance to choose how to pay for it so you will not spend all your savings in one go. 
If you are curious about the iPhone 11's price, it retails at PHP29,990 and PHP25,990 for its 128GB and 64GB variants, respectively. It is available in six colors: Black, Green, Yellow, Purple, Red, and White.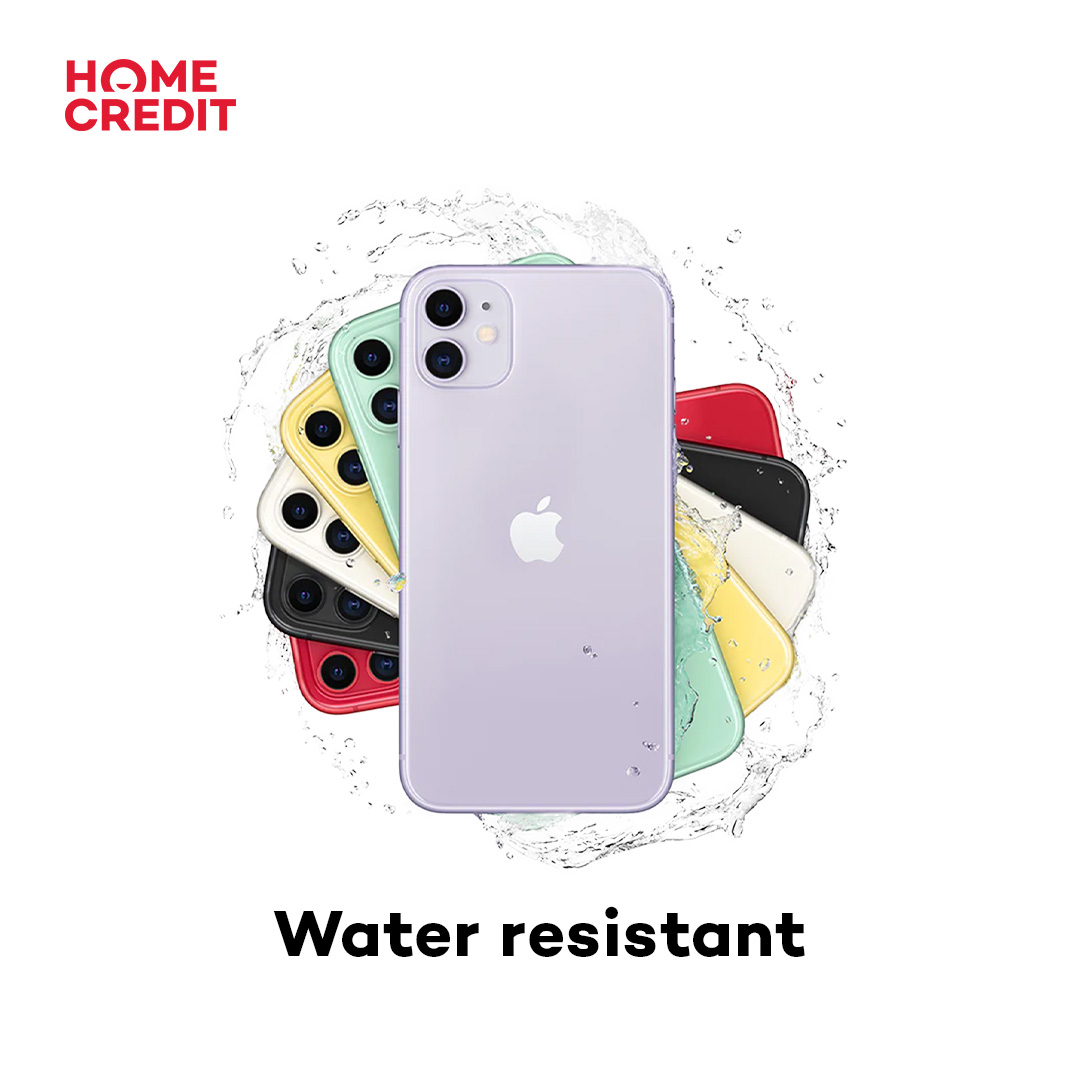 But how can this be a sulit deal? Home Credit hears you! Avail now the iPhone 11 via Home Credit and enjoy its 0% interest offer with 6-, 9-, and 12-month installment options. Depending on your chosen duration, you can only be PHP52 away from using the so lit iPhone 11 for a 'sulit' investment. 
What are you waiting for? Get the iPhone 11 now before it is too late! Home Credit's offer is ongoing and will last until September 30, 2023. 
To know more about the latest updates from Home Credit Philippines, visit its official website , www.homecredit.ph. You may also follow its official Facebook, Instagram, and TikTok accounts. Customers are also encouraged to download the My Home Credit App on Google Play to learn more about the latest promos and see what's new in the Marketplace.