This June, we are marking an important milestone in the history of our nation as we celebrate the 123rd Anniversary of the Declaration of our Independence. This month, we do not only observe the most important date in our country's history, but we also honor the sacrifice of our many heroes who bravely laid down their lives for our nation.
This City of Firsts proudly stands with the entire Filipino people in celebrating our Independence Day and bannering national pride through several activities and promos that aim to keep the flame of patriotism burning brightly in all our hearts.
Araneta City kicked off its celebration by proudly participating in a nationwide simultaneous flag-raising activity during the National Flag Day last May 28. From this day until June 30, Philippine flags will be displayed along streets and various establishments in the City of Firsts.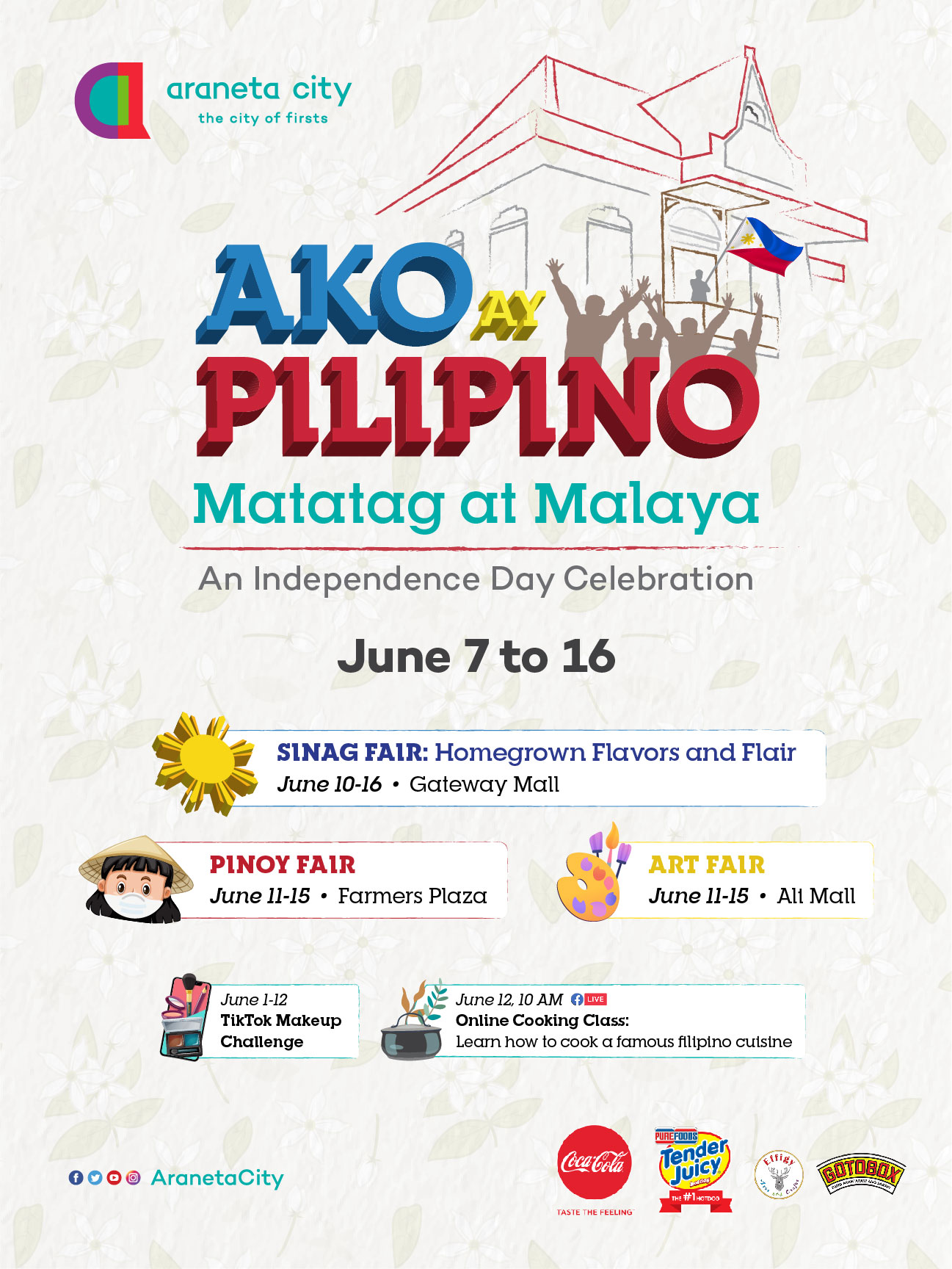 Aside from the month-long salute to our flag, Araneta City is also conducting fairs that will highlight Filipino creativity, flavor, and culture. One is the Pinoy Fair which will happen from June 11 to 15 at the Farmers Plaza Activity Area. It will bring together various establishments from Farmers Plaza Bazaar and Session Road to sell various items that showcase the beauty and artistry of Filipino wares.
Meanwhile, the Sinag Fair will take place at the Gateway Mall Activity Area from June 10 to 16, and will feature various products that show the unique beauty of traditional Filipino craftsmanship and the bold flavors of Filipino cuisine.
As we celebrate Independence Day in the backdrop of the COVID-19 pandemic, the City of Firsts is spurring interest in getting vaccinated. From June 10 to 16, customers who can present their vaccination cards and ₱800 single-receipt proof of purchase would receive a free care kit from the City of Firsts. The kit comes with a pouch, face masks, alcohol, tissue, and pen.
Aside from activities on-ground, Araneta City is also bringing Filipino pride to the digital space with a plethora of fun and engaging activities. On June 12, keep an eye out for a special culinary session focusing on Filipino dishes that will be streamed on Araneta City's official Facebook page.
For make-up artisans who also want to serve up some Independence Day-inspired looks on TikTok, they'll also get the chance to show their unique, and even win a prize! One winner will get to take home ₱10,000, and two runners-up will receive ₱5,000 and ₱3,000 each. Promo period will be from June 1 to June 12, and winners will be announced on June 18.
This month, Araneta City is the destination for anyone who wants to celebrate our Independence and banner their pride to the world. So stop by and pay a visit, whether onsite or online, this month at the City of Firsts!
To know more about these promos and activities, please visit www.aranetacity.com. You may also like and follow them on Facebook, Instagram, Twitter, and TikTok.