Are you looking for a tablet that promises to take technology to the next level and enhance daily activities? Check out the latest addition to Huawei's Matepad family, presenting HUAWEI MatePad 11″ PaperMatte Edition.
With a premium lightweight design, the HUAWEI MatePad 11-inch PaperMatte Edition enhances user experience by providing a high refresh rate, seamless processing speeds and quality connections. Building on the original HUAWEI MatePad 11-inch 2023, the PaperMatte edition introduces refreshing PaperMatte Display features to provide users with an unprecedented paper-like reading and writing experience. These features include eye protection, paperlike writing, and smooth touch controls, as well as enriched and optimised notetaking capabilities.
Do you know that the PaperMatte Edition features an anti-glare display, which makes it perfect for reading on-the-go? The display is also non-reflective, which is achieved by
cutting out 97% of light interference1 – so users can enjoy crystal clear viewing any time of day, even under direct light. This is made possible using nano-level anti-glare etching technology2 to form hundreds of millions of tiny structures on the surface of the mirror glass. A self-luminous layered display, which showcases impressive anti-glare capability,color performance and high-definition visuals, elevates the user experience.
Huawei has applied advanced screen optimization technology on the tablet, to match hundreds of millions of nanoscale textures with pixel distribution. And the angle of each structure is meticulously adjusted to prevent reflected light from entering the eyes. This design endows the screen with anti-glare properties, to ensure a clear, bright, and even image.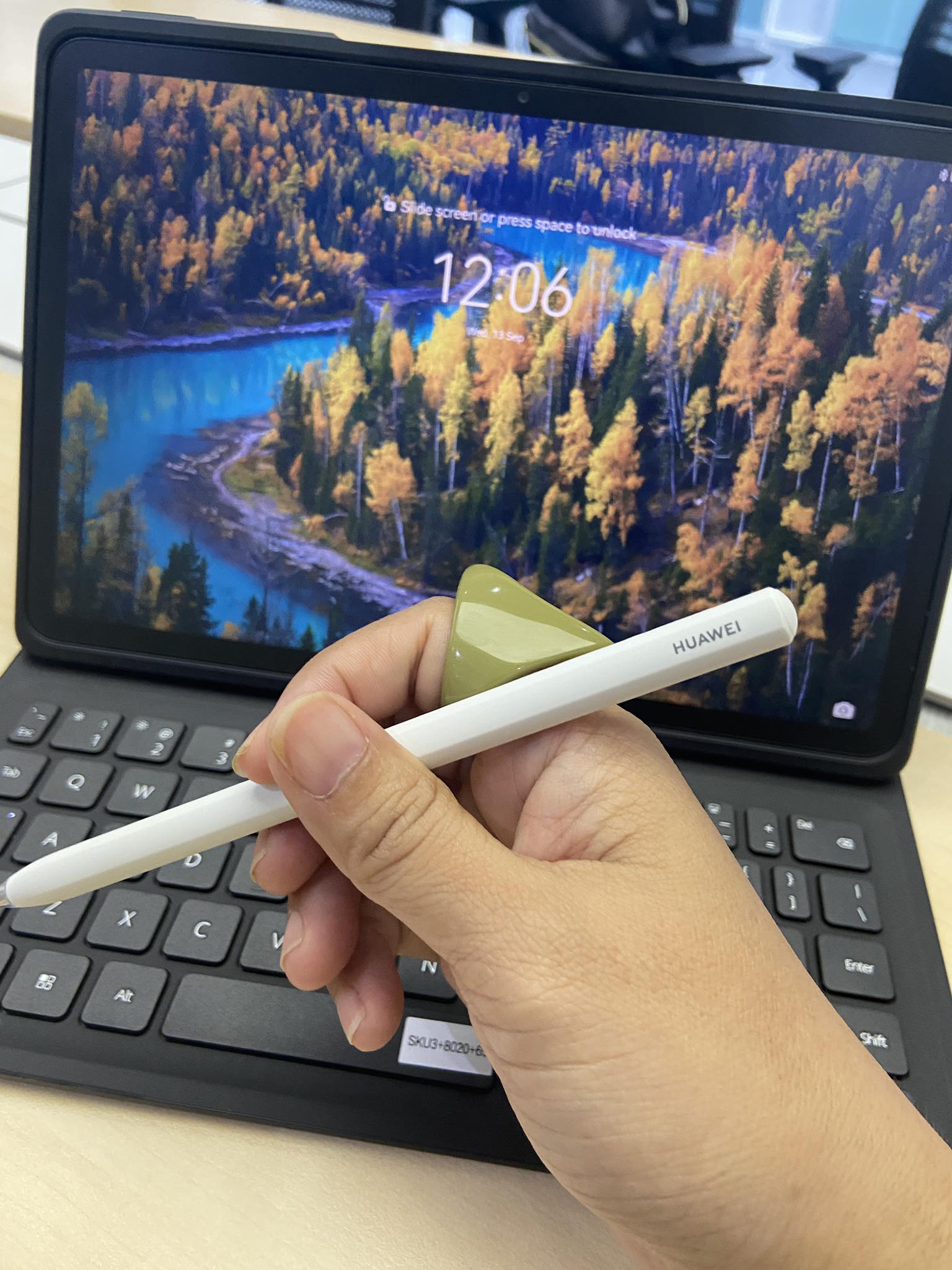 The HUAWEI MatePad 11-inch PaperMatte Edition also offers satisfying audible tactile feedback, emulating the sound of paper rustling as you write on the display. Users can through tap sounds, rustling effects, vibrations, resistance and anti-reflection capability for an enhanced and immersive experience. From these five dimensions, we can see that the PaperMatte Display's Pen-on-Paper Writing experience is 40% higher than that of the Traditional tablets.
I also love how enjoyable note -taking with HUAWEI Notes. It  provides you with smart features for every aspect of office meetings. It ensures that you are well prepared and properly equipped to present or take notes. At the end of each meeting, HUAWEI Notes helps you to properly recap notes and allows you to seamless transfer them to other devices.
Before Meetings
• Efficient note management and classification: Allows users to sort notes in folders for quick access during meetings
• Custom folders: Properly label folders in a personal way for better access Office Presentations
• Laser pointer: Choose from diverse pointerstylesto assist your presentation, draw temporarily lines that will disappear to highlight key points
• Magnifier function: Zoom in and out on any document for better visualisation.
Note-taking
• Efficient note-taking: Take down notes by converting handwritten notes into text instantly, and crop images to fit perfectly into notes.
• Rich Brushes: Experience a rich variety of brushes that offer personalisation, allowing you to use your favourite color for writing.
• Lasso feature: Encircle content on any note, which can then be moved, enlarged, copied, cut out, and rearranged with other note elements.
After meeting reviews
• Multiple Meeting Material Imput & Export (supports PDF files and images)
• SuperHub function: HUAWEI Notes supports SuperHub for easy cross-app and cross-device interactions of various documents:
• Drop In&Out: Select the content and drag it to SuperHub.
• Cross-device Sharing: SuperHub supports cross-device content sharing, including mobile phones and MateBook devices.
• Notes Search: Allow search both copy & hand-writing content on the Notes from home page.
• Multi-Device Syncing via Huawei Cloud
Notes also support Split-screen notes feature, allowing you to effortlessly view two notes side-by-side on your device. This lets you easily sort and organise them as you look through them later.
Already impressed?
Don't miss the chance to own the MatePad 11″ PaperMatte Edition with 8GB RAM + 128GB storage for just Php 29,999! Available at offline and online HUAWEI stores, authorized retailers, and top e-commerce platforms, Shopee and Lazada. You'll be able to get a detachable magnetic keyboard, a HUAWEI M-Pencil 2nd Gen, a HUAWEI Bluetooth Mouse, PC Level WPS Office, a Viu 1-year Premium Subscription, and an Edventure Coupon, all amounting to Php 21,895 for free during the First Sale Period from today until October 31! Additionally, if you have an old Huawei product, there is a Php 3,000 trade in token in select stores.
Discover the latest from Huawei by checking out the Official Facebook Page. Want to stay updated on all things Huawei? Join and follow the Official Facebook Community and be part of all the latest conversations on Huawei.