Kids are back to school! Aside from guiding them with schoolworks, parents have an added important task – to give the kids snacks that are not only energizing but will also perk them up.
It is time to cook up a storm in your kitchen with recipes that will boost your kids' productivity as they face another day in their virtual classes. Here are tasty and affordable snack ideas that recently won the Mekeni Cook and Care competition using Mekeni products that your kids will surely love!
Level up their fave tofu dish
Who would have thought that combining tofu and hotdog in one dish will result in one hearty meal? Check out this winning recipe from Lourdes Arceo where she used Mekeni Picnic Hotdog to pair with her tofu dish. (Tip: You can also try this recipe using another fan favorite – Mekeni Chicken Longanisa!)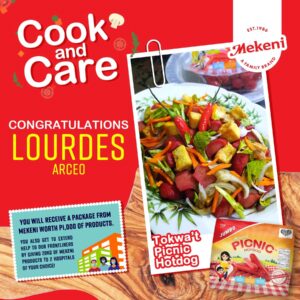 TOKWA'T PICNIC HOTDOG
Ingredients:
Mekeni Picnic Hotdog
tofu
celery
onion
carrots (optional)
For the sauce:
soy sauce
vinegar
sugar
siling labuyo (optional)
Procedure:
Cut tofu into cubes.
Fry tofu and hotdog separately.
Cut onions, carrots and celery into strips.
Add all veggies as toppings on your fried tofu and hotdogs.
For the sauce, mix all ingredients then drizzle it on top of the tofu, hotdog, and veggies!
Go krazy with hotdog kimbap
Just like kebab, you can create many types of kimbap using different meats. Though the process might be tedious with all the rolling and stuffing, you are sure to create one tasty and nutritious rice roll in no time. If you are a fan of hotdog, try this kimbap recipe made by Darwin Vinuya using Picnic Hotdog!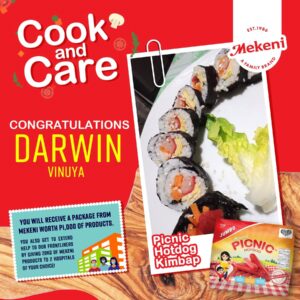 PICNIC HOTDOG KIMBAP
Ingredients:
Picnic Hotdog
nori
crab stick
carrots
egg
rice
sesame oil
sesame seeds
salt
Procedure:
Thinly slice all the Mekeni Picnic Hotdog, crab sticks, carrots, and egg before you stir-fry them separately.
Place the cooked rice into a mixing bowl then add 1/2 tbsp sesame oil and 1/4 tsp salt to season it. Mix well.
Put the rice on the nori then spread it evenly.
Fill the nori with the cooked ingredients. Roll and slice into pieces.
Turn regular empanada into YUMpanada
Breaktime is empanada time. Let your kids grab a big bite of your yummy empanada filled with Bueno Embotido using this recipe from Kimberly Garcia Sagmit.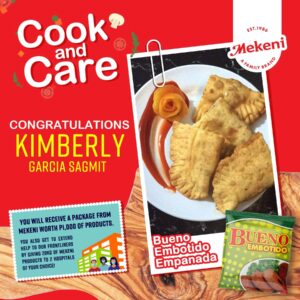 BUENO EMBOTIDO EMPANADA
Ingredients:
For the dough:
2 cups all-purpose flour
1/4 cup water
1/2 tsp. baking powder
pinch of salt
1 egg
oil
For the filling:
Mekeni Bueno Embotido or Mekeni Chicken Longanisa
cheese
Procedure:
In a mixing bowl, combine the all-purpose flour, salt, and baking powder. Mix it well.
Add egg and water. Mix again until well combined.
Set aside and chill it for 30mins.
Chop the Bueno Embotido and cook it for 5 mins. Mix the cheese and set aside the filling.
After chilling the dough, flatten it using a rolling pin. Make sure the surface is clean and dusted with all-purpose flour so it will not stick.
Once you have achieved that flat circle, it is time to add the filling. Be sure to close the edges well.
Heat the oil and fry.
A hearty meal fit for the hard working kids
Serve your kids something unique and exciting to their palate while they are finishing their offline activities. This poached egg with vegetables recipe from Evangeline Reyes Franco is one for the books!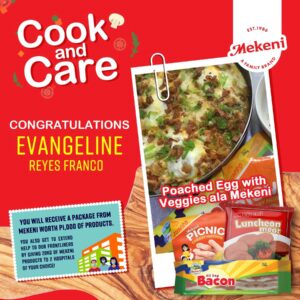 POACHED EGG WITH VEGGIES ALA MEKENI
Ingredients:
1 small head garlic, chopped
1 medium head onion, diced
3 pcs red bell pepper
12 pcs tomatoes
1 tsp paprika
1 tsp cumin
1 chicken cube
1 tsp ground black pepper
6 large eggs
4 pcs Mekeni Picnic Cheesy Hotdog, diced
4 pcs. Mekeni Luncheon Meat, diced
125 grams Mekeni All Day Bacon, diced
Spring onion, chopped for garnishing
mozzarella cheese (optional)
Procedure:
Cook the bacon on medium to high heat until crispy. Set aside.
Using the bacon grease, sauté garlic, onion and bell pepper until soft.
Add chopped tomatoes, hotdog and Mekeni Luncheon Meat.
Bring the sauce to simmer. Season with chicken cube and black pepper.
Use a large spoon to make small wells in the sauce and crack the eggs into each well.
Cover the pan and cook for 6-8 minutes or until the eggs are cooked.
Top with mozzarella cheese and bacon bits.
Garnish with chopped spring onion.
Make snack time even more exciting with these ideas from the winners of Mekeni Cook and Care contest. To make sure that you have all the products you need, order via Mekeni's Home2Home delivery service which can be accessed through its official Facebook page or Viber community.