It's been a year since our country has been placed under community quarantine. And though life is slowly transitioning to the new normal, many of us continue to quarantine ourselves, limiting our exposure to the outside world to ensure that we don't contract this dreaded disease.  
Because of this, many of us have turned to a new normal of doing things—going all digital. From banking to food orders, and yes, shopping, many of us are doing it over the internet. With this in mind, Araneta has launched several programs that will let you access your favorite stores and establishments with a few taps on your mobile device.  
1.         Araneta City Assist  
Access your favorite establishments at the City of Firsts without taking a single step out of your house with Araneta City Assist. All you need to do is visit  https://delivery.aranetacity.com, download the Araneta City mobile app (available for Android or iOS devices ), or visit their Facebook page to see the directory of stores at the City of Firsts that offer delivery or takeout, complete with the stores' contact details. Give the store of your choice a call, pick the items you need, choose between cash-on-delivery or bank transfer for your payment option, and the store will then prepare the items and send it right to your doorstep with their partner courier, Mr. Speedy. It really is as simple as 1-2-3! 
2.         Ask Ara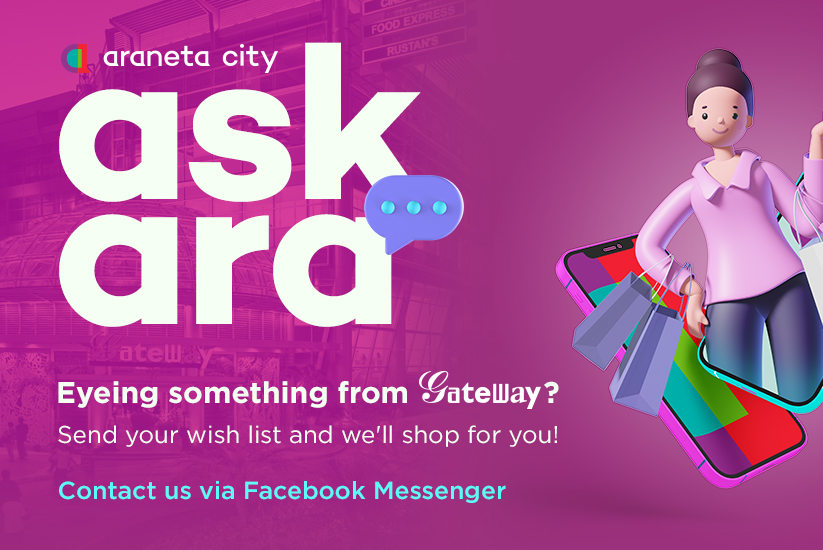 Have you ever been stumped about a gift idea? Or are you searching for that rare drop from your favorite sneaker brand? Don't worry, because Ara, your personal virtual shopper, has the solution to all your worries! With Ask Ara, you have your own virtual shopper to find anything you may want or need within Gateway Mall and Gateway Tower. Just connect with Ask Ara on Facebook, strike a conversation by sending a message, indicate the items that you want to purchase, pay online, and wait for the item to be delivered to you via Mr. Speedy.  
3.         Drive & Go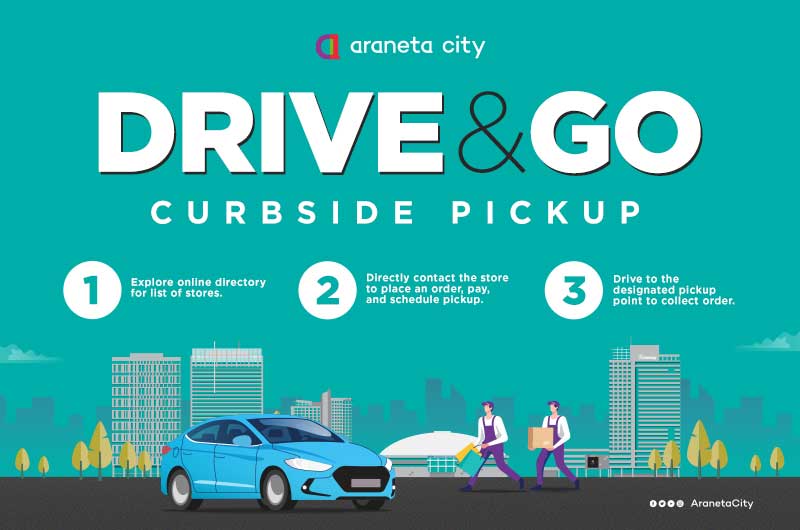 For those opting to order online and then just pick-up the items they purchased, the City of Firsts brings you Drive & Go curbside pickup service. The process is simple! You can just check out Araneta City's online directory for a complete list of stores, call the store to place an order, settle the payment, and schedule the pickup of the items. After that, you just need to drive to the designated pickup point to collect the item you purchased.  
There are several pickup points around Araneta City. These include: 
Gateway Mall (fronting Boulangerie 22 at Gen. Roxas Avenue) 

Ali Mall (fronting Starbucks, Times Square Entrance) 

Shopwise Arcade (fronting Tour Les Jours at Gen. Aguinaldo Avenue) 

Farmers Plaza (fronting BDO at Gen. Roxas Avenue) 

Farmers Market (fronting JAM at Session Road) 

 

Shop and pickup with ease and convenience. Try Araneta City's Drive & Go service now! 

 

4.         Farmers Market and Garden Viber Community 

  

Whether it's the freshest seafood or the most premium cuts of meat, there's only one place that has it all and so much more—Farmers Market! Now, buying the freshest vegetables, meat, and seafood is as easy as joining the Farmers Market and Garden Viber Community. Just click this link https://bit.ly/FarmersMarketPH,  you're part of this ever-growing group.  

 

From there, you can directly interact with vendors and directly place your orders with them and arrange delivery or pick-up of the produce you've picked. Aside from fresh produce, meats, and vegetables, the said Viber Community is also a definite go-to for plantios and plantitas with a lot of choices from herbs, succulents, and other plants that you can purchase to start or spruce up your garden. Now that's a real one-stop-shop! 

 

 

For more information about these services, latest promos, and newest offerings from the City of Firsts, you may visit www.aranetacity.com. You may also like and follow them on Facebook, Instagram, and Twitter.