In a world where mobile photography continues to redefine the way we capture memories, vivo, a pioneer in cutting-edge smartphone technology, is proud to introduce the groundbreaking Aura Light 2.0 on the newly released vivo V29 5G.
The Aura Light 2.0 with Smart Color Temperature Adjustment is set to revolutionize your photography experience, delivering captivating portraits even in challenging lighting conditions.
Unveiling future of mobile photography
At the heart of the vivo V29 5G, the Aura Light 2.0 is a game-changer in the world of smartphone photography.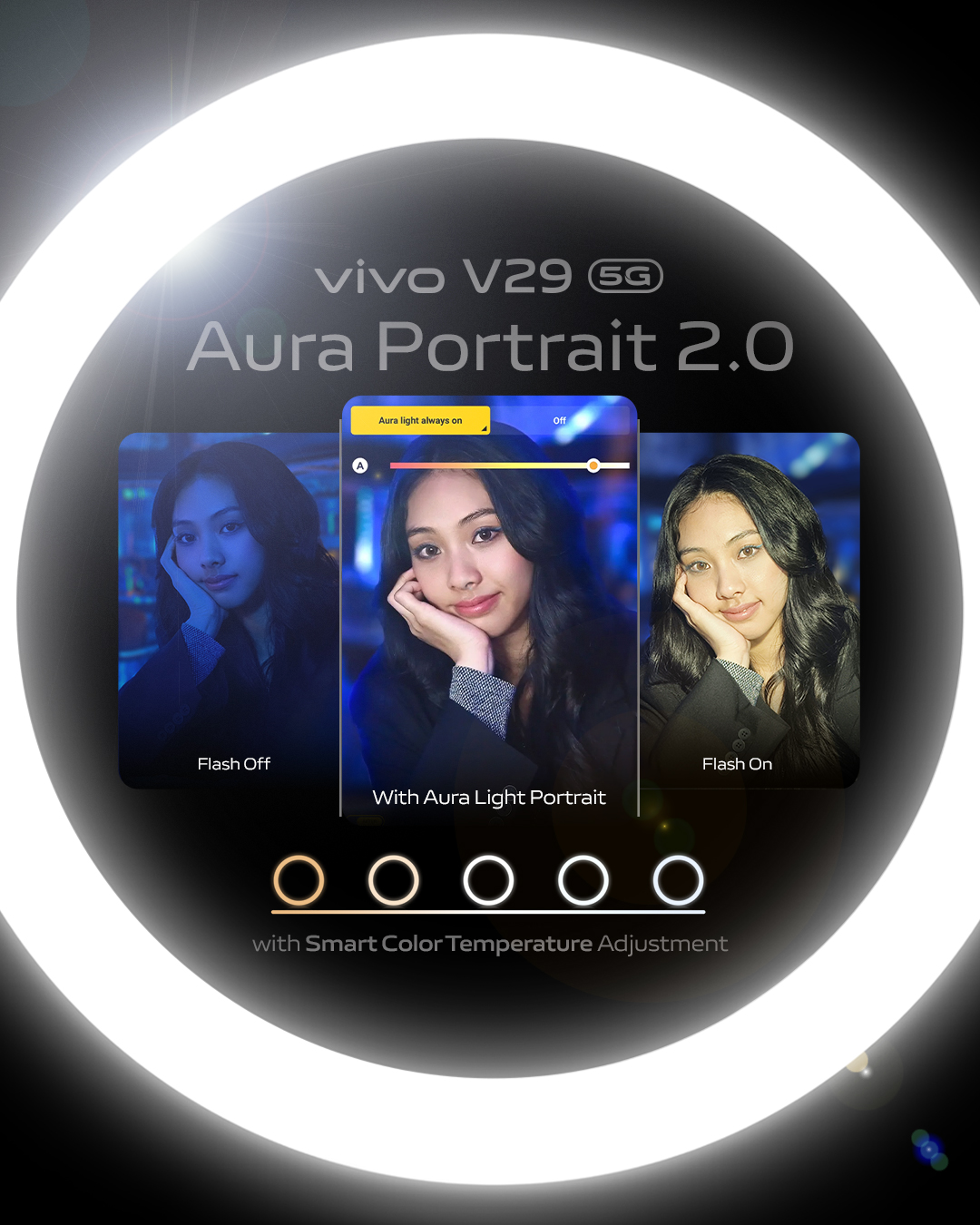 The innovative feature also serves as a powerful tool for capturing stunning lowlight portraits. It creates a soft, three-dimensional light effect that effectively eliminates unflattering facial shadows and dark areas, enhancing the overall quality of your photographs.
The Aura Light 2.0 also has a cutting-edge Smart Color Temperature Adjustment feature. It automatically tunes Aura Light 2.0 to match ambient light, ensuring that the color reproduction in your photos is accurate, vibrant, and true to life.
Start perfecting portraits with vivo V29 5G
Creating beautiful portraits with the vivo V29 5G's 50MP camera and Aura Light 2.0 with Smart Color Temperature Adjustment is easier than ever.
Follow these simple steps to achieve the perfect portrait shot, anytime, anywhere:
Open your camera app on the vivo V29 5G.
Navigate to Portrait mode for captivating portrait shots.
Click on the flash icon and select "Aura light always on."
Click 'A.' If the indicator turns yellow, it means the Aura Light 2.0 will automatically adjust to your surroundings. If it turns white, you can manually fine-tune the color temperature for experimenting with different visual effects. Simply use the color temperature slider to adjust the warmth or coolness of Aura Light 2.0, creating your preferred artistic effect.
With your subject ready, capture stunning portraits anywhere, at any time.
Witness the Aura Light 2.0 in action
To showcase the remarkable capabilities of the vivo V29 5G's Aura Light 2.0, we've captured stunning results in both warm and cool lighting conditions.
The vivo V29 5G, with its Aura Light 2.0 technology, empowers you to capture breathtaking portraits with unprecedented ease and quality. Your memories have never looked this good.
Step into the future of mobile photography with vivo V29 5G and experience the magic of Aura Light 2.0 for yourself. Get yours now at 12GB + 256GB for only Php 24,999 and 12GB + 512GB for just Php 26,999 on the official vivo Philippines website or through popular e-commerce platforms like Shopee, Lazada and TikTok, as well as at physical stores across the country.
The vivo V29 5G is also available through Home Credit with a 0% interest rate, starting at just Php 1,002 per month for the 256GB ROM variant and Php 1,082 per month for the 512GB ROM variant.
Stay updated with the latest news and announcements from vivo Philippines on Facebook, Instagram, YouTube, X, and TikTok.