Successful women are unselfishly sharing their stories of empowerment for other women to rise above their own challenges.
Four women in fact recounted breaking gender norms and defying the odds during a recent webinar offered by Malayan Insurance Co. Inc. entitled "When Life Gives You Lemons".
The event was spearheaded by its We Women program segment in partnership with the People Management Association of the Philippines (PMAP) in celebration of Women's month this March.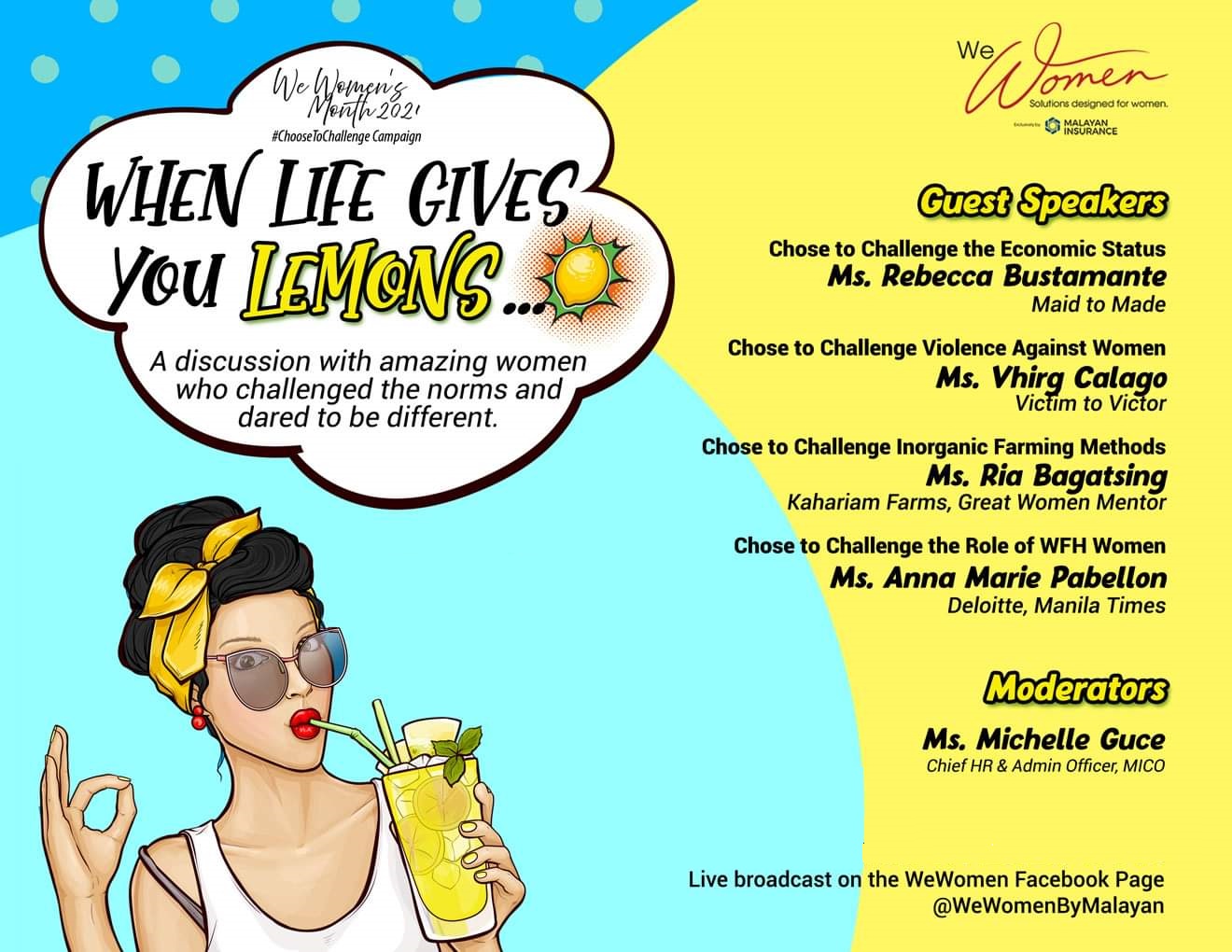 "Let's not forget that we women carry half of the world, our lives matter, and our lives make a difference. We are women, we are more loving, more thoughtful and more caring. A lot of women are abused, it may not be physical it can be mental or emotional, so this women's forum is critical as we share our experiences as women," Yvonne S. Yuchengco, We women chief program ambassador, said.
Rebecca Bustamante, president of Chalre Associates Executive Search, shared her transformative experience from being a domestic helper to emerging as president of a renowned company.
From her humble beginnings in Pangasinan, Bustamante became the bread winner of her family at an early age, supporting 10 siblings and her mother being ill with a terminal disease.
She worked as a domestic helper at 19 in Singapore while struggled to get an education to fuel her dreams of lifting her family out of poverty.
Bustamante absorbed all criticisms and discrimination through the course of her life but used this as motivation to prove them all wrong. She migrated to Canada and there started her own family.
In the same webinar was Virginia V. Calago, a victim of abuse at an early age. She struggled with her mother leaving them at an early age, her father abused her, and ended up with the local social services.
She had her tragic experiences in foster homes, but with prayer and the focus to make her goals come true, Calago emerged even stronger.
She wears her battle scars with pride and honor imparting that whatever life throws at you, you always have a choice. And she encouraged everyone to stay strong and choose to be brave and face each challenge head on.
Trials are not limited to experiences in life but also can be lurking in established businesses. Indira Bagatsing, managing director of Kahariam Farms, shared the impact of the Coronavirus disease 2019 (Covid19) in their organic farming business.
From letting some employees go, to adapting to the changes needed to sustain the business, Kahariam Farms continued to produce organic fruits and vegetables for the Filipino public despite the odds. Bagatsing pointed out that the support of everyone from her family and all of them working together made all the difference and helped the business push through.
In terms of women representation in the workforce, data from a survey conducted by Deloitte Southeast Asia (Deloitte SEA) and shared by Anna Marie Pabellon during the webinar, revealed that women continue to be under represented in terms of the technology workforce with women representation declining at successive levels.
Pabellon pointed to a "leaky pipeline" in the education system, wherein only a few women earn a technology-related degree.
For working women in the information technology (IT) field, 50 percent was pointed out to be more likely to say they have experienced discrimination in the workplace.
Meanwhile, 20 percent of women in the science, technology, engineering, and mathematics (STEM) sector said that their gender has made it more challenging to succeed at work.
Pabellon overcame these boundaries as she herself has defied gender norms being a partner of Deloitte SEA as the first woman country risk advisory services leader. She maintains that women are great at what they do and should pursue their dreams despite what other people say.
Apart from the empowering webinar, Malayan Insurance also mounted its #ChooseToChallenge campaign, a social media effort wherein both women and men are encouraged to support their chosen challenge whether it be on violence against women, economic status, inorganic farming methods, or the role of work from home (WFH) women, among others.
Malayan Insurance will also be hosting an online event focusing on Kwentong Kababaihan and Great Women Mentors as well as its Chill Convo sessions for this month, staying true to its goal of highlighting what women do for society.
Malayan Insurance is a member of the Yuchengco Group of Companies.