Leading health and beauty retailer Watsons conducted a virtual education session to raise awareness on cervical cancer and encourage the public to take preventive steps for their health. "Take Action for Women's Health" highlights how the HPV vaccine can prevent Filipino women from acquiring cervical cancer. Cervical cancer is the fourth most common female cancer in the world[1], and the second most frequent one in the Philippines.[2]
Hosted by broadcast journalist Doris Bigornia, the event featured activities designed to engage and educate. This included the Cervical Cancer Mythbusters game where members of the media were challenged to identify common myths about cervical cancer and tweet out what they learned as the session progressed.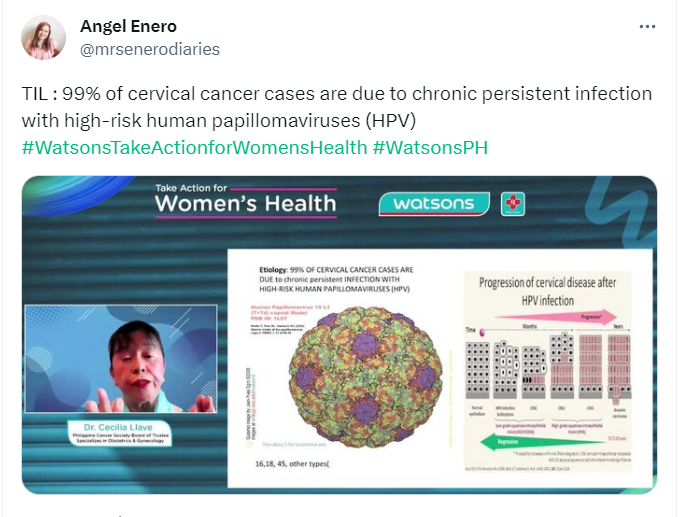 For her part, Dr. Carolyn R. Zalameda-Castro of Philippine Obstetrical and Gynecological Society highlighted the link between education and a woman's health outcomes.
"We empower our women against this disease and educate them to actively take action. With education, there is an improvement in the mother's knowledge and perception of the importance of modern medicine for the care of the children." Dr. Zalameda-Castro noted that initiatives like this improve the quality of life of the whole family.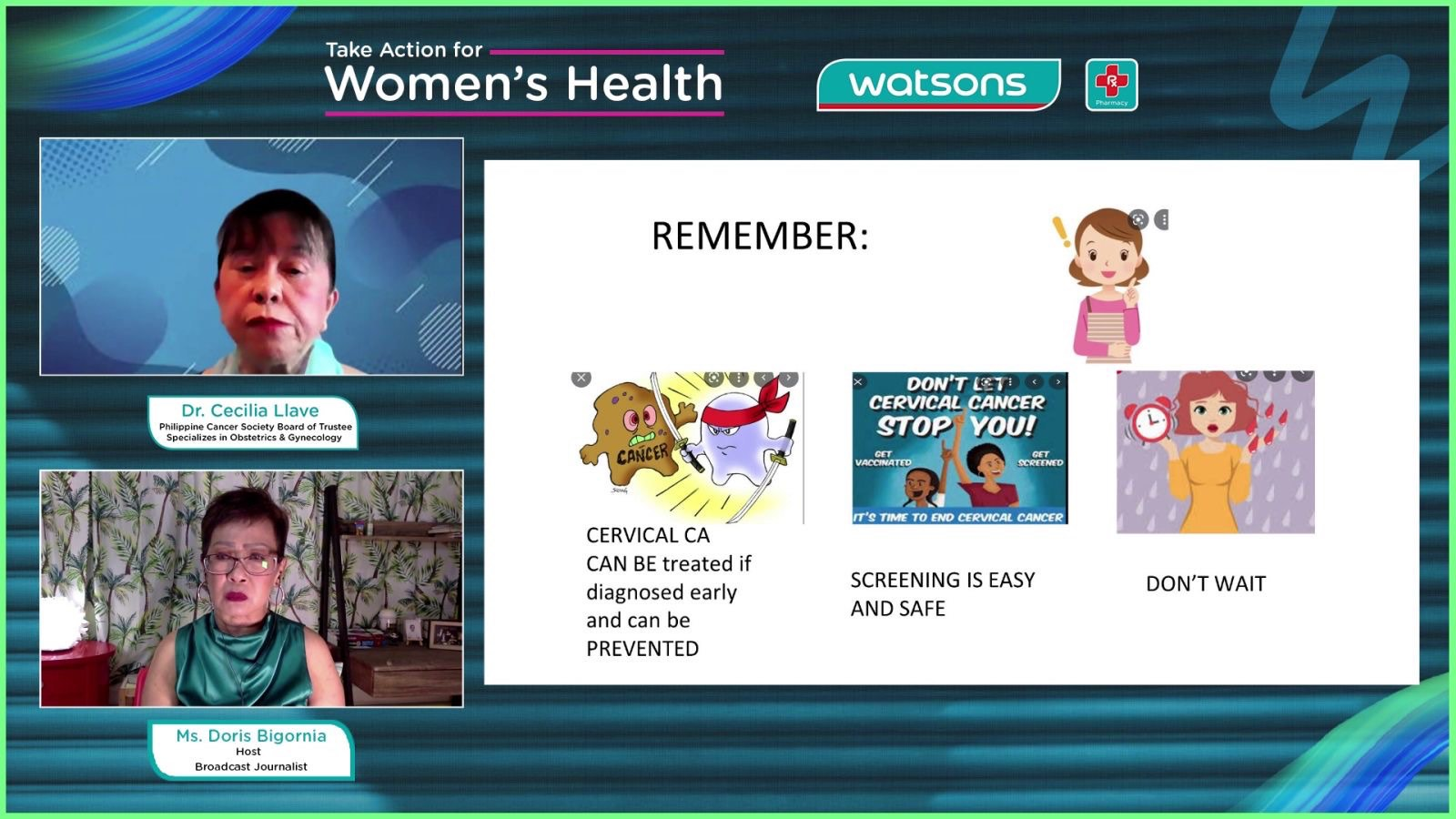 "Remember, cervical cancer can be treated if diagnosed early. It can be prevented with healthy living and (HPV) vaccination," states Dr. Cecilia Llave. She also emphasized the need for timely screening: "do not wait for signs and symptoms, early screening is very important – cervical cancer can be treated if diagnosed early."
Data from the HPV Information Center reveals that "Current estimates indicate that every year 7897 women are diagnosed with cervical cancer and 4052 die from the disease. Cervical cancer ranks as the 2nd most frequent cancer among women in the Philippines and the 2nd most frequent cancer among women between 15 and 44 years of age."
"As a leading health and beauty retailer in the Philippines, we aim to emphasize accessibility to the HPV vaccine. Awareness is the first step, second is availability. That's why we are rolling out our awareness efforts through media events," shares Sharon Decapia, Watsons Senior Assistant Vice President for Marketing, PR & Sustainability. The HPV vaccine is available in over 200 Watsons stores nationwide. Customers can also avail of free doctor's assessment on vaccine day.
Watsons is actively promoting health literacy in the Philippines through its various initiatives and platforms. One of its key contributions is the online Health Hub, which serves as a comprehensive resource for health tips, information, and expert advice.The Health Supplement Advisor available on the Health Hub addresses concerns ranging from immune support, liver health, sleep, digestion, weight management, and joint care amongst others..
"Cervical cancer is a significant health concern that affects women worldwide, and it is vital to have accurate information and expert guidance to address this issue effectively," Decapia adds.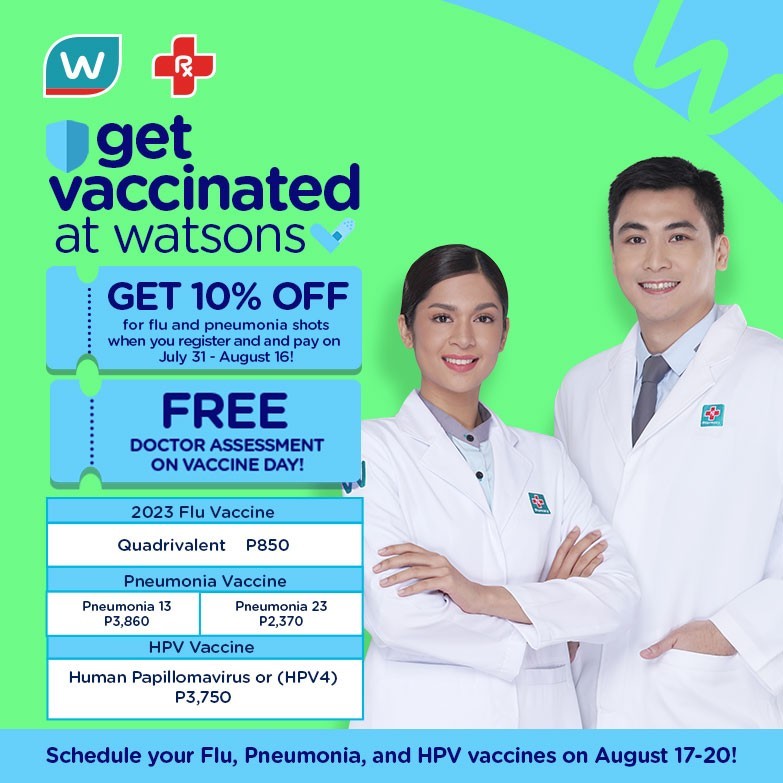 Book Your Vaccinations at Watsons
Get vaccinated at Watsons. Register and pay via the Watsons Vaccine site ( https://www.vaccination.watsons.com.ph/)
With over 200 Watsons stores offering HPV vaccination and easy booking via the Watsons Vaccination site (www.vaccination.watsons.com.ph), getting protected is now more convenient. Click here (https://www.vaccination.watsons.com.ph/Home/FAQs) to learn how you can get HPV Vaccine on August 17 – 20.
[1] Cervical Cancer. World Health Organization. https://www.who.int/health-topics/cervical-cancer#tab=tab_1. Accessed on 19 July 2023.
[2] Human Papillomavirus and Related Cancers, Fact Sheet 2023. HPV Centre. https://hpvcentre.net/statistics/reports/PHL_FS.pdf?t=1593852267479#:~:text=Current%20estimates%20indicate%20that%20every,and%2044%20years%20of%20age. Accessed on 19 July 2023.