Union Bank of the Philippines (UnionBank) recently conducted a three-day online event to empower small business owners in starting and expanding their businesses during this pandemic.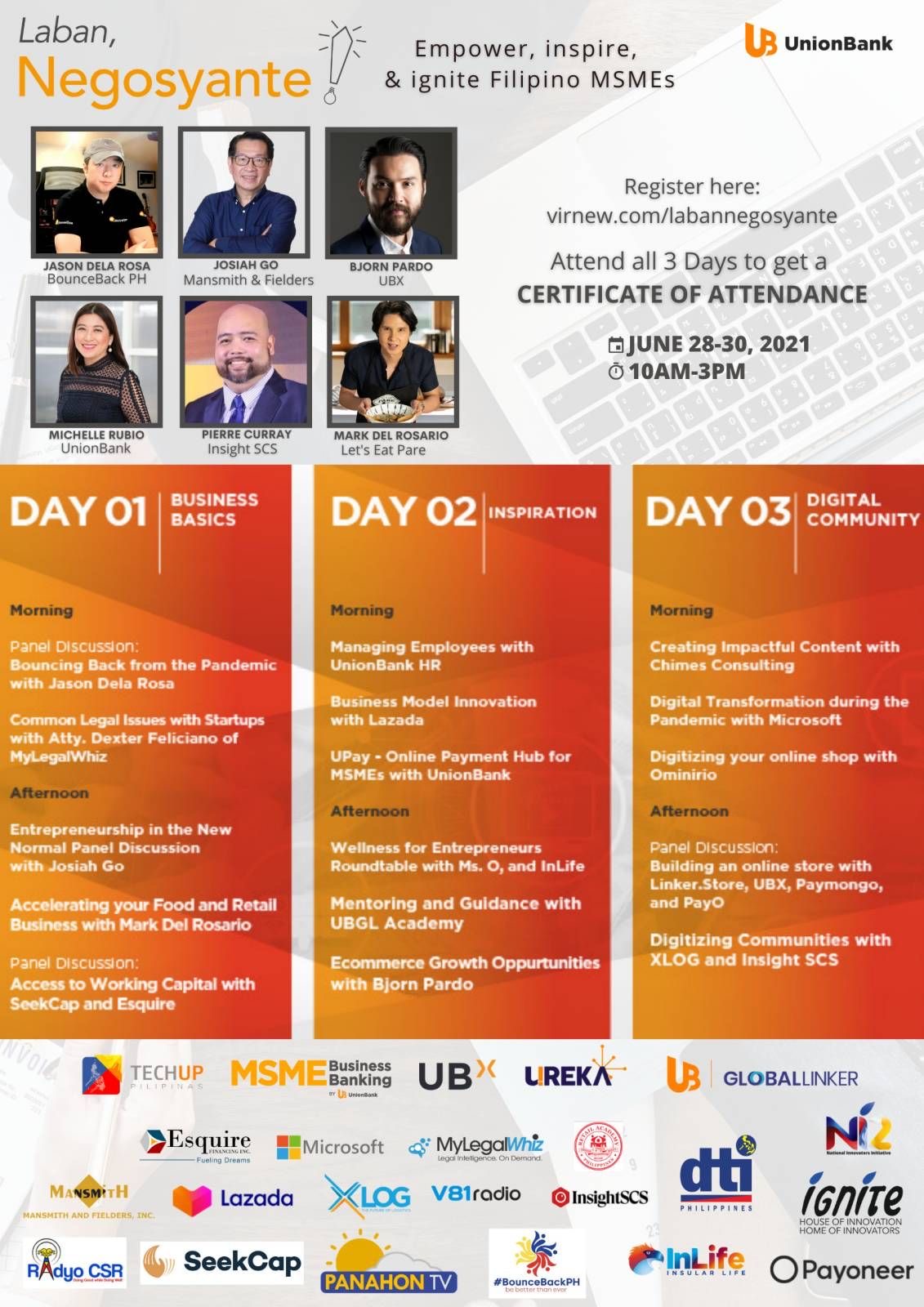 The online event, aptly called Laban Negosyante! aims to empower, inspire, and ignite the entrepreneurial flame of Filipino MSMEs. Entrepreneurs got front row seats to relevant and inspiring discussions with business thought leaders such as Mansmith and Fielder's Josiah Go, Bounceback PH's Jason Dela Rosa, Let's Eat Pare's Mark Del Rosario, and UBX's Bjorn Pardo, to name a few.
"We at UnionBank made a commitment to harness technology to more quickly drive financial inclusion in the country," shared UnionBank President and CEO Edwin Bautista.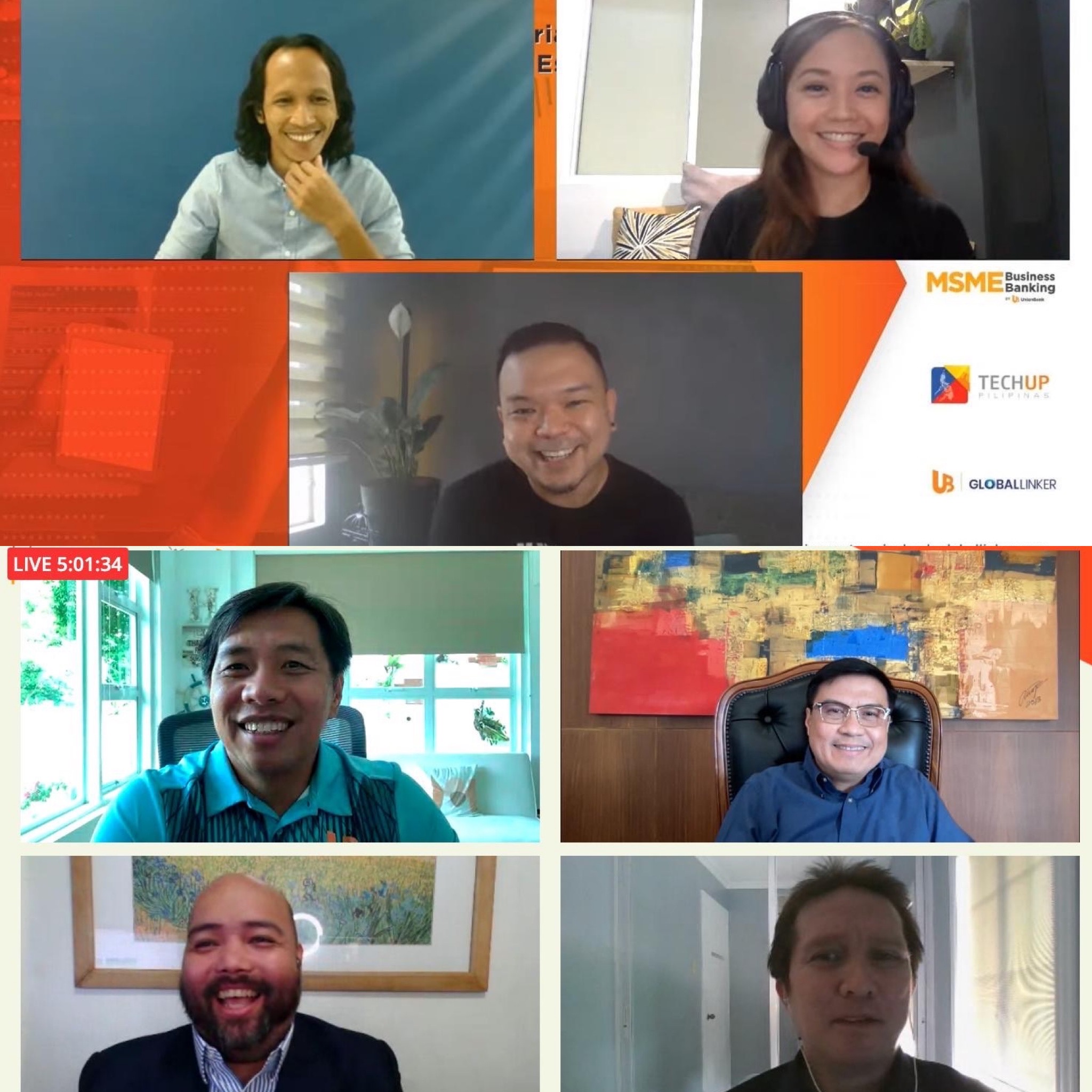 Laban Negosyante! covered three different themes. On the first day, talks focused on business basics such as bouncing back in the new normal, accelerating the growth of food and retail businesses, as well as basic legal issues with start-ups.
On the second day, the talks focused on inspiring MSMEs with employee management, business model innovation, and wellness discussions. Meanwhile, on the last day, the talks focused on all things digital – creating content, digital transformation, and setting up online shops.
"To the business owners, we will be with you every step of the way of their entrepreneurial journey. Whether it's for bank loans, business accounts, or direction in their business, we've got them covered through UnionBank GlobalLinker (UBGL), BizStarter, UBX, etc.," said UnionBank's SME Segment Head and Lead Proponent of UBGL, Jaypee Soliman.
UnionBank began its initiatives for MSMEs when it started digitizing MSME information six years ago by onboarding them through UREKA, an online platform created to educate small institutions on utilizing the web to expand their reach.
Over the years, the Bank has launched even more sustainable projects like GlobalLinker, and TechUp Pilipinas, to support MSMEs. UnionBank GlobalLinker is an online social network platform for business owners to allow them to have an end-to-end solution for different needs, while TechUp Pilipinas is a program to encourage the use of technology in scalling businesses.
For its continuing efforts to empower MSMEs, UnionBank received accolades including SME Bank of the Year from Asian Banking and Finance and Best Bank for SMEs from Asiamoney for the Bank's admirable contribution not just to its own bottom-line but to the future of the country.
"This pandemic emphasizes that all of us must have a higher purpose than just 'profit'. For us at UnionBank, this greater-purpose is to extend banking and financial services to the mass market and the unbanked, via best-in-class digital and physical channels, so that they can be "digitally transformed" and future-ready. We will continue to support MSMEs so they can be globally competitive in this new digital age as we continue our efforts to 'Tech Up Pilipinas' while pioneering innovations for a better world," Bautista said.
To watch the talks and panel discussions, check out the Laban Negosyante! MSME event videos available on UnionBank's official YouTube channel.