Dermorepubliq, TikTok Shop Philippines' top skincare brand, has launched its newest physical stores at SM Fairview and Riverbanks Center Marikina, marking a significant milestone for the emerging brand in the Philippine skincare industry.
This strategic move underscores the brand's commitment to implementing a multi-faceted sales strategy, combining the power of e-commerce with tangible, in-person customer experiences. By embracing the integration of physical stores into their successful e-commerce platform, Dermorepubliq aims to provide a seamless and inclusive shopping experience to a diverse clientele, enhancing accessibility and engagement on all fronts.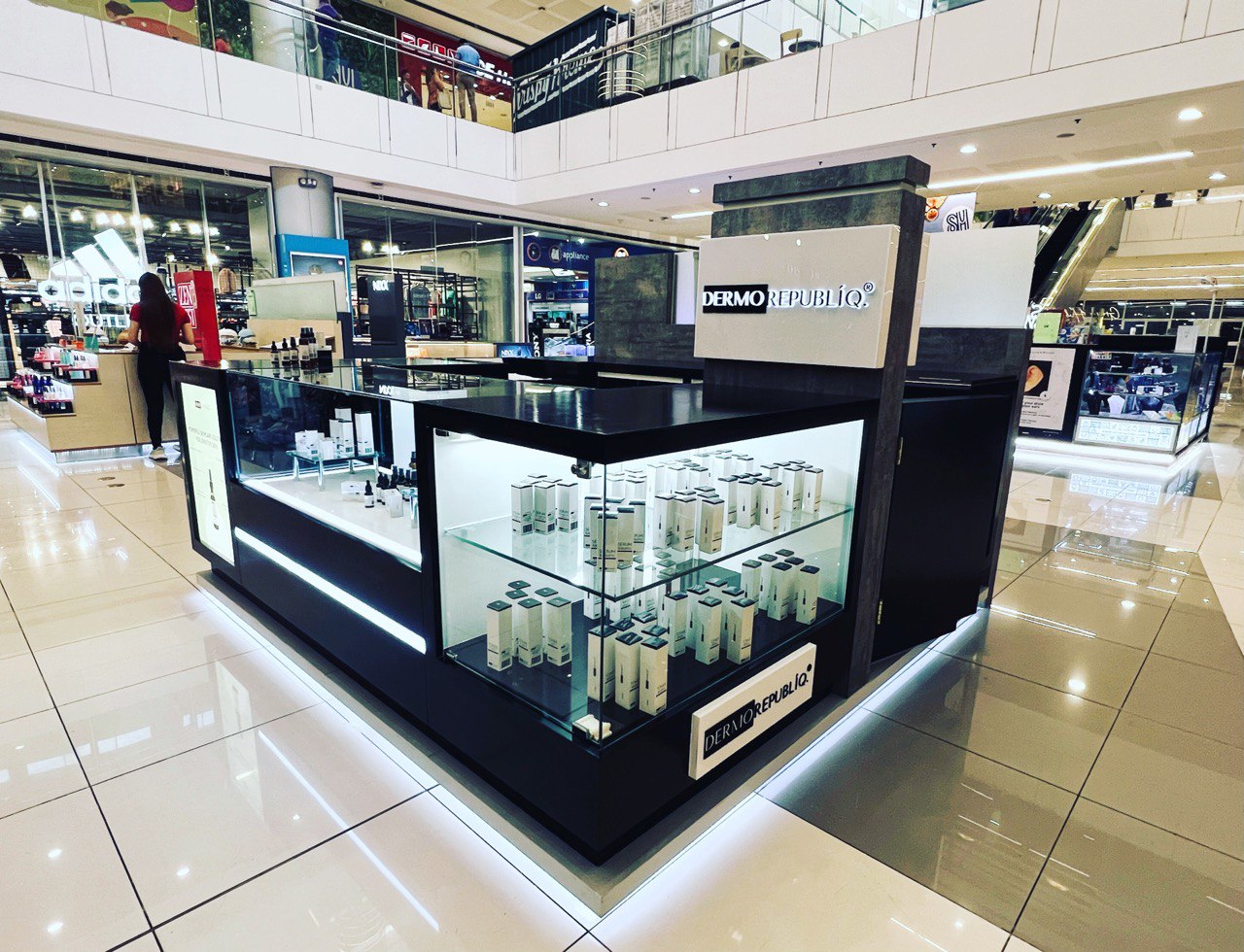 Dermorepubliq's kiosks showcase their collection of essential vitamin-infused products, tailored for men and women aged 18 to 35, offering both affordable and effective skincare solutions.
Dermorepubliq offers a diverse range of 16 highly effective skincare products tailored to specific skincare needs. The brand's core message is that quality doesn't have to be expensive; all their products are priced at less than 500 pesos, making them accessible to the local market. With formulations designed specifically for the tropical climate and backed by thousands of authentic customer reviews, Dermorepubliq has established itself as a local brand that can rival international brands in terms of quality and effectiveness. This affordability, combined with FDA-approved products prioritizing safety and efficacy, underscores Dermorepubliq's commitment to customer satisfaction and skincare excellence.
Dermorepubliq was cited as the number one skincare brand by TikTok Shop Philippines during its 9.9 sale after recording a sale of 13,000 units spanning 11,000 orders in that period alone.
Some of Dermorepubliq's best-selling products include their 5% Niacinamide + HA Serum and Niacinamide Face Bar.
The skincare brand was launched in 2020 by founder Keith Corwin Sta. Barbara after enduring personal struggles with acne. Motivated by the desire to find effective and accessible skincare solutions, Corwin started the brand with only three products: the 10% Niacinamide + HA Serum, the Niacinamide Clarifying Toner, and the Alpha Arbutin + HA Serum.
Since its inception in October 2020 as a sole proprietorship and subsequent incorporation in November 2021, Dermorepubliq has shown exponential growth, marking its presence on platforms like Shopee, Lazada, and TikTok, and opening physical stores at SM Masinag and SM Tanza.
"Our transformative journey, beginning with modest roots and culminating in nationwide acclaim, stands as a testament to our unwavering dedication. The strategic integration of TikTok in our content approach represents a contemporary stride in skincare education, empowering our generation to confidently embrace and celebrate their innate beauty," affirms Sta. Barbara.
Dermorepubliq aims to captivate its audience on TikTok with a blend of educational, lighthearted, bold, and humorous content. Through engaging videos, the brand seeks to educate users while creating a relatable and fun connection.
With a strong foundation in quality and innovation, Dermorepubliq aims to empower young adults to embrace their skin's natural radiance. The brand's commitment to gentle yet effective skincare products resonates with a generation seeking to redefine their beauty routines with products that truly deliver.
Dermorepubliq's newest stores are located at  SM Fairview Lower Ground Level, Parkway and Riverbanks Center KF-08, Palm Lane.  Additionally, you can explore and shop their range of skincare products online through their official website at https://dermorepubliq.com, on Shopee at https://shopee.ph/dermorepubliq, Lazada at https://www.lazada.com.ph/dermorepubliq, and follow them on TikTok with the handle @dermorepubliq for updates and promotions.