As e-commerce continues to grow in the Philippines, more sellers are exploring new ways to reach out and engage with potential customers online. In particular, Shopee online fashion sellers like Licel Manese, Alpha Joy Sto. Domingo and Nikka Solomon have leveraged live streaming as a unique and interactive way to showcase their products and engage with their consumers.
From Brick and Mortar to Online Store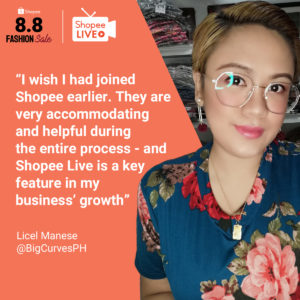 Before onboarding on Shopee, Licel Manese had difficulties getting sufficient sales from her physical store. With the encouragement of her supplier, she decided to set up an online store on Shopee. To her surprise, her online store grew in just less than a year. Licel was looking for a way on how she can acquire more buyers when she found out about Shopee Live while browsing through the Shopee app.
Through Shopee Live, Licel is able to offer an immersive shopping experience for her consumers while showcasing her products and engaging with her buyers in real-time.
"I wish I had joined Shopee earlier. They are very accommodating and helpful during the entire process – and Shopee Live is a key feature in my business' growth because it allows me to go live anytime, and I will always have an audience. I can give my buyers the 'in-store experience' as I can answer their queries about the product, just like when they're in an actual shop," she says. Licel adds, "When I started, I had a limited number of viewers, but now, I get about 100 to 200 comments on Shopee Live, mostly consisting of bulk orders from my resellers from Visayas and Mindanao."
From Youtube Vlogger to Shopee Live Star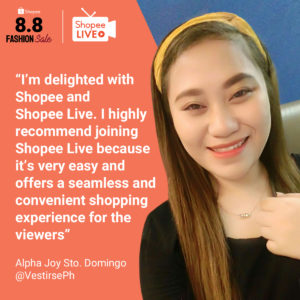 Alpha Joy Sto. Domingo has a full-time job in a BPO company and also sells on Shopee for additional income. As her online business grew, she quit her job and focused on building a career around online selling. Since then, she has dedicated all her time and efforts in promoting her products on Shopee. She tried video blogging on Youtube, but when Shopee offered a live streaming feature, she decided to switch to Shopee Live and focused there.
Shopee Live has become an effective marketing tool for Alpha Joy to promote her products and connect with her buyers. What started as a part-time gig grew bigger each month, and she now receives bulk orders.
"I was on my maternity leave and was very curious about the live stream feature. I tried it for my shop once, and it was effective. After doing it a few times, I realized that it's an excellent platform to sell my fashion items and is the most effective way to connect with my buyers. With Shopee Live, viewers can easily place their orders," she said. "Shopee Live helps me manage my inventory, and I get a lot of orders via Shopee Live since I get more than 200 viewers every time I go live. I highly recommend joining Shopee Live because it's very easy and offers a seamless and convenient shopping experience for the viewers," she adds.
From Banker to Live Streamer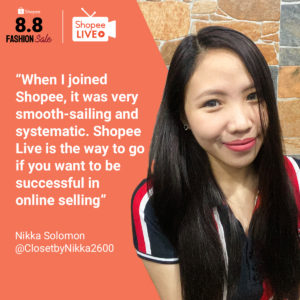 Nikka recently left her work at a bank to focus on her shop on Shopee. As a new seller, she got inspired by other Shopee sellers who live stream their products on the app. Following their footsteps, she decided to use Shopee Live to connect and build a long-term relationship with her buyers and viewers. At the start of her Shopee Live experience, she streamed for four hours, but now, she takes up to six to eight hours due to the high demand of her viewers.
"I enjoy doing live streams. When I started, I only had 30 to 40 viewers, but the more I did it, the more viewers I gained. Now I constantly have more than 100 viewers per stream. With Shopee Live, I'm building an online community and connecting with potential friends. It's not just about selling your items but rather building a bond with your buyers."
As she utilizes Shopee Live, Nikka's orders have grown and she receives more than 100 orders per live streaming. Recently, she and her family celebrated a milestone as she reached 10,000 followers on Shopee.
From July 23 to August 8, shoppers can look forward to these three sellers' live stream sessions at the upcoming Shopee 8.8 Fashion Sale. Users can enjoy free shipping for selected stores, deals as low as ₱8, mix-and-match bundle deals, and ShopeePay fashion vouchers. Users can also enjoy exclusive offers from leading brands such as Silver Kingdom, Hanford, Maybelline, Primer Group, Penshoppe, and iTrends.