When President Duterte placed our country under lockdown last March, I did not worry at first I thought everything will be fine soon, very soon. But over the past few weeks, countries around the word similarly restricted people's movement in order to stop the virus. We are staying home due to restrictions aimed at controlling the virus. We followed the curfew, my husband and I had the quarantine pass just to buy the weekly groceries. Honestly we are not prepared for this kind of situation but we are fortunate enough that my husband employer gave us support to provide for our family even he's "no work no pay". But as days go on the fund is not enough to sustain our everyday needs. More expenses are coming out but their is no source that comes in. My kids are getting bored and honestly its hard to move if you don't have money because you need money to buy anything from food, materials for fixing the parts of the house and even the hobby that you want to start. Everyday when I see others posting different foods, getting busy with their diy projects for their home and doing anything they want in the comfort of their house, napapa wow na lang ako.
As a bogger, attending events is one of my source of income from presscons to premiere nights and event launch but now zero and its get me frustrated because that is the only thing I now. And it always bother me because I don't know how can help my family. I'm not that kind of blogger that have that kind of big connections, only few of them know and like me. But then, sometimes when you least expect it, good things happen. Have you noticed that? Sometimes when I really really need and expect the way I want nothings happen. You now the saying, Good Things happen when you least expect them to. I feel so blessed with few people from pr/brand that gave me work/ayuda, they really made me special and get through with this situation.
Another thing that help me is joining mom communities they help me to get busy from time to time with different activities/giveaways and sharing stories. Joining their groups also made me enjoy the motherhood despite of the situation and it bring me tremendous joy. Moms are the best person in the world because they help each other, lift each other feelings and share even small things.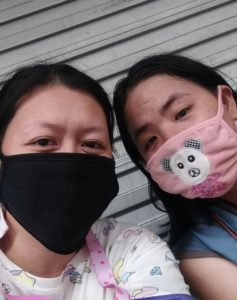 This Pandemic taught me that don't expect too much, just go with the flow and embrace unexpectedly moments. And be grateful to all even to the smallest flower. New Normal made me see the little things and appreciate even the simplest Hi! Thank you to the few people that help me and my family get through this especially Paymaya. And Thank you to all the moms that made me smile/kilig (lalo na pag may giveaway) especially Mommy Pehpot, mommy Peach,  mommy Levy and Mommy Badeth, looking forward for more mom activities.
Hoping this pandemic will end soon. Let's enjoy and live in the moment while in New Normal and be thankful always.
This story is an entry to ComCo Southeast Asia's "Write to Ignite Blogging Project". The initiative is a response to the need of our times, as every story comes a long way during this period of crisis. Igniting and championing the human spirit, "Write to Ignite Blog Project" aims to pull and collate powerful stories from the Philippine blogging communities to inspire the nation to rise and move forward amidst the difficult situation.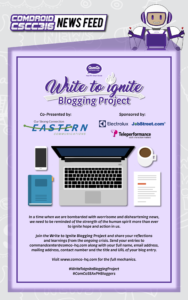 This project is made possible by ComCo Southeast Asia, co-presented by Eastern Communications and sponsored by Electrolux, Jobstreet and Teleperformance