Masks have easily become a new fashion accessory. From a piece of cloth that people had to wear to protect themselves, they have now swiftly evolved to be a part of one's fashion — a channel to express one's creativity.
But to beauty enthusiasts who love makeup so dearly, navigating the sweet spot between keeping themselves safe and still looking so glammed up is one challenge they are keen to take. While some have not touched their makeup for a really long time, there are also those who found new looks to love by focusing on what can be on display: the eyes.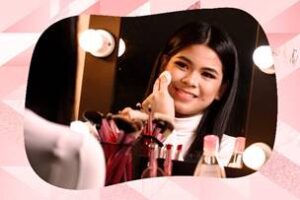 Makeup is part of what makes one feel good. And since it's a form of self-care, it shouldn't be anything like an all-or-nothing approach. Instead, apart from wearing fashionable and functional face masks, wearing one's favorite eye makeup is one of the coolest beauty trends to boost their confidence. Here are five makeup looks that prove now is the time to be all about the eyes:
Classic cat eye
Every beauty junkie has probably invested so much time just to perfect that feline flick. Also known as the winged eyeliner, this technique can add character to one's look because of a very precise line that accentuates the hood of the eyes. It might be tough to get it right the first time, but it gets easier with practice. Having the right tools can help, too. The Bobbie Cosmetics Eye Love It Ultra-fine Point Liquid Eyeliner (P199) has a bold color with a super-fine yet firm tip that allows one to create fine lines with precision.
Illuminate
Down to serve with some shine? This simple highlight trend can add more drama by illuminating the gaze. Pick up the Bobbie Cosmetics Glow Obsession Liquid Illuminator (P299) and put a pop of color on the eyes' inner corner. This can make one look more sophisticated and awake, and even balance a sharp cat eye.
Voluminous lashes
Make it extra by accessorizing with some gorgeous false lashes. From fun and flirty, to seductive and glamorous, having faux lashes to complement one's eye makeup can definitely leave a chic impression even with a face mask on. Level up the look with the Bobbie Cosmetics DIVA Lashes (P100), available in Diva, Prima Donna, and Queen.
Clean, healthy skin
Aside from wearing the most creative eye makeup looks, it is also important that people keep their skin healthy even during the quarantine. It's one thing to be confident with makeup on, but it's another to feel healthy and comfortable in one's own skin. To avoid common problems like 'maskne' and breakouts from makeup, double cleansing is the way to go.
Start by removing makeup with the new Bobbie Cosmetics Bare With Me All-in-One Micellar Water (P99) to help draw out impurities and oil build-up. Follow this with your go-to facial cleanser—lathering face wash and water allows one to go deeper into the pores. Whether or not you put make up on, it's still important to cleanse your face before bed to remove dirt that accumulates during the day.
Look your best even with a face mask on! Take care of your skin and get creative with several mask-friendly makeup techniques with beauty favorites from Bobbie Cosmetics. Check out some looks on their Instagram page, @bobbiecosmetics.