A weakened short-finned pilot whale, about three meters in length, was found in the coastal waters of Las Casas Filipinas de Acuzar in Bagac, Bataan on Monday morning.
According to reports, pilot whales are part of the safe and friendly dolphin family but are classified as whales for their large size.
With the immediate assistance of the local Philippine Coast Guard (PCG) Detachment, Bureau of Fisheries and Aquatic Resources (BFAR) and an expert animal trainer from the nearby Subic Ocean Adventure, the Las Casas team immediately jumped into operation to assist the weakened marine mammal and maneuvered it to the new Las Casas Marina.
The concerned veterinarian provided the whale with anti-stress antibiotics and took blood samples to further determine her health condition.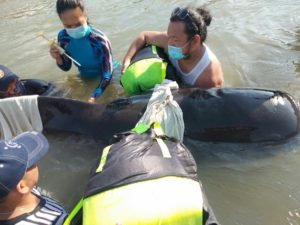 Said whale is still under observation and is undergoing treatment at Las Casas.
During today's uncertainties, it is still inspiring to see people coming together to save lives.
For more information, visit Las Casas Filipinas de Acuzar on Facebook and Instagram.