During this pandemic, it is important to be vigilant with our family's health and safety by staying protected against airborne viruses and other harmful threats.
Do you know that indoor air can be 5 times as polluted as outdoor air? Since indoor air is not circulated as much as outside air, many airborne pollutants continue to thrive inside. Having air purifiers is important, especially in enclosed spaces. This is to prevent the spread of the virus.
Dr. Zen's PuriFirst Air Purifiers give you the protection you need, from Covid 19 and other kinds of viruses. They are medical grade purifiers with 7 filter system perfect for protecting your homes, offices and clinics.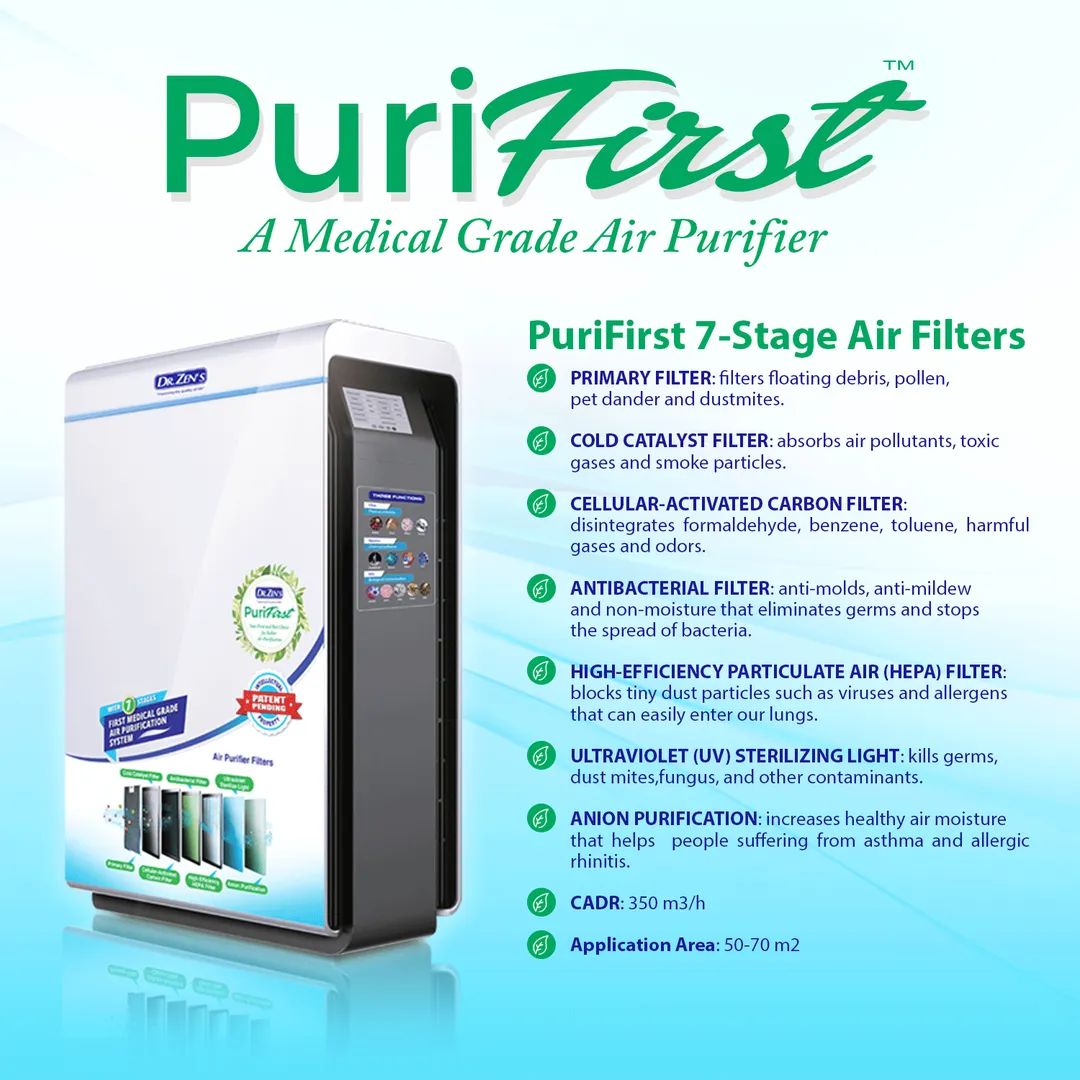 PuriFirst has a Japanese Shenrong sensor which quickly detects harmful gases present in the environment. The machine sensor automatically reads the air environment differences, its light changes to:
Red – means bad air quality
Yellow – means poor air quality
Blue – means normal air quality
Green – means excellent air quality
After that, its adjust its air purification systems. The filters that need to be change are the 2nd back-to-back filter (composed of Cold Catalyst and Cellular activated carbon filter) and the 3rd back-to-back filter (composed of Antibacterial and HEPA filter).
Product Feature:
Kills bacteria and viruses that cause diseases
Has highly efficient seven air purifier filters purposely to filter and resolve.
Filter out even the tiniest particles such as molds, dust and allergens up to 99.99% purification rate with an outstanding High-Efficiency Particulate Air (HEPA) filter.
Operates with advanced odour system that quickly reads the air environmental differences,
User-friendly control panels and uses a light-color indicator, making air cleaning extra effortless.
It has three (3) functions;
Filter – Pollen, Dust, PM2.5 and Smoke (Physical Pollution)
Resolve – Formaldehyde, Benzene, Toluene and TVOC (Chemical Pollution)
Kill – Bacteria, Germs, Molds, Fungus and Mites (Biological Contamination)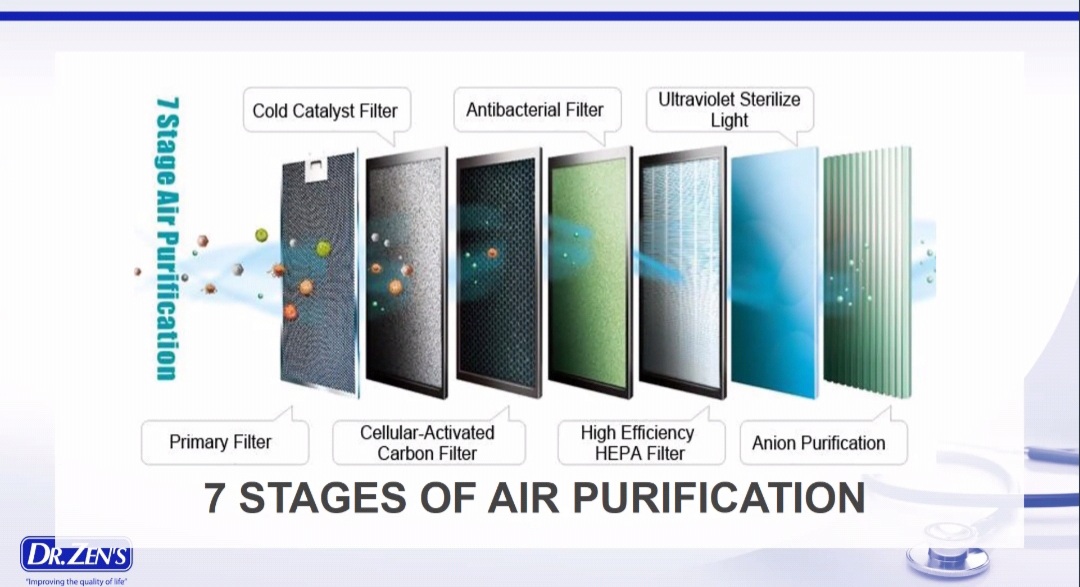 It has 7 stages of Air Purification
Primary Filter, blocks larger dust particles more than 5 microns such as floating debris, pollen, pet dander and dust mites.
Cold Catalyst Filter, absorbs air pollutants, toxic gas and smoke particles.
Cellular-Activated Carbon Filter, a nanocrystal nontoxic filter that resolves and disintegrates formaldehyde, benzene, toluene, total volatile organic compounds (TVOC) other harmful gases and odor
Antibacterial Filter
High Efficiency HEPA Filter
Ultraviolet Sterilize Light
Anion Purification, double core negative ion filter that eliminates dust and static electricity, activates the physiological activities of the human body and increases clean, healthy air moisture that helps people suffering from asthma and allergic rhinitis.
Other features are;
Auto Shut Off when lifted and tilted
Remove PM2.5
Multiple filtering
Releasing of Anions
Child lock
Ultra-quiet operation
Intelligent sensor
Double control operation
Light sensor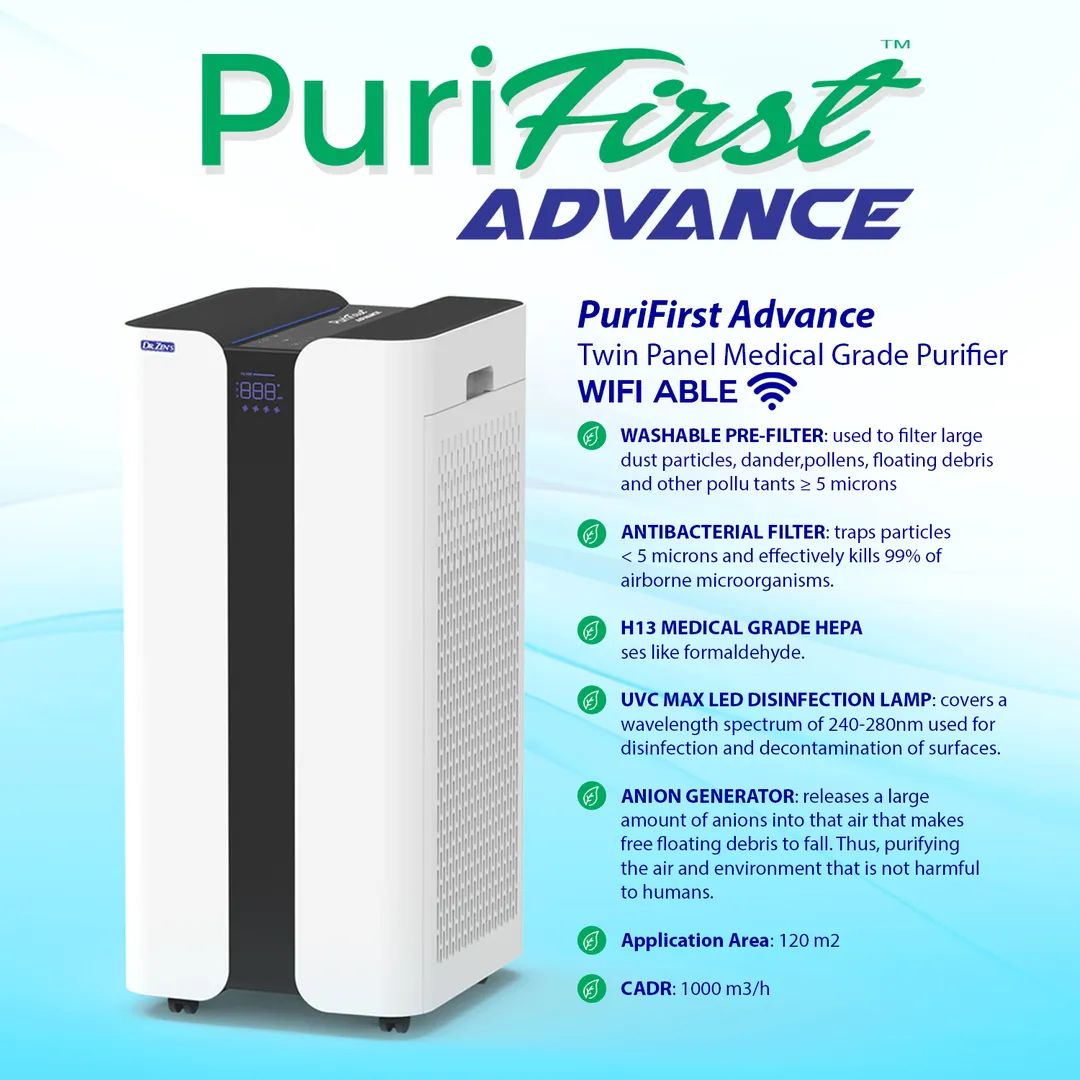 Dr. Zen's PuriFirst Advance was developed by bringing together technolgy innovation and unparalled performance producing the latest generation of smart purification. It is WIfI enabled allowing automatic control of functions wirelessly with smart phone.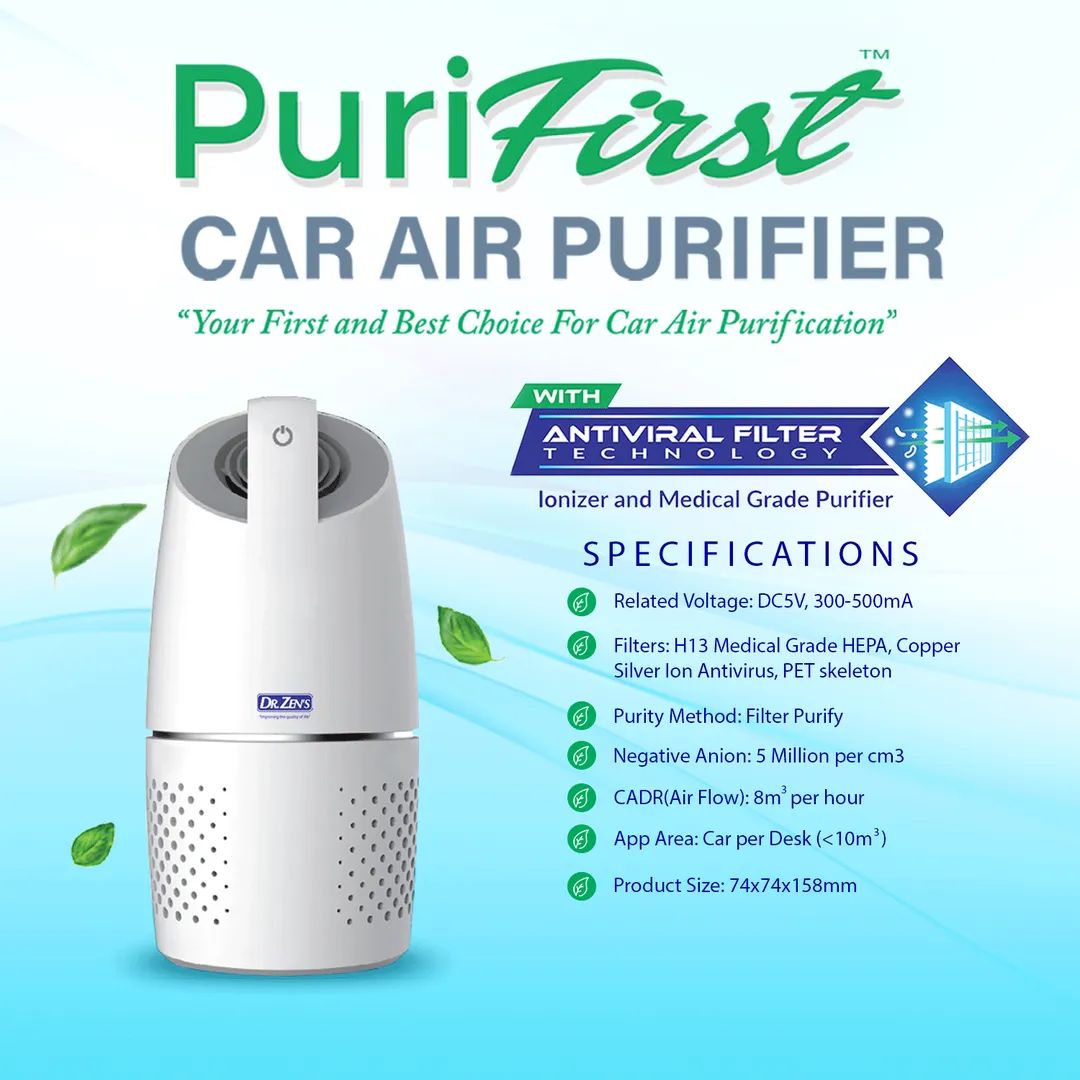 Dr. Zen's PuriFirst Car Air Purifier is best for doing carpooling services but can also be used as desktop air purifier.
So what are you waiting for? Invest in your health & safety, it's worth it! Great for our homes, schools, hospitals and other commercial areas.
You can use code PURIFIRSTBEDALYN and get 15% off on PuriFirst, PuriFirst Advance, and Car Air Purifier. Use PURIFIRSTFILTERBEDALYN and get 12% off on PuriFirst Filters when you purchase thru Dr. Zen's website.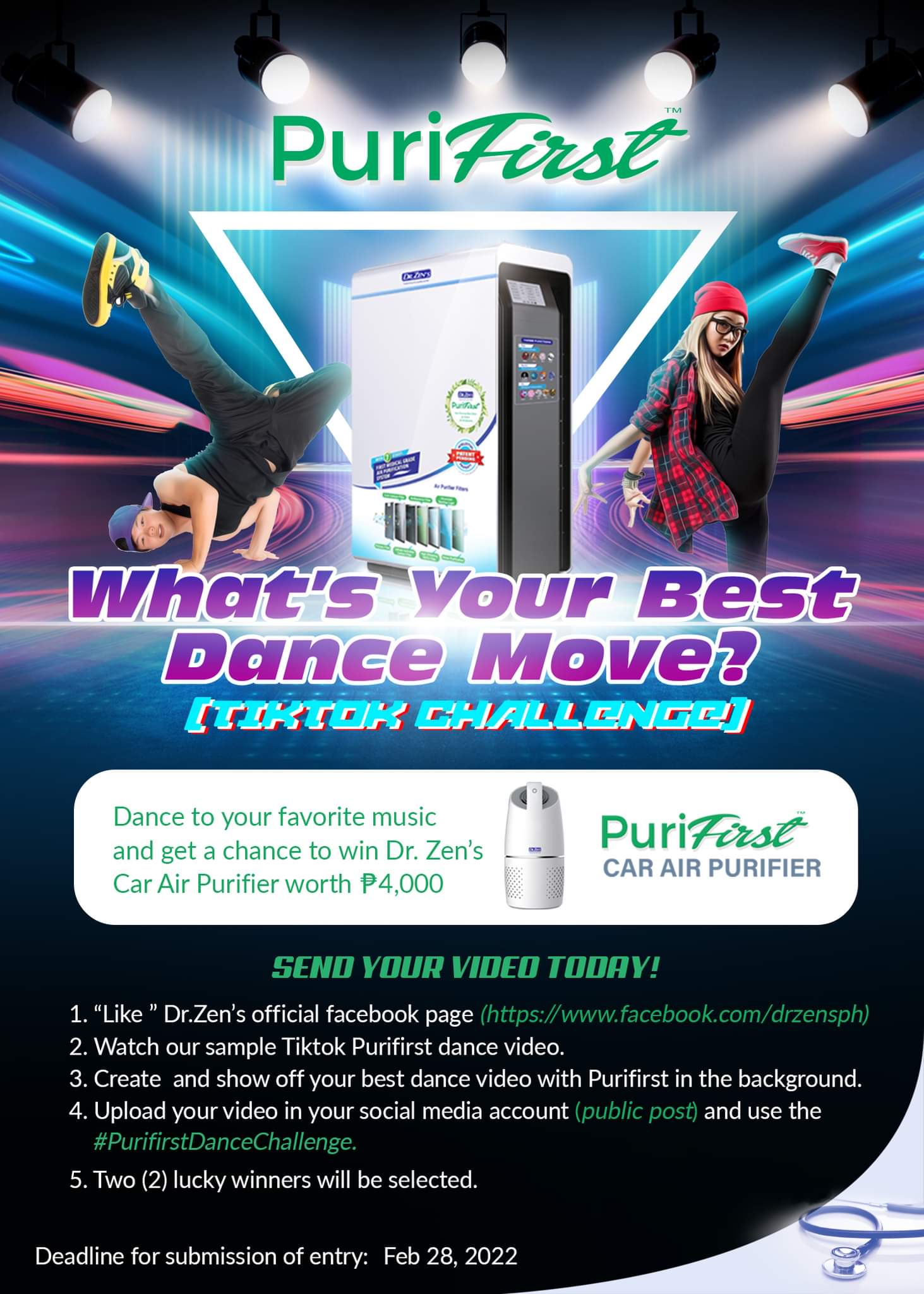 Check out also the Dr. Zen's Dance challenge and get a chance to win PuriFirst Car Air Purifier. Submission of entry is until February 28, 2022 only.
Goodluck!!!