SM Supermalls and its corporate social responsibility arm, SM CARES, together with the Women's International Network on Disaster Risk Reduction (WIN DRR) and the Private Sector Alliance for Disaster Resilient Societies-Philippines (ARISE-Philippines), conducted a webinar on the importance of women in disaster resilience in celebration of 2022 National Women's Month.
"As we learn today from various women leading in resilience initiatives, may this spark in all of us the strength to overcome adversity and a renewed drive to create a sustainable future for us all," said SM Supermalls President Steven Tan in his welcome remarks during the forum held on March 30 via Zoom and Facebook Live.
United Nations (UN) Special Representative of the Secretary-General for Disaster Risk Reduction (SRSG), Mami Mizutori, in her keynote message, emphasized "women's equal participation and leadership in public life including disaster risk reduction is important and it is also essential to reducing disaster risk in achieving the United Nations sustainable development goals."
Vasiti Soko, Director of the National Disaster Management Organization in Fiji expressed the inclusivity in disaster risk reduction and empowerment of women in DRR programs of the Fijian government. Equitable access to services is Fiji's battle cry to alleviate cultural discrimination and enhance productivity to rebuild opportunities after disaster.
Zamboanga City Mayor Maria Isabelle "Beng" Climaco discussed how women can help build disaster-resilient cities. In Zamboanga City, promotion of women leadership in policy-making was demonstrated by appointing more women in executive positions.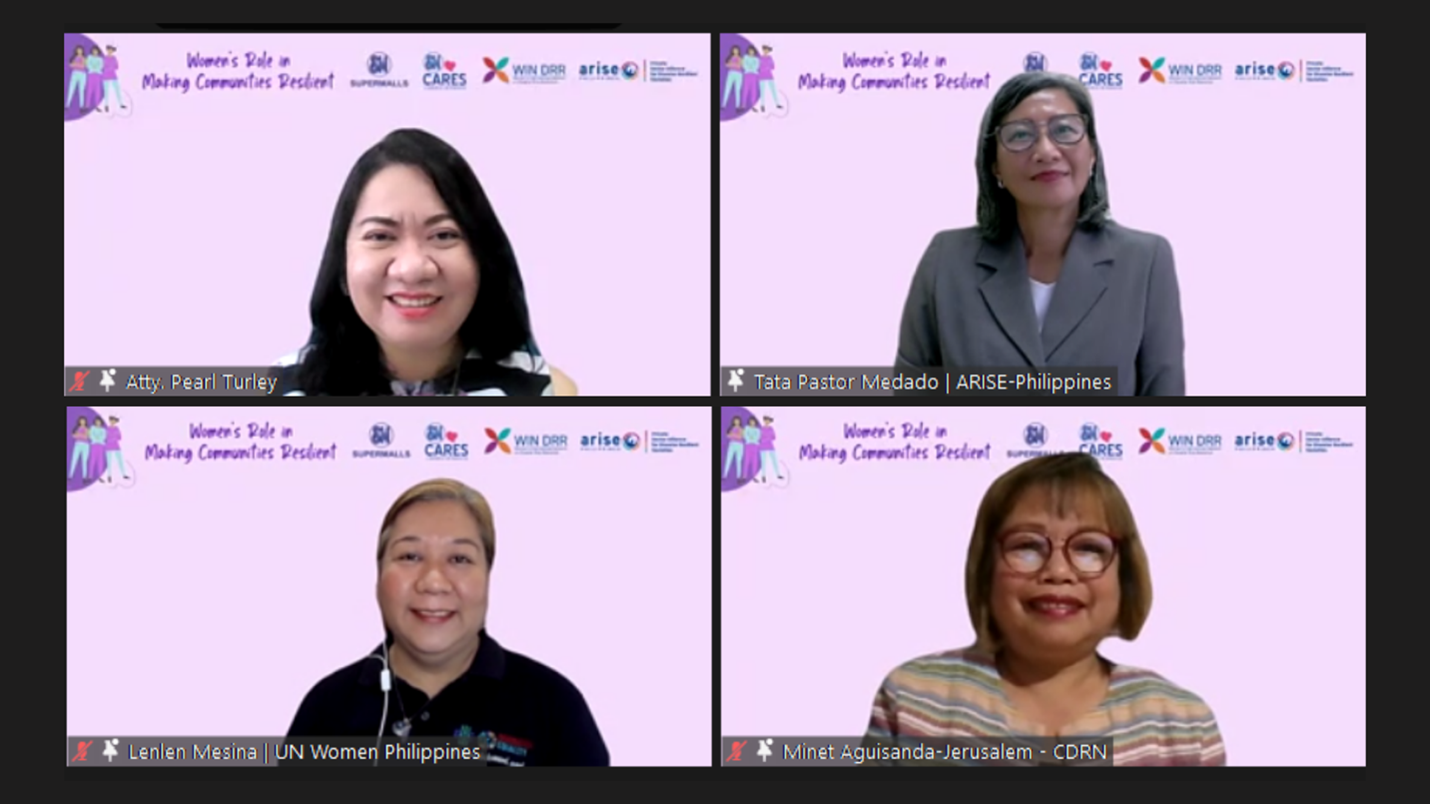 UN Women WeEmpowerAsia Philippines Country Program Manager Ma. Rosalyn "Len Len" Mesina discussed the ways forward to ensure gender equality in the promotion of DRR and resilience. Among these are having women's seat at the table, promoting women-led information dissemination, supporting sustainable women's livelihoods and access to markets.
Meanwhile, Citizens Disaster Response Network (CDRN) National Chairperson Jazmin Aguisanda-Jerusalem talked about women-led community-based disaster risk reduction and management especially her experience during Typhoon Haiyan (Yolanda) while based in Palo, Leyte. The organization she leads was able to mobilize the community three (3) days after the typhoon and helped in the relief operations for thousands of households.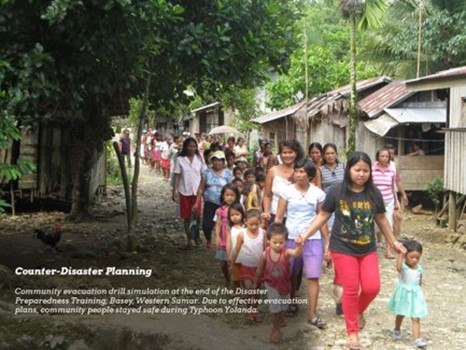 Branwen Millar, Program Manager, WIN DRR reminded the participants of the strategic goal of the Sendai Framework for Disaster Risk Reduction 2015-2030. She emphasized that women and their participation are critical to effectively managing disaster risk and in designing, resourcing and implementing gender-sensitive disaster risk reduction policies, plans and programs.
She also mentioned that UNDRR encapsulates the aspiration to lead through the establishment of the WIN DRR (Women International Network for Disaster Risk Reduction) with the goal of empowering women to attain leadership and enhance their role in decision-making in disaster risk reduction in the Asia Pacific Region.
A panel discussion was held which was also participated in by SM Cares Program Head on Women and Breastfeeding Mothers Atty. Pearl Turley, and Asia Pacific College President and ARISE-Philippines Board Member Dr. Ma. Teresita "Tata" Medado.
Atty. Turley discussed the necessity to teach the next generation that inorder for us to be resilient we need to take care of our environment. She further stated the need to teach our children's children that we are only stewards of the environment and we have an intergenerational responsibility to it. She added that SM is heavy in programs for the environment, sustainability, and women. SM malls are malls which promote inclusivity where no one is left behind.
For her part, Dr. Medado closed the webinar with a proposal for a Women DRR Creed and that is to "declare our resolve to take a LEAP towards enabling women to take up strategic roles in making communities resilient by LEADING in policy making, program development and implementation. To make this LEAP is to EMPOWER the vulnerable communities and people. ACTION must be on the ground and PRAISE the women who are heroes of DRR."
To learn more about this webinar and the programs of SM Supermalls and SM CARES visit www.smsupermalls.com/smcares.