Santé, one of the active global players in the direct selling and wellness industry, announced recently that it is looking to provide job opportunities for those whose livelihood is affected by the current global health crisis.
Despite the pandemic, the company continues to receive a steady demand for its premier organic health and wellness products and services, Santé CEO Joey Marcelo noted.
Known for its flagship product, Santé Barley, the company has developed a comprehensive selection of everyday barley-based products. They are made, specifically with organic barley grass, as certified by BioGro, New Zealand's leading organic certification agency.
"We've seen the change in the buying behavior of our customers. People are buying online and are also shifting their focus to preventive care. Since Santé's products fall under the wellness category, we continue to receive a growing demand," added Marcelo.
In March, the demand for Santé's Daily-C, a non-acidic Vitamin C, has increased by more than 1000 percent.
This steady growth urged the company to strengthen its online presence. It also utilized technology to transform quickly and cater to the demands of the "new normal." The move also aims to attract more distributors, called Santé Business Owners, to put up their own direct selling business.
"We reacted fast, making sure that our online systems are working, from our customer services to online ordering systems. Most importantly, we made sure that the top management was visible. Virtual meetings were done daily with our teams and business owners," Marcelo added.
Present in 10 key cities worldwide, there are thousands of independent Santé business owners. Marcelo said, only half of them were active last year. "We are expecting more than 50 percent increase in the number of our business owners in the next couple of months," he noted.
Santé makes it even safer and easier for potential business owners to jumpstart their business. With Santé's Engage system, its business owners are easily plugged into a series of leadership, product, and business training aimed to help equip and aid in their growth both as a person and as a businessman.
Fastly adapting to the Covid-19 situation, Santé's Engage webinars are all done online and are given for free.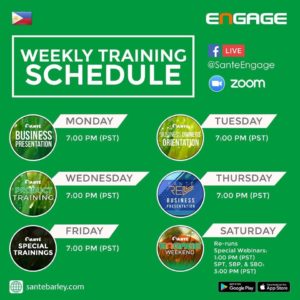 Santé also developed a mobile app (IOS, Android), which helps its business owners to conveniently order products and have them shipped. They can also transact everything through the company's website.
"Our Business Owners are glad to have a business that is, in a way, pandemic-proof. The global health crisis may have minimized person-to-person interactions, but we have helped them to shift to online selling. They are now all back on track," Marcelo said. "Santé will remain wide open for those who want to jumpstart their direct-selling business."
To learn more about Santé, visit its website at santebarley.com.