In celebration of the Month of Overseas Filipinos, the Safe and Fair: Babaeng Biyahero Campaign hosted Sama-Sama Tayo Babaeng Biyahero last 18 December, an online town hall and cultural night on its Facebook page.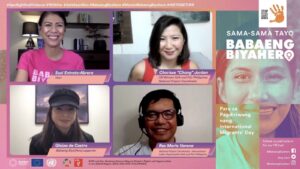 The campaign's year-end online event is aligned with the United Nations' global #WeTogether campaign theme for the 2020 International Migrants Day, which emphasizes unity, inclusion and solidarity with migrants around the world: #We Live Together. 
Hosted by Suzi Entrata-Abrera, the program also featured performances from women artists-songwriters who are members of the Philippine Educational Theater Association (PETA) as well as singer and actress, Glaiza de Castro. The Babaeng Biyahero Celebrity Champion, The Phenomenal Star Maine Mendoza also graced the event to announce the winners of the program's online gallery initiative which was launched last November 25.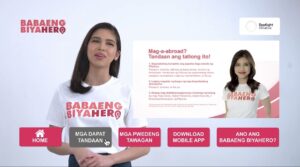 Headlining the event were the launches of several capacity-building services, programmes and opportunities for Filipina migrant workers, that can reduce risks to violence and enhance their choices and options throughout their migration journey: pre-departure, on-site/abroad, and reintegration.  
Providing more information channels during pre-departure  
Information is a crucial element in helping women migrant workers kick-start their migration journey. From legal assistance to job opportunities and knowledge on important hotlines and service-providers and support groups – information can help women migrant workers to prevent violence and abuses, assert their rights, seek redress and help, and ensure safe and fair working conditions abroad.  
To address this, the Safe and Fair programme through, UN Women and International Labor Organization, partnered with the Manila International Airport Authority (MIAA) to install the Babaeng Biyahero May I Help You Information Kiosks at the Ninoy Aquino International Airport (NAIA) terminal 1 and 2.  
The initiative aims to increase access to information by women migrant workers, support groups and other stakeholders about the different services available for OFWs particularly women, including those who have been subjected to gender-based violence. Information on essential services such as health, justice and policing, and social services are also covered by the kiosk.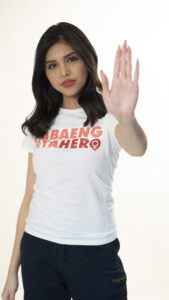 Babaeng Biyahero Celebrity Champion Maine Mendoza also appears in the initiative's instructional video – guiding women migrant workers through the features of the kiosk and briefly touching on the information found on each kiosk.
Coupled with the kiosk's launch is the introduction of the Babaeng Biyahero mobile app, which aims to provide an efficient and quick way for women migrant workers to access important information channels found in babaengbiyahero.info. The mobile app also enables users to locate embassies closest to them, as well as dial-out for hotlines abroad.  
Enabling efficient access to relevant training 
Safe and Fair Philippines supports the critical need of effective pre-departure and post-arrival training, especially for domestic workers and women in precarious jobs abroad by helping them understand their rights and equipping them with the necessary skills and competencies; these help reduce abuses, violence, and exploitation.
However, as the pandemic temporarily halts physical interactions, training is pushed to adjust to the internet-reliant new-normal.  
To address these, the event also launched the piloting of a more compact and blended National Certification (NC2) course for domestic workers, through a partnership among Technical Education and Skills Development Authority (TESDA), ILO FAIR II project, Fair Training Center (FTC) and Safe and Fair.
Likewise, the online Post-Arrival Orientation Seminar (PAOS) of the Philippine Overseas Labor Office in Hong Kong (POLO – HK)was launched in partnership with the FAIR II project, and the Department of Labor and Employment (DOLE). This enables Filipino domestic workers in Hong Kong to access the training program by simply logging-on to paos-hk.com. A PAOS certificate is also issued to migrant workers who complete the online course.  
Creating better opportunities upon reintegration 
To help women migrant workers return and successfully reintegrate in the labor market in the Philippines — including the thousands of women OFWs displaced and repatriated due to COVID — Safe and Fair Philippines collaborated with the ILO Women in STEM (Science, Technology, Engineering, and Mathematics), TESDA-NCR, and the National Reintegration Center for OFWs (NRCO) to launch the #WomenOFWsCanDoIt scholarship program.  
The scholarship program aims to provide added skills, reskilling or upskilling opportunities for local women, women OFWs, returnees and their family members, including technical, IT or STEM-related skills. These skills can become in-demand in the context of the pandemic or in the future of work. By equipping the women and migrants with these added skills especially in non-traditional categories, the program also seeks to help break the gender stereotypes about women's work.
The pilot batch will train 50 women OFWs by providing TESDA scholarships on STEM and Information and Communications Technology (ICT) courses, such as web development. Post-training job preparedness support and referral will also be provided. The program will be regularized and expanded to offer more courses, scholarship coverage and reintegration or job referral support.
Another important service and reintegration support for women OFWs and their families, particularly at the local level, are those provided by local government units (LGUs), through their OFW help desks or Migrant Resource Centers (MRC). Safe and Fair Philippines supported and launched the MRCs of Negros Occidental Province and Tabaco City (Albay) in partnership with the Center for Migrant Advocacy (CMA) and the OFW Federations of these local areas. Through these MRCs, OFWs, their families, and the general public can get gender-responsive programmes, specifically 'CLIENT' services (counselling, legal aid, information, education/awareness raising, networking and training), case referrals, psycho-social and welfare programs, and reintegration support. The MRCs also help in organizing, and strengthening OFW/family circles (OFCs), and building the capacities and leadership of OFWS especially women.  
Visit and follow the Safe and Fair Philippines Facebook page for more information and the latest updates on "Sama, Sama Tayo Babaeng Biyahero. Go to the Babaeng Biyahero website for more information about the situation of Filipina migrant workers, or if you need to contact or report any incidents.