In a collision of genres, cultures, and personal flair, the Red Bull Dance Your Style National Finals concluded last September 2 at 5th Ave. Bonifacio High Street, where the 8 finalists from the Cebu and Manila qualifiers competed against 8 wildcards in an electrifying mix featuring unique styles and techniques. 
Red Bull Dance Your Style is a unique competition showcasing creativity, individuality, and exploration of the different dance genres. Unlike traditional competitions, Red Bull Dance Your Style stands out as a unique 1v1 showdown with the only judge being the crowd itself. The crowd decides who gets to move further in each round, and ultimately determines the champion. This, coupled with unpredictable music, mastery, and dance prowess, makes Red Bull Dance Your Style competition a unique experience, with every performance consistently keeping both the audience and dancers captivated and engaged.  
Half of the Top 16 hailed from the Cebu and Manila qualifiers, which took place last July 15 and July 22, respectively. The other half were wildcard entries with different backgrounds, performance styles, and accolades. Together, they battled it out on the stage for a chance to represent the Philippines on the world stage.
Each finalist gave it their all throughout the National Finals, but in the end, Louries Dhztine 'JXYB' Bernardino secured the title of champion. Having bested the competition with their signature Krumping technique and personality, JXYB is now on track to represent the Philippines in the World Finals.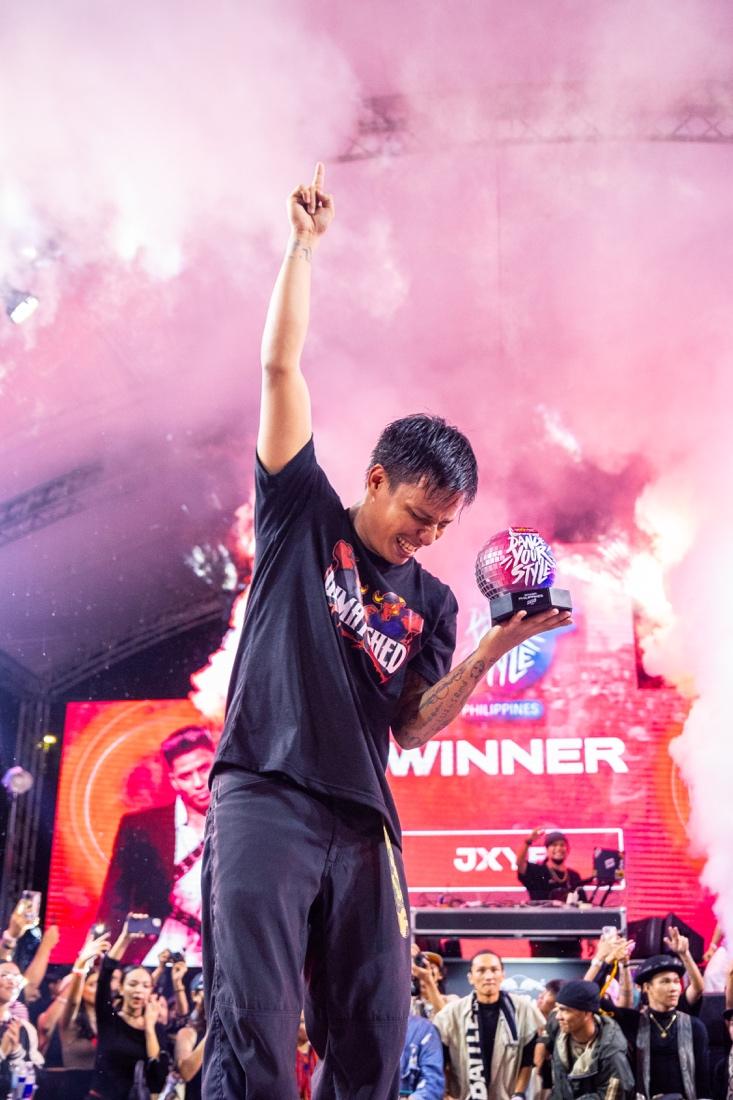 "Red Bull Dance Your Style is really challenging. In a normal battle, you only have to please three judges but in Red Bull Dance Your Style you have hundreds, even thousands of people to please. So what I do is I just try to show my skills and at the same time enjoy it, and hope that I get to reach the crowd with that and they see my soul with my performance" said Louries Dhztine 'JXYB' Bernardino. 
JXYB battled it out against the first-ever  Red Bull Dance Your Style Philippines Champion, Mickey Paolo Yatar in the semi-finals. The showdown elicited loud cheers for the then title holder and JXYB, shining the spotlight on the individual prowess of both dancers. 
"Mickey has so much crowd control. He knows how to please an audience, and that's something I look up at him for. Something I also want to develop for my future performances," said JXYB. 
JXYB also went against wildcards "Heidra" and "O-shady" who brought out a range of hip-hop and pop grooves, but the finale performance against fellow krumper Juan "BLVCKZIK" Carlo De Leon brought out the largest cheers in an adrenaline-pumping 1 on 1 where JXYB ran off stage and through the center crowd, catching every beat and transforming the energy and applause into a routine made to remember. 
With the winner of the National Finals now secured, the spotlight shines even brighter on their journey as they prepare to represent the country on the global stage. The highly-anticipated Red Bull Dance Your Style World Finals is set to take place in Frankfurt, Germany, in November 2023. Dancers representing different countries will come together to showcase their unique flair and celebrate different styles of dance.
Red Bull dance consultant Lema Diaz says Red Bull has partnered with the best of the Philippine dance community and is more than ready to train JXYB with the best local dancers in preparation for the World Finals. 
"We work with the best of mainstream and underground dancers and we have the full support of Red Bull and of our partners for this journey. We also know that there are so many skilled dancers in the Philippines that can compete globally. We are local going global, and these people are not new to the world stage. They have been competing and carrying our flag around the world. There is no need to train abroad when the best is already here with us. Red Bull has given us a platform and I'm so thankful for them to have given wings to the Philippine dance community," said Diaz. 
For JXYB, the World Finals would not only mean endless training, but also collaboration with the Philippine dance community, and finding inspiration in his personal experience in the local dance battle and freestyle scene in the country. 
"For the finals in Germany, I'll look to the many inspiring people from the Philippine dance community. We are so advanced here in dancing that even as I have won Red Bull Dance Your Style, I know that I may still lose in other, maybe even smaller, battles locally. That's how good our dancers are. That's how advanced the Philippine dance community is when it comes to freestyle battling but that's a big advantage for me – I come from a good community of dancers and I'll be taking that experience to Germany," JXYB said. "I plan to maintain my style and enjoy my dance more but I'll for sure train every day and begin inserting new techniques I can use," he added. 
JXYB is set to represent the Philippines on the global stage this November in Germany. For updates and news regarding JXYB, Red Bull Dance Your Style, and upcoming Red Bull events, visit https://redbulldanceyourstyle.com/ and the following social media pages: 
Facebook: https://www.facebook.com/redbulldance | Instagram and TikTok: @redbullph @redbulldance