Interesting characters from showbiz and real life are out to unveil their competitive spirit in TV5's leading comedy game shows this week. "Fill in the Bank" and "Bawal na Game Show" feature amusing personalities from all walks of life – from barbers, LGBTs, body builders, beauconteseras, to TV's renowned kontrabidas.
Barbers try their luck to snip some cash in the September 21 episode of "Fill in the Bank on as they vie for the jackpot money of as much as Php150,000. An LGBT couple will invade the studio on September 23 as they play in the money-saving rounds Enter your Pin Code, Cheque or X, Coin Rush, and Huli Cash.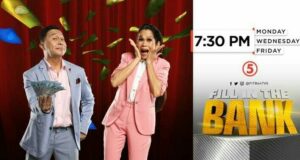 On September 25, "Fill in the Bank" will have female body builders getting cozy with funny hosts "Manedyer" Jose Manalo and "Madam Poky" Pokwang. Catch them compete in the show's creative games Ayuda Teh! Machine (ATM) and Panghakot na Papremyo Equipment (PPE).
"Fill in the Bank" airs every Monday, Wednesday, and Friday at 7:30 p.m.
"Bawal na Game Show" brings in more intriguing personalities with a bunch of gym instructors sweating it out on Tuesday, September 22. Ghorl Twins Wally Bayola and Paolo Ballesteros strut their stuff with beucontesera players on September 24 as they try to take home as much as Php50,000.
Kontrabida celebrities Ryan Eigenmann, Nina Ricci Alagao, Pinky Amador and Mon Confiado will be the certified pasaways in the September 26 episode. They can either follow or defy the rules in "Bawal Ma-Fall," "Bawal ang Da Moves," "Bawal ang Sablay," and "Bawal ang Sumuko."
"Bawal na Game Show" airs on Tuesdays and Thursdays at 7:30 p.m. and on Saturdays at 7:00 p.m., only on TV5.