Medical frontliners are the modern-day heroes in our ongoing battle against the COVID-19 pandemic. As they continue to save lives of our kababayans, we can stand behind them by practicing health safety measures and utilizing technology.  
Utilizing digital apps like PayMaya are making it easier for Filipinos to participate in bayanihan movements for the community – this includes making donations to organizations whose beneficiaries are healthcare workers. Here are some of the ways you can show support to our medical frontliners, with the help of PayMaya: 
Practice safety health standards in your day-to-day activities

 

 
The easiest and sure way to curb the spread of the virus is by keeping ourselves within the safety of our homes and staying healthy. We must always ensure that we follow safety health standards in our daily activities.   
One way to keep ourselves safe is by going cashless. With apps like PayMaya, you can easily pay your utility and government bills, send money to your loved ones, purchase essentials at the PayMaya Mall, and even buy prepaid load with just your mobile phone–no need to go out to do these transactions. 
Donate to initiatives supporting medical 

frontliners

 

 
Many of PayMaya's partner organizations, including the Philippine Red Cross, PGH Medical Foundation, PLDT-Smart Foundation, and Alagang Kapatid Foundation, have initiated programs supporting our healthcare workers. Their initiatives provided care packages, food, supplies, and medical kits to frontliners.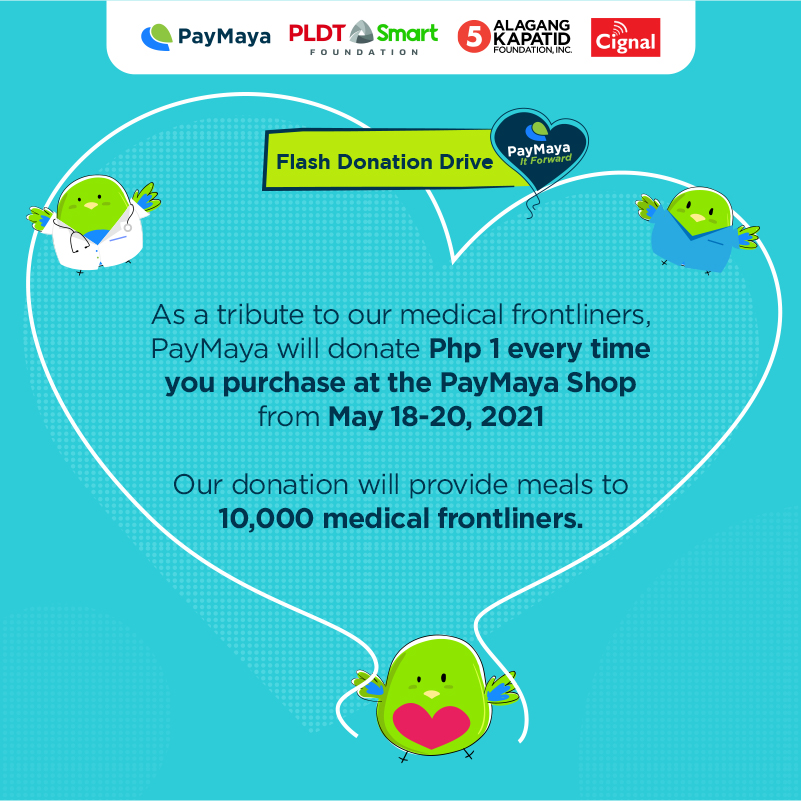 Today, you can easily support the Philippine Red Cross, PGH Medical Foundation, PLDT-Smart Foundation, Alagang Kapatid Foundation, and other similar orgnanizations using your PayMaya account. All you have to do is go to the Bills feature of your PayMaya app, choose Donations, and select the organization you'd like to donate to. Simply key in '00000' as the account number and enter your donation amount, then proceed to complete your donation.   
If you are abroad or would prefer to use your card to donate, you can go to PayMaya's donation website, https://donate.paymaya.com/ . In the site, you can choose from PayMaya's 50 Donation Partners with COVID-19 relief and response efforts and donate to their cause using any Visa, Mastercard, and JCB credit, debit, and prepaid cards, or other e-wallets. 
Purchase digital products at 

PayMaya's in-app shop

 to provide meals to medical 

frontliners 

 
From May 18-20, 2021, PayMaya is doing a flash donation for our frontliners. Each time you purchase digital products such as telco load, gaming pins, on-demand content credits, and transportation credits from the in-app PayMaya Shop, the digital payments company will donate Php1 on your behalf to build a pool of fund to distribute packed meals to a total of 10,000 medical frontliners of 26 public hospitals for five days. This initiative, in partnership with PLDT-Smart Foundation, Alagang Kapatid Foundation, and Cignal, is a way to pay tribute to our modern-day heroes who work tirelessly to save lives of COVID-19 patients. 
Make an emergency donation to the Philippine General Hospital through 

the PGH Medical Foundation 

 
One of the PGH's pay ward was recently struck with fire that damaged a portion of its facilities and displaced patients. It has called for food, non-food, and cash donations. You can extend your help to the PGH through the PayMaya donation channels of PGH Medical Foundation. You can simply visit pymy.co/pghmedicalfoundation to donate using any credit, debit, or prepaid card or go to the Bills page in the PayMaya app to make a donation (Go to Bills > Tap Donations > Choose PGH Medical Foundation > Enter '00000' in the Account Number field and put the amount you wish to donate).  
Let's show our support to our medical frontliners by doing safer cashless and contactless transactions. Together, let's stand as #OneAgainstCOVID19.  
For safe cashless and contactless transactions, simply download the app at the Android Playstore or iOS App Store using this link https://official.paymaya.com/CAK1/425eb133 and register for a PayMaya account. To know more about PayMaya's products and services, visit www.PayMaya.com or follow @PayMayaOfficial on Facebook, Twitter, and Instagram.