Consistent with its mission to continuously provide the most quality and family-friendly health and wellness products, PascualLab launches its newest pedia product ProBio7 Kids.* ProBio7 Kids is a probiotic food supplement powder with  7 probiotic strains, that goes beyond improving digestive health¹ — it also helps augment the body's immune system.

With the pandemic still looming over our heads, everyone, including children, continue to be susceptible to attacks from COVID-19 and its new variants, as well as other viruses that can cause infections.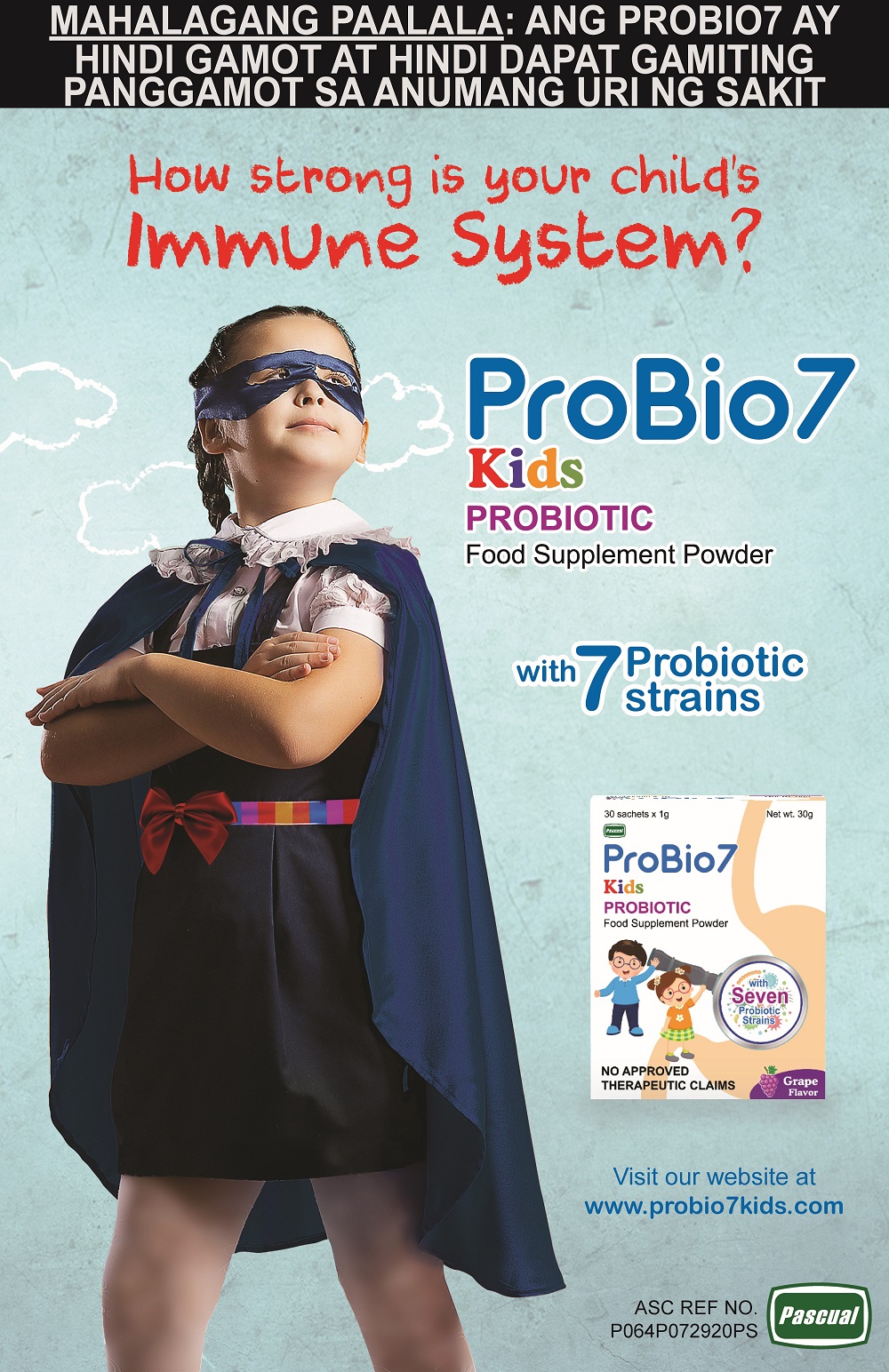 Given this uncertainty, the question that begs to be answered is: how strong are children's immune systems? Enter PascualLab's newest product offering  ProBio7 Kids, which helps boost immunity by fighting off infection with its 7 Probiotic strains: Lactobacillus acidophilus, Lactobacillus rhamnosus, Streptococcus thermophilus, Lactobacillus plantarum, Lactococcuslactis​, Bifidobacterium longum, and Bifidobacterium animalis subsp. lactis​.
While probiotic strains are more widely known to aid gut health by increasing a child's probiotic diversity, ¹ they also help the body's response against viruses and bacteria.² Studies show that children who take probiotics are less likely to get colds and flu, thereby reducing their absences from school.³
Moreover, some studies also show that probiotics even help boost the growth of children as it aids digestion of nutrients, ⁴ especially of lactose. ⁵
ProBio7 Kids, is the latest addition to PascualLab's family of pedia health products including Poten-Cee Plus and Boostavit.
ProBio7 Kids can be administered directly or mixed with food or water. It comes in Grape flavor and is available in sachet format in boxes of 30s at  select drugstores and supermarkets nationwide, or  online via PascualLab's official flagship store in Lazada and Shopee.  Suggested retail price is Php 1,140.00.
*MAHALAGANG PAALALA: ANG PROBIO7 KIDS AY HINDI GAMOT AT HINDI DAPAT GAMITING PANGGAMOT SA ANUMANG URI NG SAKIT.