In responding to the growing demand for safe and convenient payment services, the Department of Health – Metro Manila Center for Health Development (DOH-MMCHD), through its partnership with MyEG Philippines, Inc. (MYEG PH), officially launches its online payment service via the MYEG website.
Starting today, hospitals, health facilities, health workers, and other clients of DOH in Metro Manila can already pay for permits, licenses, accreditation, authorization, registration, certification, clearances, violations, and other DOH transactions in a faster, more secure, and more convenient manner.
This comes after DOH's Assistant Secretary (formerly DOH-MMCHD's Regional Director) Gloria J. Balboa signed the Memorandum of Agreement (MOA) with MyEG PH Chief Executive Officer Ann Margaret T. Saldaña on July 15, 2022, with DOH-MMCHD's Regional Director (formerly DOH-MMCHD's Assistant Regional Director) Aleli Annie Grace P. Sudiacal and MyEG PH E-Gov Operations Manager Ms. Israelita Choa present as witnesses.
This innovation would help citizens in terms of convenience in transactions and fees payment. Instead of going to a DOH Metro Manila office to pay via the cashiers, they could just pay online at www.myeg.ph/services/doh-mmchd, and select the transaction they want to pay, making it easier, time- saving, and hassle-free.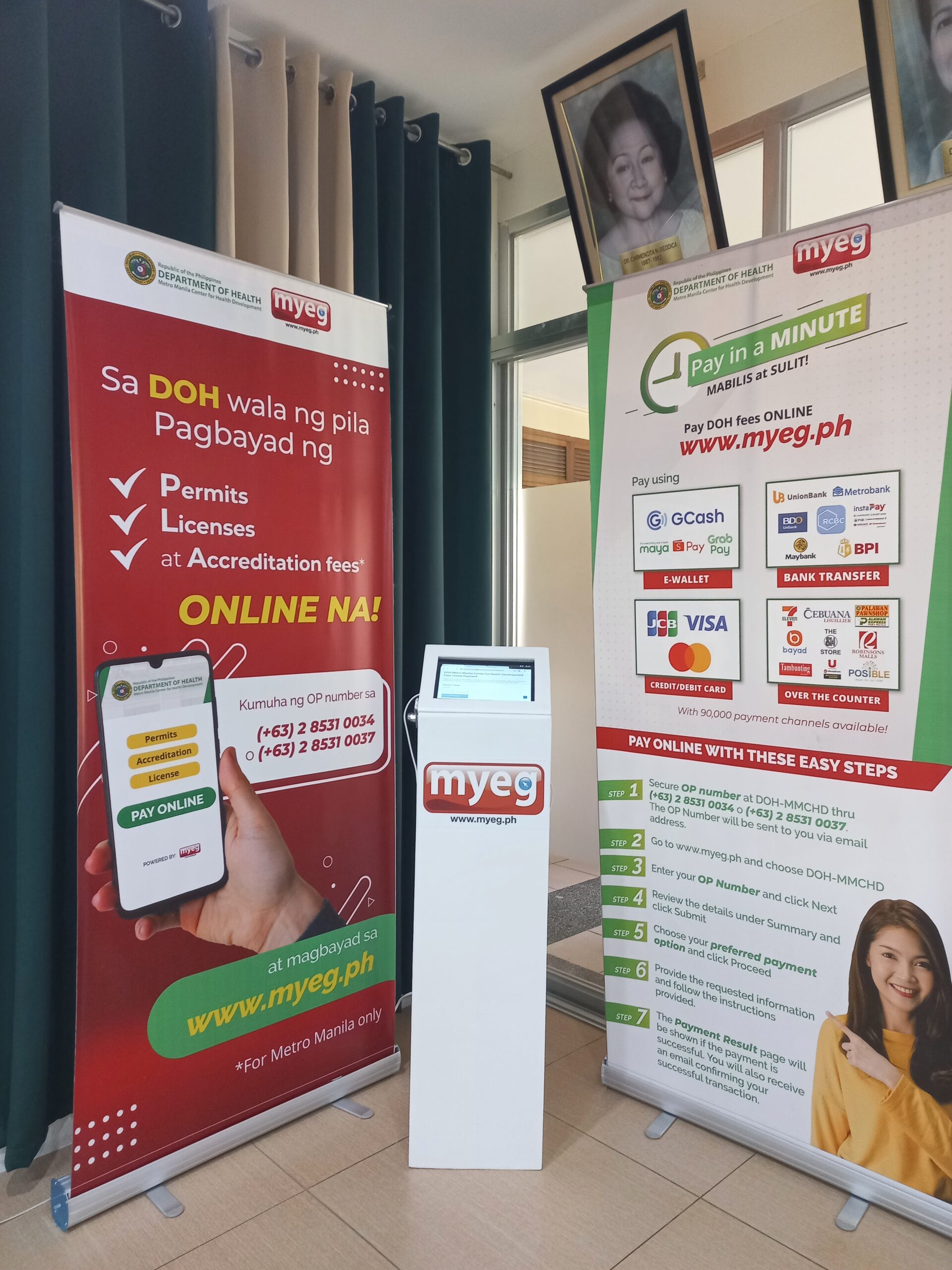 Paying via the MYEG website gives the citizens several payment options from E-Wallets (GCash, Maya, ShopeePay, and GrabPay), Online Bank Transfer from various banks such as BPI, BDO, UnionBank, RCBC, Maybank, Credit/Debit Card, and cash payment from any branches of 7-Eleven, Cebuana Lhuillier, Palawan Express, Bayad Center, SM Malls, Robinsons Department Stores, Tambunting Pawnshop, RD Pawnshop, USSC, Posible, DA5, and many others nationwide.
With the vast number of electronic payment systems emerging, plus the demand for a faster, easier, and more convenient way of settling fees and transactions, Regional Director Sudiacal said that "we are excited that we're now able to start accepting online payments, providing our clients the ease of doing business with DOH".
Meanwhile, MyEG PH CEO Ms. Ann Saldaña assured that the online payment system is designed to provide both DOH-MMCHD and the citizens a more convenient, easier, faster, and hassle-free experience in processing and making payments.
The DOH-MMCHD is the principal health agency in the National Capital Region (NCR). It is responsible for ensuring access to basic public health services for Filipinos through the provision of quality health care and regulation of providers of health goods and services.
MyEG Philippines, Inc. is a market leader in electronic solutions championing government services online automation both in the Philippines and in Malaysia and a leading e-payment processing provider with 90,000 payment channels nationwide from cash payment options, credit cards, e-wallets, bank transfers, etc.
About MyEG
MyEG PHILIPPINES, INC. (MyEG PH), a market leader in electronic solutions championing government services online automation, has been providing eGovernment services in both Malaysia and the Philippines for more than 20 years through its technology platform encompassing internet, automation, big data and electronic payments.
IPAY MYEG PH is in a JV Partnership with MyEG SERVICES BHD (MyEG KL). MyEG KL is a publicly-listed company in the Kuala Lumpur Stock Exchange (KLSE), and is the pioneer in eGovernment services in Malaysia.
Since inception in the year 2000, MyEG KL has successfully implemented and rolled out online services from key Government Agencies in Malaysia that interacts directly with the citizens and businesses among which is the Kuala Lumpur City Government.
MyEG PH partners include the National Bureau of Investigation (NBI), Land Bank of the Philippines, Development Bank of the Philippines, PhilHealth, PEZA, BIR, TIEZA, SBMA, and different Local Government Units in the country.
It currently provides e-payment and e-government services for major government agencies in the Philippines and handles over 50,000 daily transactions servicing Filipinos all across the country. It also has more than 90,000 payment channels and points of sale location across the Philippines
For more information about MyEG, you may send your inquiries to Ester Rebecca Del Fierro (ester.delfierro@myeg.ph).