This holiday season, PayMaya lets you easily send aguinaldo to your loved ones anytime, anywhere, and in any way you like with surprisingly better features than the e-wallet you're used to.
Whether you're sending funds to your inaanak's PayMaya or bank account – or even those without any financial account, PayMaya is here to make your Christmas gift-giving more convenient and fun!
Here are just some of the ways PayMaya can bring ease to your aguinaldo-sending this Christmas:
Spice up your digital aguinaldo with a GIF!
Be the coolest ninong or ninang this Christmas by personalizing your digital aguinaldo to your inaanak with a fun GIF! PayMaya's Send money feature allows you to include a GIF and a personalized message whenever you send money to another PayMaya user.
To send virtual aguinaldo complete with a GIF, you simply have to tap Send Money on the PayMaya homepage, input the PayMaya mobile number of your recipient and the amount, tap the 'Personalize your message' toggle and choose the GIF or theme you'd like to add. Once everything is confirmed, hit Send. You can also add this transaction to your favorites, if you're planning to send more aguinaldo to this particular loved one soon.
Get a cashback on your transfer fee to other banks!
If you're transferring funds to a bank account, PayMaya is your best option. With PayMaya, you get to enjoy a cashback of P15 on your transfer fee via Instapay until December 31, 2021 – so you don't have to worry about additional expenses on top of your aguinaldo budget.
To do this, simply tap the Bank Transfer icon on your PayMaya app homepage, choose the bank you'd like to transfer to, input the account details and amount, and hit confirm.
Transfer aguinaldo to those without a bank account in a few taps!
You can also send money even to those without a financial account. All you have to do is transfer the money from your PayMaya app straight to the trusted Smart Padala agent of your recipient.
Because there's always a Smart Padala agent 6 minutes away from customers, SENDali na rin ang pag-claim because your recipient can easily receive the funds without having to travel far.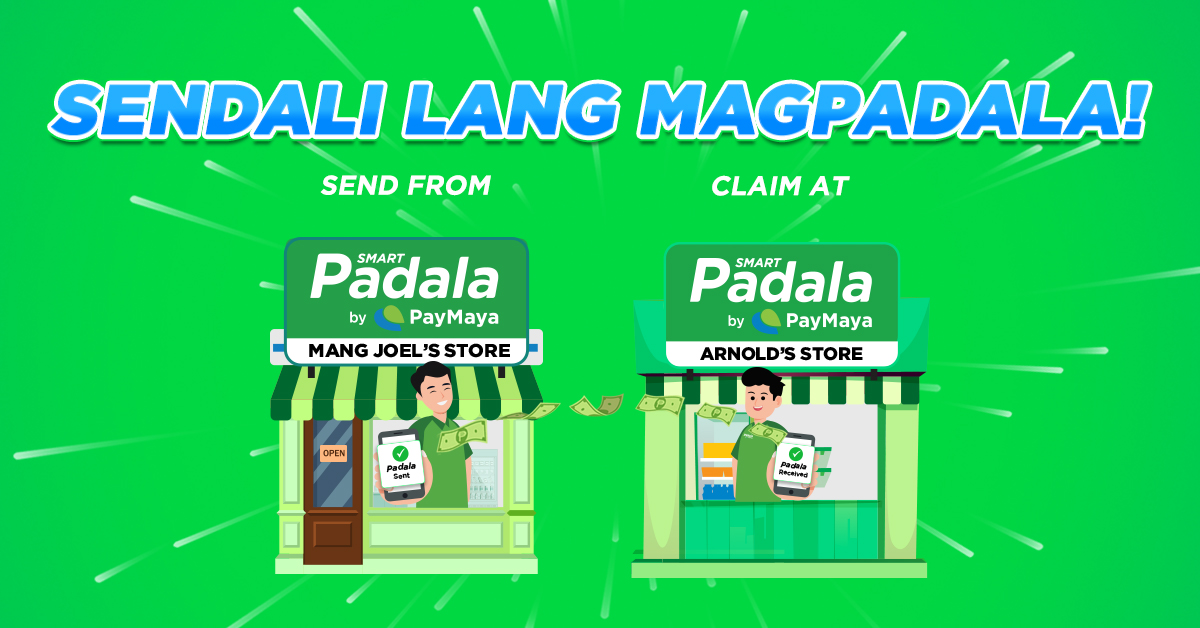 To transfer funds, just tap Send Money on your PayMaya app, input the 16-digit account number of your recipient's trusted Smart Padala agent, key in the amount for sending, and confirm your transaction. Once sent, you'll receive a reference number which you'll have to share with your recipient so they can claim the funds instantly.
With these convenient and fun ways to send money, sharing aguinaldo to your inaanaks will definitely be a breeze with PayMaya. To make your cashless experience even more fun, PayMaya is also giving YOU aguinaldo for simply using the PayMaya app this Christmas season!
If you're a new PayMaya user, you'll get a 100% cashback when you purchase load and gaming pins right after you sign up and cash in at least P100! You can enjoy a cashback reward of up to P100 if you're a basic user, and up to P200 if you're an upgraded user until the end of the year. On top of this, all PayMaya users can also get a chance to be one of the 5 winners of a brand new iPhone 13 ProMax – all you have to do is buy any load item in your PayMaya app.
For the ultimate aguinaldo this Christmas, you can also get a chance to win P1,000,000 by simply logging in and using your PayMaya app for your everyday transactions! Every time you log in to your PayMaya app, you'll receive an instant random reward of up to P1,000. And when you use your PayMaya app to send money, pay bills, or buy load/gaming pins, you get to earn a raffle entry – giving you a chance to win P1,000,000 until December 31!
Enjoy these rewards and a surprisingly better cashless experience with PayMaya's free cash in, widest biller and load product offerings, hundreds of legit brands and sellers via Maya Mall and PayMaya Verified sellers, real-time transaction history updates, 99.9% up-time rate, and so much more! Register an account now and discover what makes PayMaya #TooGoodToBeNo2. You can even earn P50 every time you refer a friend using your code, and get them to upgrade their account!
PayMaya is the only end-to-end digital payments ecosystem enabler in the Philippines, with platforms and services that cut across consumers, merchants, communities, and government. It provides more than 41 million Filipinos access to financial services through its consumer platforms. Customers can conveniently pay, add money, cash out or remit through its over 380,000 digital touchpoints nationwide.
Its Smart Padala by PayMaya network of over 60,000 partner agent touchpoints serves as last-mile digital financial hubs in communities, providing the unbanked and underserved access to digital services. Through its enterprise business, it is the largest digital payments processor for key industries in the country, including "every day" merchants such as the largest retail, food, gas, and eCommerce merchants, as well as government agencies and units.
To know more about PayMaya's products and services, visit www.PayMaya.com or follow @PayMayaOfficial on Facebook, Twitter, and Instagram. Learn more about Smart Padala by visiting www.smartpadala.ph.