Lamoiyan Corporation, a leading manufacturer of personal hygiene and home care products in the country, has donated over three million worth of Lamoiyan products to Department of Education (DepEd) as it celebrates Head Lice Awareness Month and 5th year of Kilusang Kontra Kuto (Movement Against Head Lice) initiative.
In support of DepEd's Basic Education Learning Continuity Plan amidst the pandemic, Lamoiyan Corporation distributed packs of Licealiz Head Lice Treatment Shampoo, Hapee Toothpaste, and Dazz Dishwashing Liquid to selected regions for distribution among the students.
Selected regions in Luzon are Central Luzon, CALABARZON, and National Capital Region. Whereas, Central Visayas, Northern Mindanao, and Davao are the beneficiary regions for Visayas and Mindanao.
Lamoiyan Corporation's Licealiz Head Lice Treatment Shampoo initiated Kilusang Kontra Kuto in 2016, a coalition that has been battling head lice infestation nationwide for a kuto-free Philippines. The campaign includes yearly nationwide shampoo activity in schools in its commitment to fight head lice infestation or pediculosis and eliminate the social stigma associated with it.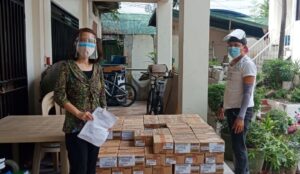 In light of the 5th year of this initiative, Lamoiyan Corporation's Licealiz aimed to support DepEd's Basic Education Learning Continuity Plan in the time of COVID-19 (BE-LCP). This is the department's response to the challenges posed by COVID-19 which covers the most essential learning competencies, multiple learning delivery modalities for teachers, school leaders and learners, required health standards in schools and workplaces, and special activities like Brigada Eskwela, Oplan Balik Eskwela, and partnerships.
"We are grateful for the Department of Education for being very supportive of our Kilusang Kontra Kuto campaign. With our long-running partnership with DepEd, we were able to visit several schools, do shampooing activities among students, and share the correct way of combatting head lice since 2016," said Lamoiyan Corporation Vice President for Marketing Bing Cavestany.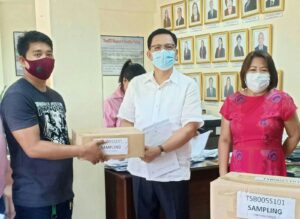 "Although students now are practicing distance learning and we temporarily cannot do our annual activities due to the COVID-19 crisis, Licealiz would like to consistently promote health and personal hygiene through our humble donation as children or even family members are still susceptible to head lice infestation no matter the circumstances, especially with many staying at home and in close quarters during the pandemic," she added.
Aside from encouraging good oral hygiene, Lamoiyan is also advocating the correct way of treating head lice infestation, which is considered the second most common health problem of public school children after tooth decay.
Lamoiyan Corporation's Licealiz Head Lice Treatment Shampoo effectively kills lice and nits after two weeks of use and prevents lice infestation from recurring. Its active ingredient, pyrethrin, a natural extract from chrysanthemum flowers, is clinically tested and proven safe and successful in killing lice and nits, while its conditioning formula keeps your kid's hair soft, smooth and fragrant.
For more information on head lice prevention and other Lamoiyan products, log on to www.facebook.com/licealiz or visit www.lamoiyan.com.