Do you  believe that precious stones, gemstones, and jewelry have always been connected to human culture since time immemorial? These beautiful adornments continue to hold real meaning and value. Throughout the course of history, jewelry has been offered as a trophy, an amulet, and sometimes, even art. It perfectly symbolizes love, a celebration of milestones, and of course, the ultimate representation of wealth.
Interestingly enough, while the value of the world's currencies constantly fluctuates, gold, diamonds, and other precious metals and stones, on the other hand, has remained stable. Despite the many global economic downturns, including the current pandemic that has severely affected the world's economies, the value of jewelry has held strong.
Though the price of gold, gold jewelry, diamonds, emeralds, sapphires, and other gemstones and precious stones also fluctuates, its value however has never truly depreciated significantly. Their value continues to steadily appreciate over time.
"What's beautiful about investing in jewelry is that it is timeless and its value does not diminish. Real jewelry becomes more valuable over time and it is a great investment asset to have as it pays dividends in the future," said Tyzianna Teves of Just Jewels.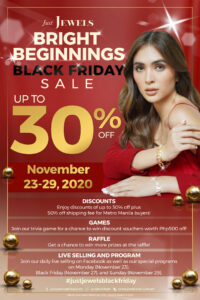 And if you're looking into investing your money in something does not depreciate, and more valuable over time, check out the Just Jewels Bright Beginnings Black Friday Grand Sale this November 23-29.
Just Jewels is one of the country's highly respected stores of real and authentic jewelry. Do you know that Mrs. Edna Lhuiller is credited for bringing the concept of "gold and diamond by the gram" to the Philippines. This concept is designed after the "by the gram" concept of selling gold,  made famous by the stalls of New York's 47th Street. This retail concept was first introduced in 2005 during the inauguration of the first Just Jewels store at Glorietta mall in Makati city. Since then,  other Just Jewels store have opened their doors to allow more jewelry lovers to enjoy this novel retail experience.
Just Jewels will be holding their Bright Beginnings Black Friday Grand Sale on Facebook, www.justjewels.com.ph, and at all the Just Jewels branches nationwide.
Daily LIVE FB Selling
Catch the daily Facebook LIVE selling from Monday ta Sunday (Nov 23-29) from 12:00 nn – 6:00 pm at Just Jewels Facebook Page
(www.facebook.com/justjewelsphilippines). Watch out for amazing deals and discounts of up to 30% off. More than 1,500 unique pieces are up for grabs! Get a chance to win exciting prizes and discount vouchers when you participate in the fun games and activities during the week-long event.
Weeklong Website Online Sale
Just Jewels want online jewelry shopping to be fun and exciting for all jewelry enthusiasts by enjoying great finds on the Just Jewels website
(www.justjewels.com.ph). They have handpicked precious jewelry
pieces with amazing discounts of up to 30% off. Just add to the cart and enjoy! Online buyers can also join exciting trivia games and online
activities to win coupons and get huge discounts!
Exciting Happenings and Discounts in All Branches
Jewelry shopping is also made exciting in all Just Jewels branches
nationwide. Just visit any of the branches and enjoy up to 30% off on selected items that are in display carts. Items such as heirloom pieces, earrings, engagement and wedding rings, pendants, and other charming pieces will be available for jewelry lovers to choose from. The friendly Just Jewels store team are available to assist you in the best store experience, the team will also facilitate fun and exciting games for even more discounts. Gift prizes and discount vouchers also await the lucky store visitor daily.
JUST JEWELS BRANCHES
Acienda Designer Outlet (046) 419-8842
Ayala Cebu (032) 231-5388
Bais (035) 402-2015
Festival Mall (02) 8850-3705
Glorietta (02) 8810-1281
JP Rizal Makati (02) 8779-9878
Jupiter (02) 8551-3732
SM Bacolod (034) 444-1151
SM Cebu (032) 238-9585
SM Mall of Asia (02) 8556-0648
SM Manila (02) 8527-9003
SM Megamall (02) 8633-5077
SM Pampanga (045) 649-1307
SM Southmall (02) 8801-9758
Veranza (083) 878-1470
But wait, there's more catch and enjoy the music of Hannah Olives on November 27 as the special treat.
For more information on the Just Jewels Bright Beginnings Black Friday Grand Sale, visit www.justjewels.com.ph.