The largest community in the Philippines and the rest of the Asia-Pacific region (excluding India), Home Buddies has become home to more than 3.1 million members or kapitbahays in search of house-related recommendations and tips. Since its creation in 2020, the group has started numerous trends—using the Irish Spring soap as an air freshener, making the Asahi nordic electric fan a #TeamKahoy and #TeamPuti must-have, and even looking for future budol partners through 'Dear Future Husband/Wife' posts.
Finding 'the one' on Home Buddies
The community welcomed the love month with its most hopeful and romantic story yet—that of Andrew Asencio's. Just like a lot of Home Buddies members, Andrew joined the group in 2021 mainly to get ideas for the dream house he's building and planning to share with his future wife.
In a surprising turn of events, a month before his planned proposal, he found out his then-girlfriend was cheating on him. Fiancé-less with a half-built home, Andrew chose to remain optimistic. He relied on friends and family, and most importantly, his faith.
"Apparently, God is good, He saved me from the wrong person before I [had gotten married]. This house is not hers nor ours. This is mine and I am waiting for my DREAM WIFE na kasali rin sa Home Buddies," he said.
SCREENGRAB OF ANDREW ASENCIO'S POST ON HOME BUDDIES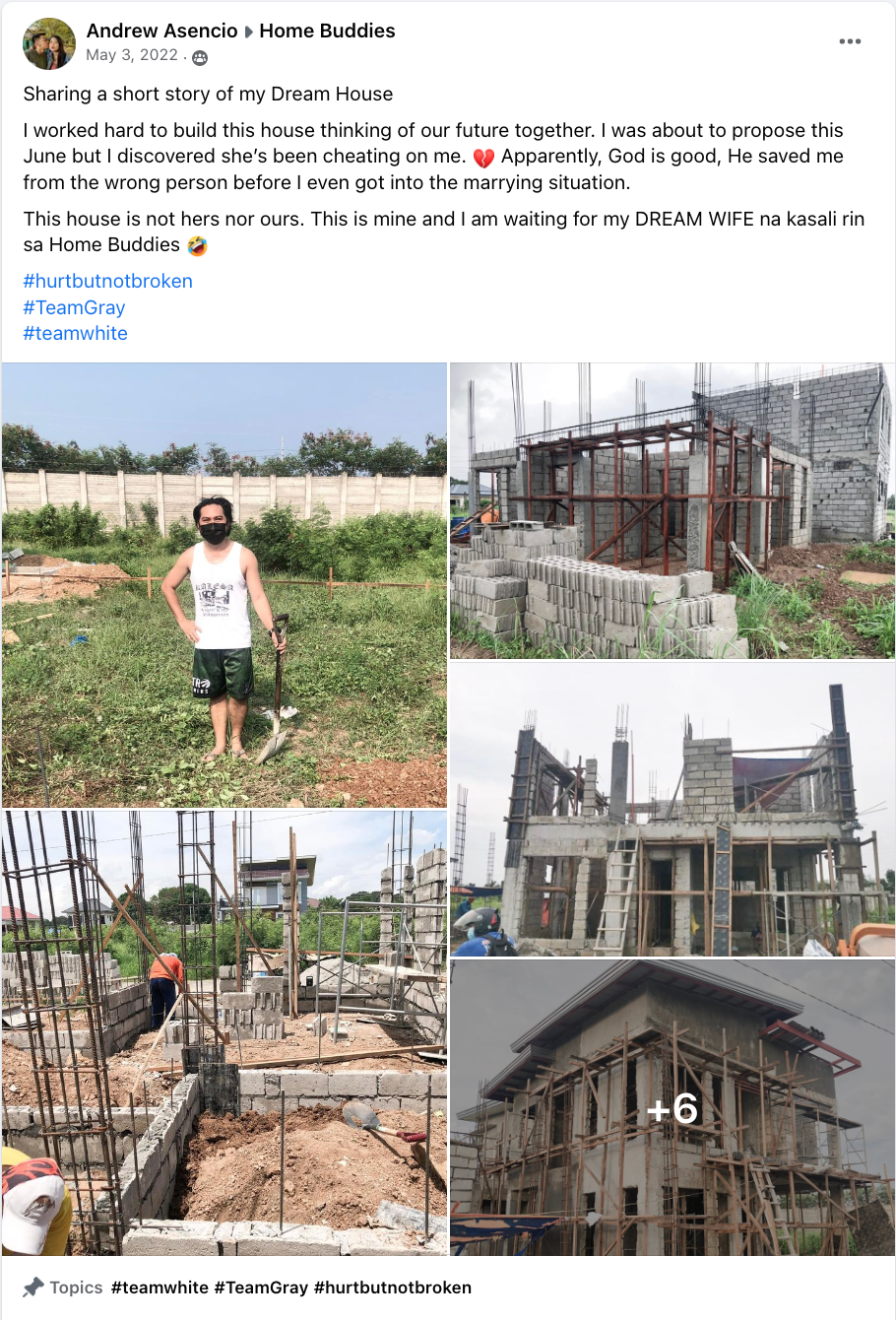 His kapitbahays only had encouraging words to say: He deserved better and he definitely deserved the house. Some could relate to his experience; Others offered to introduce him to someone they know and went as far as to tag their single friends and relatives.
Among the overwhelming possibilities that poured in was one particular Home Buddies member who captured Andrew's heart. In a follow-up post at the start of February this year, Andrew updated the community with this good news along with photos of his now-finished home.
"Thank you mga ka-HB for all your support and comfort during those trying times and most especially thank you dahil dito ko nakilala yung nakikita kong future wife ko," he said. "It's true when they say that every wrong person that comes into your life brings you closer to the right one."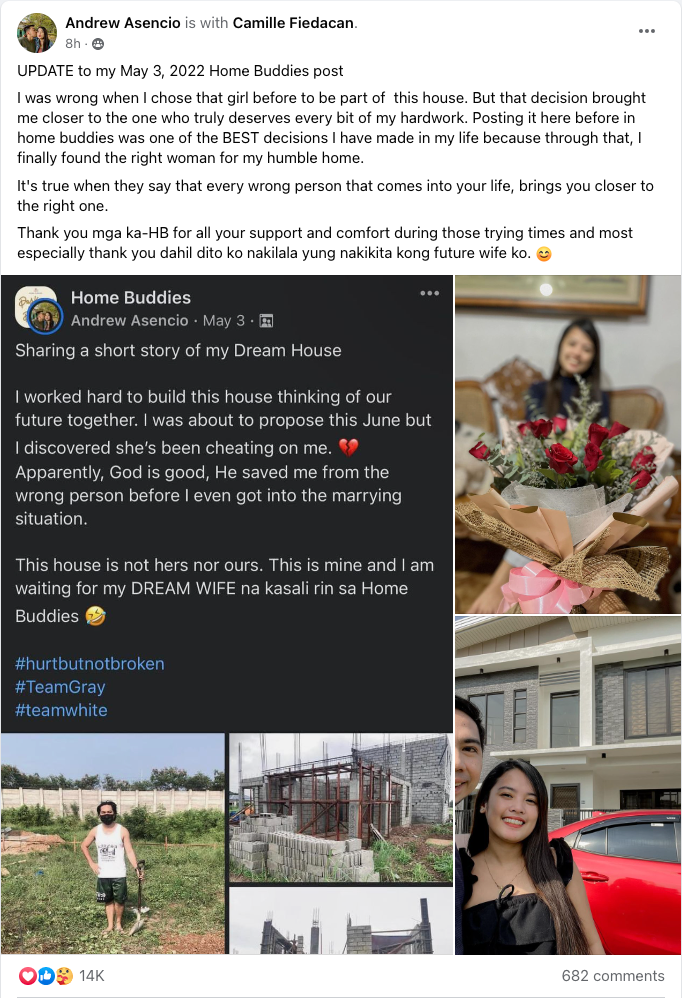 Naturally, people were curious if Andrew's new girlfriend, Camille Fiedacan, reacted to or commented on his initial post. They did some digging and found no trace of the pair's first interaction. Andrew was kind enough to share how he met Camille and revealed that she added him on Facebook. She then posted a story featuring a beautiful place near Taal, Batangas and Andrew took the chance to message her without any expectations.
But just as fate would have it, the things you least expect turn into something inevitably great. Camille, who also came from a recent heartbreak, made Home Buddies her tambayan, where she stumbled upon Andrew's post. One message gave way to many more and soon, they were getting to know each other. Until now, Andrew visits Camille weekly in Batangas all the way from Bataan. Home Buddies as the most supportive online community Home Buddies members eagerly showed their support to the newly minted couple. Hundreds extended their congratulations, some volunteered to be their Ninong and Ninang, while many others were willing to sponsor their future wedding. Among those offered were the bridal bouquet and groom boutonnière, free van service, coffee for giveaways, and even a lucky chamber pot.
Andrew and Camille were happy with the overwhelming support they received from the community. They promised to post any updates on the soon-to-be engagement and even admitted that they've already invited Home Buddies founder and 'Mayora' Frances Lim Cabatuando to the future wedding.
"Malaki po 'yung utang na loob o tulong n'ya po sa'kin para makilala yung dream wife [ko]," Andrew said.
Frances, who has made it her full-time job to manage the community, also expressed her excitement for Home Buddies' first love team.
"Nakakatuwa na apart from home things, I was able to bridge two people together. Parang love is hard to find and to be able to be kind of a matchmaker kahit na hindi literal, but creating an avenue na nakapag-meet sila warms my heart," Frances shared. "Nakakatuwa rin how apart from just love like itong couple na 'to, I'm sure there are also stories of mga naging magkaibigan, natulungang mga negosyo kasi nakahanap ng suki in Home Buddies. It just makes me feel good and also inspires me na ah, I have to keep doing Home Buddies… As long as there is something that extends outside social media, I will keep doing Home Buddies."
Today, not only do members turn to Home Buddies for home inspirations, but the community has grown to become a safe space, where you can find comfort and love—something that Frances is truly proud of.
Join the Home Buddies community on Facebook, and follow Mayora Frances on Facebook and Instagram. Frances is an exclusive talent of NYMA, a management agency with a vision is to be the home of the best Filipino talents in the country and the world. The agency is one of seven brands under tradigital entertainment company KROMA. To know more about NYMA, visit nyma.ph.