Supporting the national government's efforts to address the housing need, Habitat for Humanity Philippines has turned over 40 housing units under the Negros Occidental Impact 2025 (NOI25) Project.
Funded by the Maritess Alava-Yong Foundation, Inc., the housing project is located at Bonbon Resettlement Phase III, Barangay E. Lopez in Silay City – the pilot location of the NOI25 Project in partnership with Hilti Foundation and Base Bahay Foundation.
Handing over the newly built homes in the ceremonial turnover were Maritess Alava-Yong Foundation President Eugene Alava, Mayor Joedith Gallego of Silay City, Department of Human Settlements and Urban Development Assistant Secretary Lea Delfinado, Habitat Philippines Chief Executive Officer Mardi Mapa-Suplido, Barangay Captain Memia Gallego, and Jovie Valenzuela, the president of the Maritess Alava-Yong Foundation Village's Katuwang Homeowners Association.
"We are glad to be able to contribute to the national government's endeavor to address the 6.7 million housing backlog in the country," said Mapa-Suplido, adding, "We believe that through the public-private-people partnerships or P4 approach, we would be able to help more low-income Filipino families have safe, decent, and disaster-resilient homes, not only here in Negros Occidental, but throughout the country. We are grateful to all our partners, particularly to the Maritess Alava-Yong Foundation for continuing to build a resilient village in Silay, enabling 126 families to live in an improved community."
The Maritess Alava-Yong Foundation, founded by Micky Yong with the purpose of continuing the legacy of philanthropy of his late wife, Maritess, believes that a decent home is a foundation to uplift the lives of economically disadvantaged families.
"We saw the concrete impact of providing safe and decent homes on the families who have been living in the Katuwang community for more than three years now. It was the first community built by the Foundation. The children can study better and the families feel secure in their homes because their dignity is restored. They are proud to help build their own home," said Alava.
"Today because of this turnover, the 6.7 million backlog has been reduced by 40 houses," Asec. Lea Delfinado noted during the event. "As DHSUD is continuously seeking collaboration from all sectors to bridge the housing need in the country, we welcome the initiative of Habitat for Humanity and its partners in building green and disaster resilient houses. This is not merely a number but also represents Negrense famlilies who will have their own safe and decent homes",  she added.
As a leading housing organization and shelter advocate, Habitat for Humanity Philippines, through its efforts to provide decent shelter and build sustainable communities for the less privileged and marginalized, is supporting the goal of the government's Pambansang Pabahay para sa Pilipino Program, or more commonly known as the 4PH Program, to construct 1 million houses a year.
Mayor Gallego also extended the local government's appreciation for the organizations that are working together to provide opportunities for families to improve their lives through decent shelter.
"We are grateful to Habitat Philippines, Maritess Alava-Yong Foundation, Hilti Foundation, and Base Bahay for once again building decent homes for informal settler families and expanding their housing project in our city," said Mayor Gallego, adding, "I strongly encourage the families to take care of their entrusted houses because this is a once in a lifetime opportunity to own a house."
Homeowners expressed their joy when they received the House Turnover Certificate that signifies their ownership of the newly built Cement Bamboo Frame houses.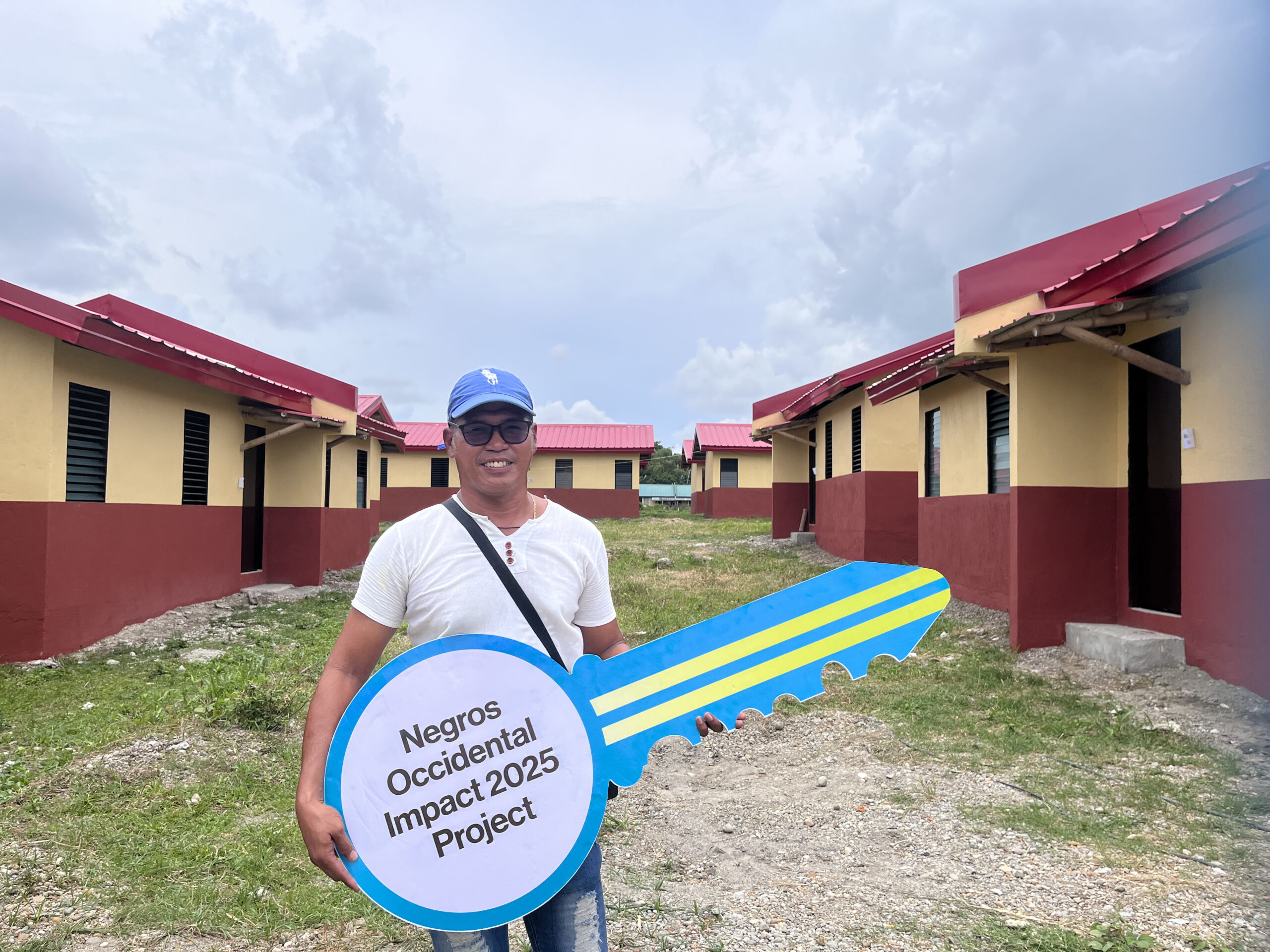 Mar Lerrio, one of the 40 new homeowners in the Katuwang Community, said in Filipino, "Finally, we are now seeing the fruit of our efforts and prayers. We thank God for Habitat Philippines and the Maritess Alava-Yong Foundation that helped us fulfill our lifelong dream to have our own home. For the past 43 years, I did not have my own home and I used to live with our relatives and friends. But now, I can live in my own house together with my mom and siblings."
Launched in 2018, the NOI25 Project utilizes Base Bahay's disaster-resilient Cement Bamboo Frame Technology (CBFT), providing families with clean, green, safe, and disaster-resilient homes. As of writing, the NOI25 Project has built 362 houses in Silay City and 60 houses in San Carlos City. Another housing project is soon to rise in La Carlota City.