A skin is only 1/4 the thickness of adult skin, making it more fragile and sensitive to mechanical stress. It can also be prone to dryness, redness, and itching, which is why it requires extra care by developing good skincare habits with the help of gentle, high-quality products.
Finding the most suitable product for your baby's skin can be challenging due to overwhelming options and information. After all, parents just want the best for their child.
Committed to helping every family raise children in a relaxed and scientific manner, Japanese-based brand yoboo provides expertly crafted skincare products for babies using natural plant extracts and biomimetic essence to awaken the skin's intrinsic vitality.
"As each day goes by, your baby will be exposed to more environments as they experience and learn more about what the world has to offer," said Chinen Rina, Pediatrician and Founder of yoboo. "Through its products, yoboo aims to provide expert care for baby's skin at any time, whether it's to protect it from the sun, soothe it from any discomfort or sensitivity, or sustain its moisture after a bath. Its formulations result in the ultimate baby care experience so that your child can enjoy life with healthy and resilient skin."
For comprehensive skincare for baby's head to toe, yoboo offers Baby Skincare Sets from ages 0-6 which include:
Baby Soothing Wash and Shampoo (400ml), a 2-in-1 foaming wash enriched with PRO-V5, vitamin E, Bisabolol, and camellia seed oil to gently and effectively clean the skin, properly hydrate it, and preserve its elasticity. Its anti-bacterial and anti-inflammatory properties can also help relieve any discomfort and improve any sensitive skin condition in a timely manner. With these gentle ingredients, you can be assured of the best care for your baby's skin.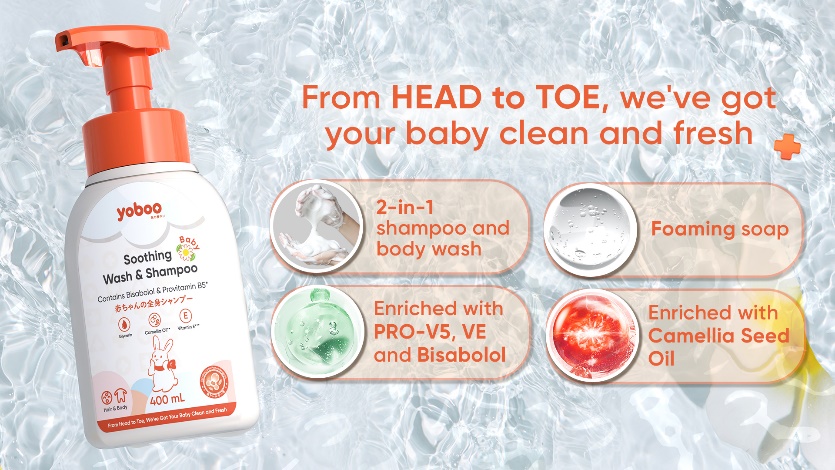 Baby Refreshing Moisturizer (70g), a body lotion which can hydrate and soothe dryness and redness with every use. One application of its transparent ice crystal texture turns into water, making it light and burden-free. Its multidimensional water locking system, double aloe vera juice and vitamin B5, and natural herbal extracts work together to nourish and lock in the moisture to make the body feel silky, refreshed, and comfortable.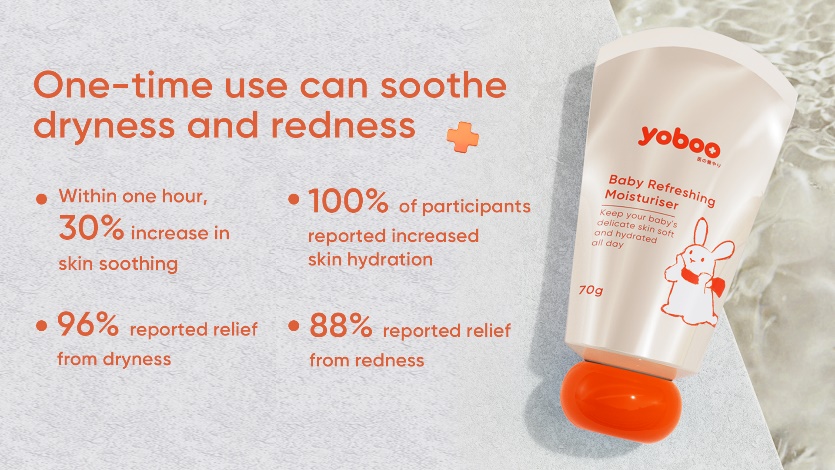 Through various tests with its users, Yoboo found out that the Yoboo Baby Refreshing Moisturizer can ultimately soothe your baby's skin by 30% within one hour upon application. In these tests, all of the participants reported immediate skin hydration, 96% said that the product improved their baby's skin dryness, while 88% said that redness was immediately reduced.
OlivOat Baby Cream (40g), a body moisturizer enriched with glycerin, ceramide NP, and urea to improve a baby's skin resistance. It features a lecithin emulsified liquid crystal system which is easily absorbed, penetrating the skin quickly without burdening it. Tender on the outside and moisturizing on the inside, the cream promotes double barrier protection which enhances the skin's defense.
Aside from its moisturizing benefits, the OlivOat Baby Cream also has a unique dispensing feature. By pressing the top of the bottle with both hands at the same time, the cream will be dispensed at the top center of the cream outlet. This design ensures efficient dispensing, with no unnecessary leaks and spills. This design assures an equal amount of cream suitable for every use and prevents secondary contamination.
The yoboo Baby Skincare Gift Set is available in Shopee and Lazada for Php 1,199.00. To learn more about yoboo and its products, visit yoboo.ph or the Yoboo – Philippines Official Facebook Page.