We all know that feeling of intense hunger pangs in the middle of the night, and going to bed while your stomach is growling can be such a nightmare, right?
We have all been there. Late-night food cravings are so real that we are often faced with a problem if it is worth getting up and fixing ourselves some snacks. Whether you are binge-watching a series, finishing some tasks, or just simply hitting the sack, we have a few ideas for you that would satisfy those cravings with less guilt!
Turn your hunger into joy with these #TimplangAtin snacks using Mekeni GoLite Chicken Longanisa!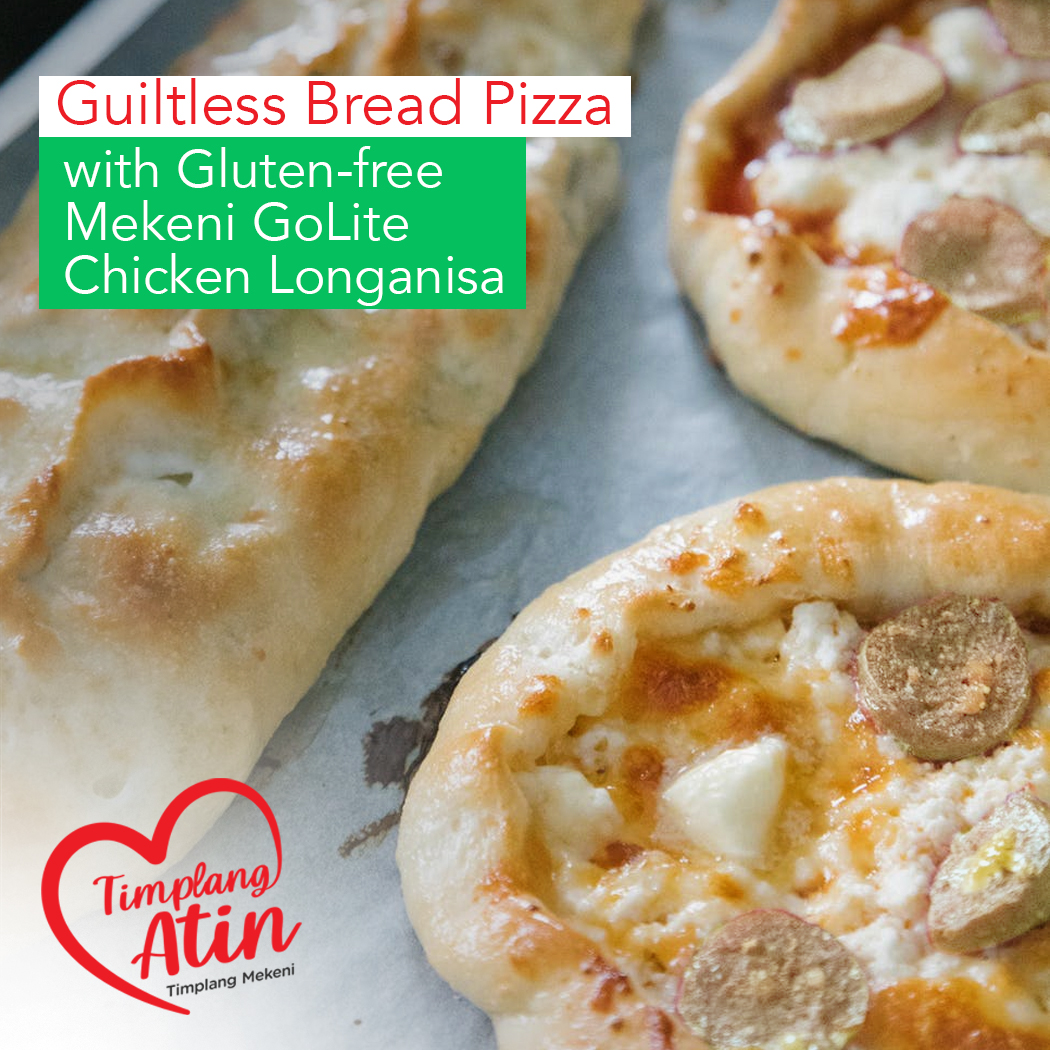 Guiltless Bread Pizza
Upgrade your leftover loaves of bread into an instant, tasty, and guiltless variation of pizza. All you need is to have a few ingredients and your guiltlessly tasty snack is ready. Here is how to make it:
Ingredients:
6 large wheat bread or multi grain bread (preferred)
Extra virgin olive oil
Toppings For Bread Pizza
Pizza sauce
1 medium onion, cubed
1 medium bell pepper, cubed
1 medium tomato, cubed (optional)
5 pieces Mekeni GoLite Chicken Longanisa, steamed and cubed
1 to 1 1/4 cups grated mozzarella cheese or quick melt cheese
pepper and chili flakes to taste
Procedure
Start by lightly toasting the bread on your pan. Use oil as needed.
Arrange your pizza bread by spreading some pizza sauce on the lightly toasted side of the bread while still on the pan. Top it with onions, bell peppers, tomatoes, other optional vegetables like basil and olives, and the gluten-free Mekeni GoLite Chicken Longanisa pieces. Remember to keep the flame to its lowest to not burn your bread pizza.
Add some crushed black pepper depending on your taste.
Top your bread pizza with grated mozzarella cheese or any quick-melt cheese that you have. Place a lid on the bread pizza and cook until the cheese melts and the bread is toasted.
Remove the piece with a spatula and place it on a serving plate. Sprinkle some red chili flakes or oregano if you want.
Serve while it is hot.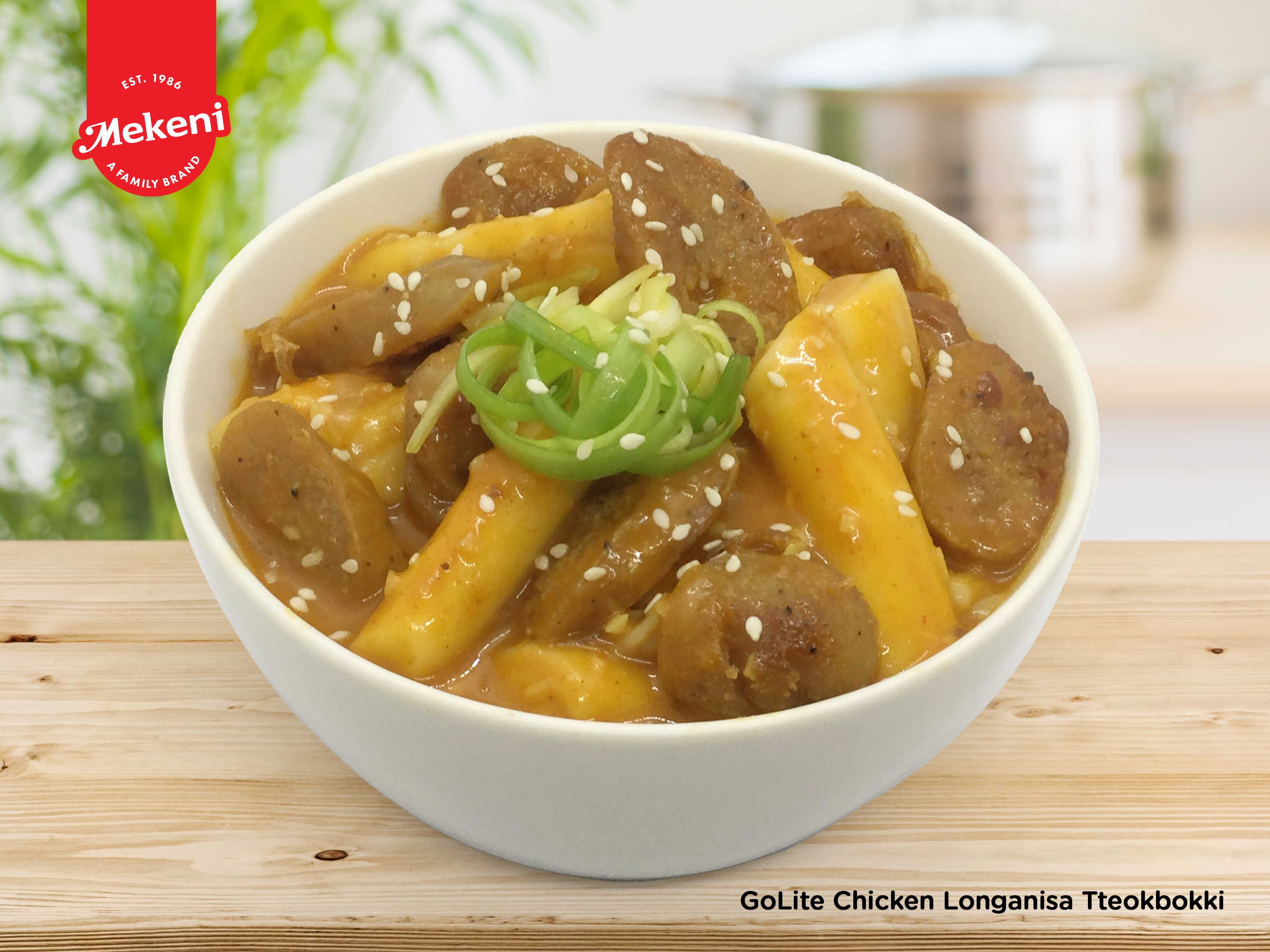 Chicken Longanisa Tteokbokki
If you are still hungover from the last Korean chick flick or KDrama that you recently binged watch on, cook up this easy and guiltless tteokbokki!
Ingredients:
1 pack Mekeni GoLite Chicken Longanisa 250g, cut diagonally into coins
3 tbsp oil
1/4 cup garlic, minced (about 12 cloves)
1 large white onion, sliced into strips
4 cups water
1 tsp soy sauce
2 tsp sugar
1 1/2 tsp dashi powder or seasoning granules
2 tbsp gochujang (Korean red pepper paste)
3 cups Korean rice cakes (about 42 pcs)
sliced spring onions or leeks and sesame seeds for garnish
Procedure:
Put oil in the pan and fry the Mekeni GOLite Chicken Longanisa pieces until lightly brown. After this, transfer to a bowl and set aside.
In the same pan, sauté garlic and onion until fragrant and translucent.
Add water, sugar, soy sauce, seasoning granules, and gochujang. Let it boil.
Gently add the rice cakes and simmer for 15-20 minutes or until the rice cakes are soft.
Put the Mekeni GOLite Chicken Longanisa back in the pan and slowly simmer for about a minute until heated through.
Top with spring onions and sesame seeds. Serve while hot.
There is no holding you back from getting creative in your kitchen and making these tasty and filling late-night snack ideas! With your favorite Mekeni #TimplangAting staples on the side, you are sure to curb your late-night cravings in a snap.
Get your Mekeni products in leading supermarkets, wet markets, online stores, and Mekeni's Home2Home delivery. For more information about Mekeni, just log on to www.facebook.com/mekeniph/.