Learning in school goes beyond the four walls of the classroom. After a day of lessons, kids also benefit from the interactions they get when playing sports and other extra-curricular activities with friends. Now that it's a little more changing given that remote learning and physical distancing have taken a precedent, MILO Home Court is bringing on-ground sports online and in-home, so that they can still partake in different activities.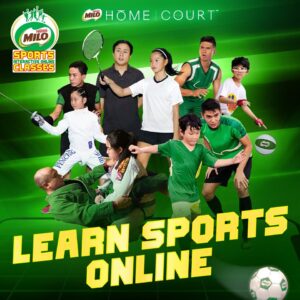 Committed to building champions in sports and in life, MILO Home Court recently launched the MILO Sports Interactive Online Classes (MSIOC), where kids are given the opportunity to interact and get more personal direction from professional coaches and esteemed athletes from MILO's long-standing partner sports organizations. Through MSIOC, parents can enroll their kids in real-time sessions as they're done via video conferencing tools like Zoom or Google Meet. This setup also gives them the chance to interact and gain new friends from the session because it's done in groups.  
Parents and their kids can choose from a variety of sports such as football with Grit Sports PH and Aspire Football Academy, badminton with the Asuncion Badminton Center, chess with the Metropolitan Chess Center, multi-sport with Game On Sports PH where kids can learn up to five (5) different sports at the same time,  basketball with the MILO-sponsored BEST Center, jiu jitsu with SEAG medalists Carlo Pena and Meggie Ochoa, fencing with Vicious Brainiac Fencing, and tennis with SEAG medalist Kevin Mamawal under the Children's Tennis and Sports Management Inc. Rates vary per sport and enrolling in the classes are specific to children's ages between 4 to 12 and their level of competency to ensure that they'll get to properly follow and keep up. To get in touch with the organizers and find out more details, check this link here: https://www.milo.com.ph/milo-sports-interactive-online-classes#schedules. 
More than inspiring children to get into sports because of its physical benefits, MILO advocates for their emotional and mental well-being as well; taking in consideration the challenging situations that many are facing today. MSIOC helps in such a way that it nurtures their discipline, confidence, teamwork, as well as their conversation and social interaction skills. MSIOC also gives kids a sense of acceptance and belongingness from doing activities and spending time with other kids who enjoy their interests.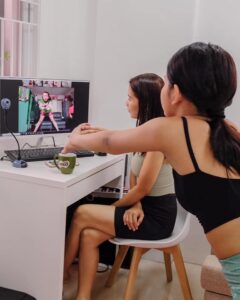 "We loved how Coach Eva was very warm and welcoming to us," says Mommy Blogger Kaye Figuracion, as she let her daughter Keisha participate in the gymnastics class. "We felt comfortable to join the others even if we were newbies. Everyone was also patient with Keisha especially when she was struggling to follow the moves. The tips and instructions they gave helped her a lot. We also had fun meeting other moms and kids online!" 
For Mommy Blogger Lanie, her daughter Mariel always wanted to play football with friends. "Mariel had always wanted to learn football. They have it as sports in their school and a large ground where some of her friends play after school hours. But she has always been shy to join because she is afraid that she won't be able to catch up with other players. Good thing she was able to participate in the football sessions from the MILO Sports Interactive Online Classes. She's now able to join them once they all see each other in school." 
"We understand the importance of holistic health among children as we continue to develop and innovate our sports programs with our longtime partner organizations," says MILO Sports Executive Luigi Pumaren. "MSIOC hopes to address parents and kids' needs to be part of a supportive community that encourages them to reach for their dreams through sports, all while maintaining to be active and productive at home as it's never been more important these days."  
With the MILO Sports Interactive Online Classes, together with the new MILO Champion Formula that contains more milk,mas siksik pa sa Champion Energy Nutrients na PROTOMALTÒ, Iron, at Vitamins B2, B3, B6, and B12, at mas sulit dahil mas pinarami na ang isang sachet at the same suggested retail price, parents will be able to equip their kids with the right energy to remain active, healthy, and productive at home. 
At ngayon, mas pinasulit ang MILO with its new Twin Pack. Get two 24g servings and save P2.00! Available in all channels nationwide. 
Stay up-to-date with all MILO Home Court activities by checking out the MILO® Philippines Facebook page andhttps://www.milo.com.ph/ for more information.