Araneta City offers more convenience and access to travelers via a free AutoSweep Radio Frequency Identification (RFID) sticker installation happening at the Gateway Mall from January 23 to 31, 2021.
Interested car owners may head to the Basement 2 of Gateway Mall for registration and free installation of the AutoSweep RFID stickers from 10 am to 6pm (or until stocks last). Riders are advised to park at any level of the Gateway Mall parking. No RFID sticker installation and testing shall be done outside the Gateway Mall parking.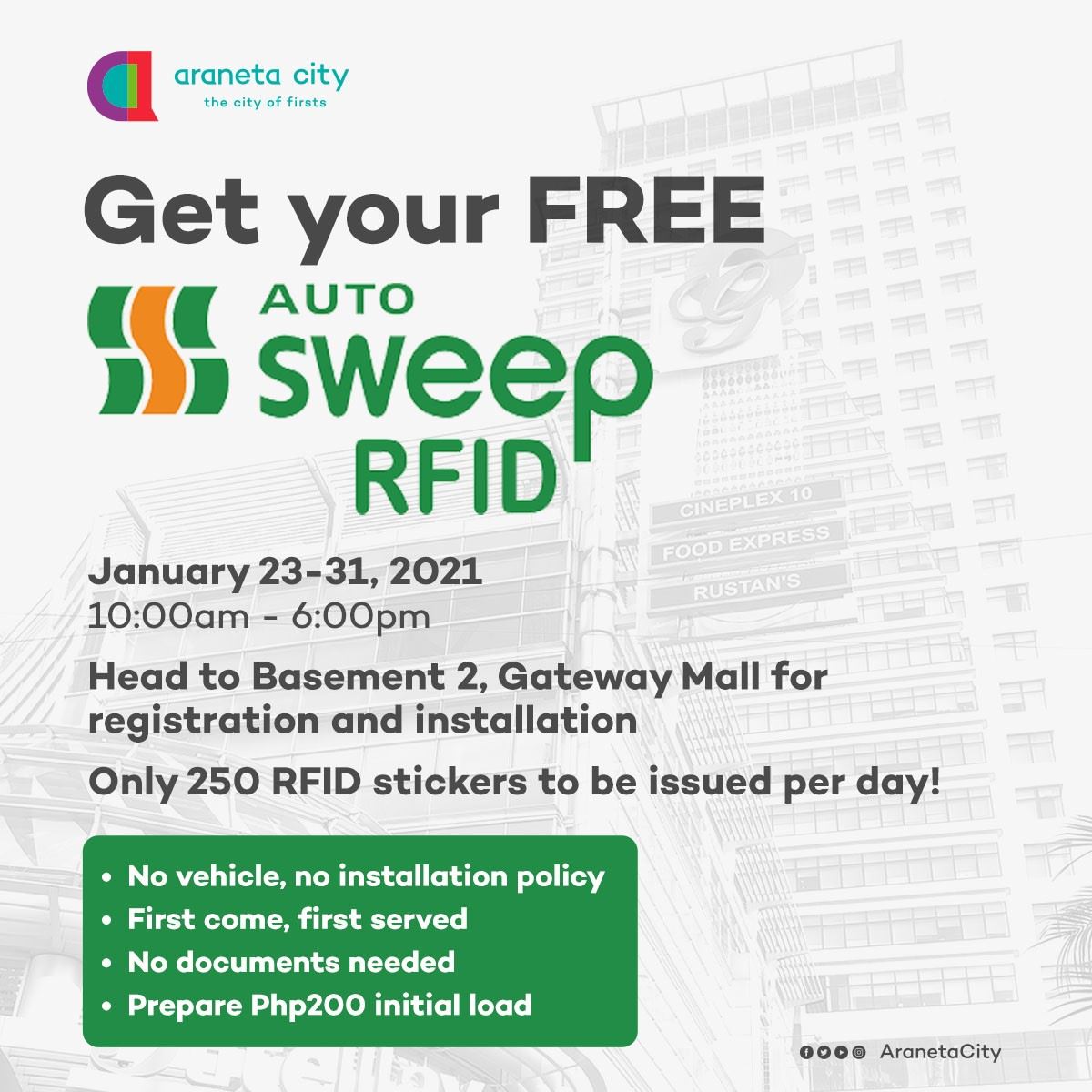 Only 250 RFID stickers will be issued per day. The "no vehicle, no installation" and "first come, first serve" policies will be observed. Be sure to come at the Gateway Mall early to avoid the cut-off.
Prepare P200.00 cash as initial load for your Autosweep card. Once the RFID sticker is installed onsite, you are ready to go! Remember to be a responsible driver: stay safe, and don't drink and drive.
AutoSweep RFID is exclusively used at Skyway, South Luzon Expressway (SLEX), Ninoy Aquino International Airport Expressway (NAIAX), Southern Tagalog Arterial Road (STAR) Tollway, Muntinlupa-Cavite Expressway (MCX), and Tarlac-Pangasinan-La Union Expressway (TPLEX).
PROCEDURES:  
STEP 1. Bring your vehicle at Araneta City and park at the Gateway Mall (any level).
STEP 2. Proceed at the AutoSweep booth located at Basement 2.
STEP 3. Fill out form (or submit accomplished form, if downloaded online) at the booth.
STEP 4. After presenting your form, the Autosweep representative will conduct a short interview to assess your vehicle. Pay the P200 initial load (strictly cash only).
STEP 5. After paying, accompany the Autosweep representative to your vehicle for the installation and testing of RFID sticker