Digital financial services leader PayMaya is making it convenient and rewarding for Filipinos to claim their Western Union remittances via the PayMaya app as it offers recipients a cashback of up to P500 plus a chance to win P100,000 in the raffle draw. 
From today until January 15, 2021, recipients who will claim a minimum amount of P3,000 via Western Union on their PayMaya account for the first time can get a cashback of up to P500.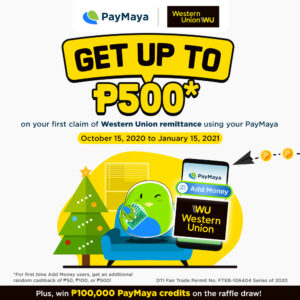 Additionally, when they use their PayMaya account to conveniently shop for essentials online and in-stores, pay their bills, or buy prepaid load with a minimum spend of P500, they will automatically earn a raffle entry for a chance to win P100,000 PayMaya credits in the raffle draw!
With the holiday season approaching, more Filipinos will be receiving remittances from relatives abroad as part of their celebrations. But with the current public health situation, having a way to claim remittances via Western Union and PayMaya even while at home offers reliability and convenience for Filipinos around the country. 
Using PayMaya to claim your Western Union remittance is easy. All you have to do is follow these simple steps:  
Open your PayMaya app and tap Add Money near the top right of your screen.
Tap Western Union® from the list of Add Money Partners.
Enter the 10-digit Money Transfer Control Number (MTCN) from your sender's Western Union® transaction.
Tap Receive on your confirmation screen after verifying the correct transaction details (e.g. MTCN, Sender Name, Amount)
Check for the in-app and SMS confirmation of the successful receipt of your money!
With your remittance in your PayMaya account, you can now complete your essential transactions via contactless means. On top that, you can also enjoy exclusive rewards to give you the best value for your money.  
Getting a PayMaya account is simple. Just download the PayMaya app at https://official.paymaya.com/CAK1/425eb133 to find out what it's like to go cashless with paying for anything online and in stores! Remember, for everything you need to pay, don't pay cash, PayMaya!  
To find out about all the perks and rewards you can get through your PayMaya account, visit www.paymaya.com/deals or follow @PayMayaOfficial on Facebook, Twitter, and Instagram.