Do you believe that Crayons are an essential creative tool for kids? It help them express, create, and connect through colorful play. And as a mom, we gave them the BEST, the 
Crayola
Crayons. Let's help unleash our kids imagination with the help of Crayola.
And to celebrate the colorful journey of Crayola, we can enjoy up to 50% off on Crayola products only at Shopee starting tomorrow.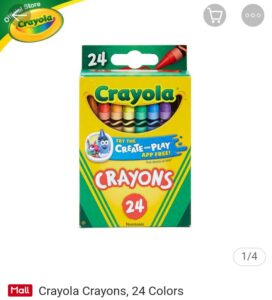 This pack of 24 non-toxic crayons contains classic colors as well as bright, fun shades to inspire self-expression and imaginative play. Plus, Crayola Crayons can last 35 percent longer. Vibrant, High-Quality Results Crayola Crayons provide color-loving kids with 24 hues that feature vibrant, long-lasting color. The variety of bright colors in this pack invites imaginative expression. 24 Classic and Fun Colors Kids will love to use these vividly colored, durable crayons at home or at school. Small enough to fit in a book bag, this portable box is large enough to hold a wide variety of colors. In addition to classic Crayola colors, this 24-count box contains fun shades such as carnation pink, dandelion, indigo, and scarlet, so you can mix and match to create colorful drawings and bold signs. This is recommended for ages 4 years and up.
Bring home 40 of Crayola's vibrant Fine Line Markers in this Ultra-Clean Washable set!
CRAYOLA FINE LINE MARKERS: Features 40 Crayola Ultra Clean Washable Markers in assorted colors.
ULTRA CLEAN WASHABLE MARKERS: Wash from skin, most washable clothing, and most painted walls.
ART & SCHOOL SUPPLIES: Perfect for art projects, classroom activities, and more activities with fine details!
COLORING SUPPLIES: Add these Washable Markers to arts and crafts supplies at home or bundle with other Crayola products for a coloring gift for kids!
SAFE & NONTOXIC: Ideal for kids ages 3 & up.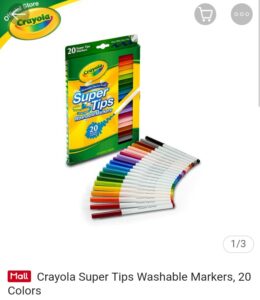 Washable Super Tips Markers are specially formulated to have the bright, vivid colors and overall great quality you expect from Crayola products.
Benefits Non-Toxic Draws in both thick and thin lines Long Lasting:
Tip Can be rejuvenated by dipping in room-temperature water Washable:
Formulated to wash off machine-washable clothing. It also washes off walls, carpet and furniture with warm water and a sponge.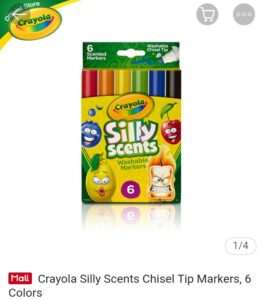 Crayola Silly Scents combines fragrant scents in a cool, colorful line of crayons, markers and colored pencils! Each aromatic art tool comes ready to scribble and sniff. The 6 Count Pack of Chisel Tip Markers includes Cherry, Orange, Lemon, Green Apple, Blueberry, and Marshmallow scents. The durable chisel style tip can deliver fine lines and rich, thick ones too. These markers are will wash clean from skin and most washable clothing and comes in a delightful character pack. This is recommended for ages 5 years and up.
So what are you waiting for? Download the Shopee now for Free on Google Play store or Apple store.
Happy Shopping!!!