Calling all dog and cat lovers (like us) out there! Pedigree Philippines promotes "Spread Paw-Sitivity" today on Shopee. Its the purr-fect day to treat our fur babies and at the same time we can also extend our love to other pets at the Animal Kingdom Foundation shelter.
Pedigree storewide sale offers discounts as high as 35% off and exciting flash sales for as low as Php 1! Plus, we can also help donate pet food bowls, for every Php100 spent Pedigree will donate a food bowl to the Animal Kingdom Foundation.
Also set your alarm (12noon) today and watch the Shopee Live of Pedigree with NGO partner Atty. Heidi Marquez and get a chance to win discounted vouchers.
You can also claim 10% cashback voucher at Pedigree Official Store with minimum spend P700.
And here's the treat for our cutey kitten, Jinji. Whiskas is the popular brand of cat food, they provide a perfectly balanced diet, with all the nutrients needed to keep our cat happy and healthy. It is available either as meat-like pieces in cans, pouches or dry biscuits.
Whiskas Jr. Tuna pouch wet cat food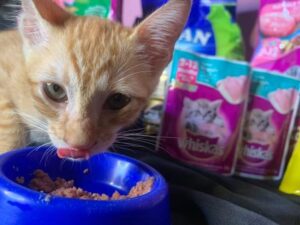 – Specially formulated for kittens 1-12 months old. Also suitable for pregnant and lactating cats.
– Enriched with calcium and phosphorous for bones and overall growth.
– Contains natural antioxidants for healthy immune system.
– Soft texture for easy consumption.
Whiskas Tuna Pouch Wet Cat Food
– Specially designed to be complete amd balanced for cats aged 1 year old and above.
– Enriched with omega 3,6 fats and zinc for a healthy and shiny coat.
– Complete with Vitamin A and taurine for healthy eyesight.
– Filled with proteins from real fish,  including fats,  vitamins and minerals,  so your cat stays fit and happy.
– Contains antioxidants, (vitamin E and selenium) for a healthy immune system
Temptation Tempting Tuna 12g Php20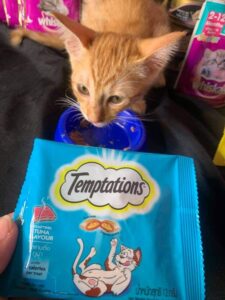 Ingredients: Chicken by Product meal,  corn,  beef tallow,  beef blood plasma,  rice,  wheat flour,  flavours,  grain distillers dries teast, minerals,  vitamins,  taurine and salt.
Sheba Succulent Chicken Breast Wet Cat Food 85g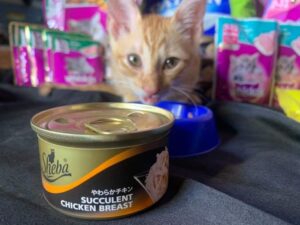 Sheba varities are designed by cat lovers to be the worlds finest cat foods. This passion reflected in everyrhing from the careful selection of ingredients to the gentke cooking process.
From the first purr of anticipation, its easy to see the difference this makes Sheba meals have pieces of real meat and fish, delicate sauces and unique combination of flavours.
Catsan Ultra Odor Control Cat Litter
Catsan Ultra Odor Control Cat Litter is a quality cat litter made from naturally occurring Sodium Bentonite. A hygienic, handy and effective answer to controlling odor. When wet, the clay particles quickly absorb moisture and odors and form small well-defined clumps. These clumps are easily removed prolonging the life of the litter while leaving the tray clean and fresh.
Feeding our cat Whiskas is the best way to give him the right nutrition.
Download the Shopee app now and add to cart the purr-fect dog and cat food in town.