If there's one thing that's true about the new normal, it's that everyone needs to stick together to get through this. Standing as one and our malasakit needs to shine the most through these trying times. It's great to see that we encounter stories of ourkababayans uplifting each other up with supporting local and buying local nowadays.
It is from the same value of malasakit and bayanihan that Locally Blended Juice Drink—the first local brand of uniquely concocted drinks that come from indigenous fruits sourced from the rich and colorful Filipino soil—sought to find the most talented local artists who could also show their support and honor for our local farmers through art.
Last July, the brand put out a call for all kinds of artwork—digital, traditional, or even unconventional— through the #LivinLovinLocal Art Contest, which shows not only the drink, but also their love for the Philippines, all the beautiful things one can find in the country, and most importantly, honouring the hard work of our Filipino farmers and their produce.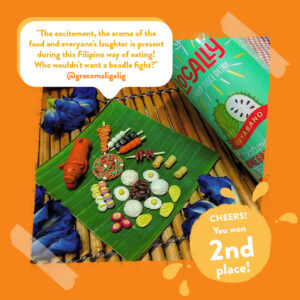 Artists from all over responded to the call, posting their amazing Locally artwork on Facebook and Instagram. Many used digital and traditional art to express their creativity, but some also went above and beyond, even going so far as to create new recipes that use Locally juices! Everyone's art not only expressed how they felt but also supported their brothers and sisters in a time when it's definitely needed—one can say that the contest was truly fruit-ful!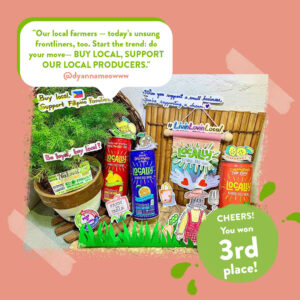 "Filipinos are known for their resilience and creativity – and what better way to bring these two together than through art. We are truly amazed with the entries submitted to us. Each work of art is a showcase of talent, passion, and love for local!" said Gretchen King, Category Manager for Beverage.
Locally announced the winners of the contest on September 9: Athea Monique (@hysteriaprime) won the grand prize, with Grace Maligalig (@gracemaligalig) and Dyanna Mae Cañas (@dyannameowww) winning second and third place, respectively. The winners all got special prizes from Locally, as well as the opportunity to work with the brand in key education projects in the future.
Artists aspiring to show support for local and win prizes will have more chances, as Locally will still be hosting more Localove amazing art activities, as well as another round of the contest—so stay tuned! For more updates and info on Locally's promos, follow Locally on Facebook at facebook.com/LocallyPH and Instagram at @locally_ph.