Celebrating with family or friends is always a special and meaningful event for Filipinos. Every parent wants to give their kids only the best and most memorable birthday party while friends and family members put in extra effort in preparing for a joyful Christmas celebration. Whatever the occasion, Pinoys truly cherish such special occasions where they bond over great food with people special to them.
However, with the current health situation, most parties have been limited to one's household with the usual online gathering of family and friends. Good thing Jollibee now enables everyone to still give the most joyful party experience with the launch of the Jollibee Virtual Party, a complete and first-of-its-kind fully online celebration package.
To start off, no party is complete without delicious food. The Jollibee Virtual party includes all-time favorite Jollibee meals that are delivered straight to guests. For party decors, no need to worry and to go out and buy. Customers can choose from available party themes like the Jollitown Theme Park or Fairytale Land. The easy to set up party decors will even be delivered to their homes.
Thinking of games to make the party more fun and exciting? That's covered too! The Jollibee Virtual Party comes with a 1-hour program complete with interactive games, sing and dance-along activities and a lot of surprises that is facilitated by a professional party host. Of course, there's also a special gift for the celebrant – his or her very own huggable Jollibee doll!
To avail of the Jollibee Virtual Party experience, customers can first choose their party size. A celebration for five (5) homes, which is good for 15 persons, is priced at P11,500. A party for ten (10) homes with a total of thirty (30) guests is offered at P16,500, while a celebration for twenty (20) homes with sixty (60) invitees combined is packaged at P26,500.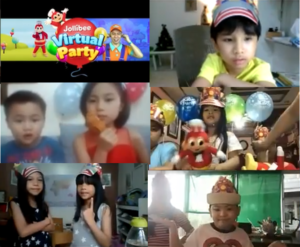 Customers can then choose the Jollibee meals to share with their guests. They can pick among solo meal options that may include a 1-pc Chickenjoy with Jolly Spaghetti or 1-pc Chickenjoy with rice, plus – Peach Mango Pie, fries and drink; or family meal selections that consist of a 6-pc Chickenjoy Bucket with either a Jolly Spaghetti Pan, or Jolly Spaghetti, rice and drinks. Customers can also customize their party bundle to their needs once they have chosen the initial package.
Fun giveaways can also be sent to guests. They can choose to give out a Jolly Kiddie Meal toy (P45 per piece, P270 per set of 6 toys), a Jollibee Doll (P250), a Jollibee Funko POP! in Philippine Barong (P575), a Jollibee Funko POP! on Delivery Bike (P730), or a Jollibee Hetty Funko POP! 2-pack (P1,100).
Avail now of the Jollibee Virtual Party for the most joyful and memorable online party experience! Just fill out the party inquiry form available on jollibee.com.ph and the Jollibee App.
For more info, visit Jollibee's official Facebook page.