If there's something that you can flex this year, why not a brand new car? You know you deserve it and it's going to be a worthy investment.
But a car isn't exactly cheap. This is why you need to know everything about the whole car-buying process, from picking the right car to selecting the right car loan provider. Here are some important tips to keep in mind.
Know Your Budget
Before you start visiting showrooms and taking cars on a test drive, it's important to set your budget first. How much can you afford for a car? You can easily get carried away when you see all those shiny new cars on display, and you may find it hard to say no to all those excited sales agents. So find out how much you can put aside for your car purchase so you can pick a car within that price range.
And just because you got approved for a high loan amount doesn't mean you should get a car that's way beyond your price range. Remember that you'll be paying for this car in the next three to five years.
Moreover, the bank will not pay for everything, so make sure to prepare at least 20% of the total car price as a down payment. Factor in the car insurance premiums, maintenance costs, and fuel as well.
Do Your Research
This is something that you should spend some time on. Because there are so many car makes and models, it can be overwhelming choosing which car to buy. Should you get a base model, or something that's top of the line? Manual or automatic transmission? Is a compact car suitable, or should you go with a sedan instead?
Of course, you want to get a car that will be worth your money. So list up to five models and the features that are non-negotiable for you, plus the features that are nice to have but not that important. Then narrow the list down.
To find which car best fits your needs and budget, compare different car models and their features. Check out car review channels on YouTube or read authoritative car blogs.  If you have friends who are car owners or car enthusiasts, get their reviews based on their first-hand experience driving a particular car model. And if you have time to visit different showrooms, check out the actual units in your list to see for yourself.
Look for Financing Options
Because a car costs a significant amount of money, most Filipinos purchase it with the help of a bank loan. You may have decided on getting a car this year and already saved up for the down payment. But if you don't have approval for a car loan, then you won't be able to complete that car purchase (unless you can scrounge up the cash on your own).
Your financing options can be a bank loan, a loan through the car dealership, or in-house financing. The interest rates vary, and the repayment period is usually up to five years. But if you can pay for it in the shortest possible time, the better.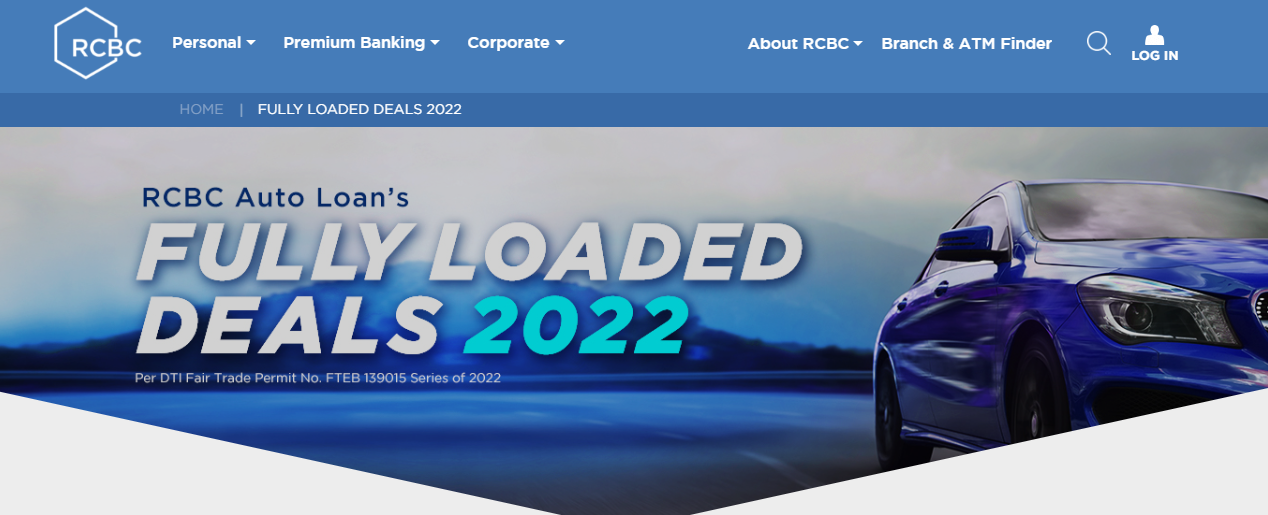 One bank loan that you can check out is the RCBC Auto Loan. Enjoy monthly installments that are easy on the pocket, affordable down payment, and flexible terms of up to five years. Whether it's a brand new or secondhand car you're eyeing, you can also enjoy worry-free insurance coverage and free chattel mortgage.
The application requirements are also easy―accomplished RCBC Auto Loan Application Form, two valid government-issued IDs, your TIN, certificate of employment or ITR, plus a utility bill. What's more, you can apply for an RCBC Auto Loan online!
RCBC Auto Loan's Fully Loaded Deals 2022
From now until December 31, 2022, new and existing RCBC depositors who will apply and get approved for the RCBC Auto Loan during the promo period can enjoy a low down payment of 15%, free chattel mortgage, and free insurance coverage for the first year. Enjoy special add-on rates with the option to pay up to 60 months. So hurry and apply today to enjoy RCBC Auto Loan's Fully Loaded Deals 2022!
Complete the Paperwork
Make sure that you understand everything before signing. If anything is unclear about the warranty, insurance coverage, or other things about your new car, clarify it with the bank or the dealership.
And before driving home with your car, make a final inspection of the unit to make sure that it's in mint condition. Once you're done with all these checks―congratulations. You can now drive your car home!
Buying a car isn't like buying groceries or a new gadget. It's a major financial commitment that you'll need to pay over several years. That's why it's crucial to find the right financing partner that will make your car-buying journey #easierthanever.