With the ongoing global pandemic, it's essential to stay safe and protected. Support our homegrown businesses with Filipino-made PPEs and represent different regions of the Philippines available on Shopee. Here are some local brands providing protective gears that will keep you safe and protected:
Bambuhay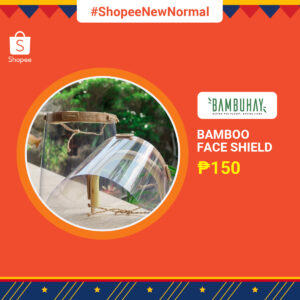 Bambuhay's local farmers from Cotabato City and Nueva Ecija Province are hand-crafting eco-friendly face shields made from bamboo. Their hand-made face shields are lightweight and easy to disinfect, making it ideal for mobility during a lockdown. Also, Bambuhay sells eco-friendly products such as bamboo straws, rice, and wheat straw mugs, and bamboo toothbrushes, all made using natural ingredients.
Bambuhay provides eco-friendly products to heal Mother Earth from plastic pollution, deforestation, and climate change – all while empowering marginalized communities of farmers. Support them by going to their Shopee page here: https://shopee.ph/Bamboo-Faceshield-(B1)-by-Bambuhay-i.266750192.3347230546
Amianph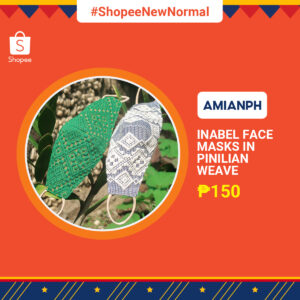 Amian PH sells face masks made of hand-woven Inabel textiles in Pinilian weave sourced from the Ilocos Region. These face masks have a filter pocket for an added layer of protection with a comfier fit. Most importantly, it is washable, reusable, and breathable.
Supporting these hand-woven masks also means supporting the livelihood of the local female weavers of Ilocos while preserving their centuries-old tradition. Find their woven face masks on their Shopee page: https://shopee.ph/Amianph-Inabel-Face-Masks-in-Pinilian-Weave-i.136584285.6144444000
At My Home
These personal protective equipment lab gowns are Quezon City made and are available in free size S up to 3XL. It has a water-resistant microfiber fabric material, making it suitable for those who are always outside but want to stay protected. It's also washable and comes with a head and shoe cover. Visit their Shopee page here: https://shopee.ph/Locally-made-Lab-Gown-PPE-i.16133072.6334993277
Nature's Rain 500 ml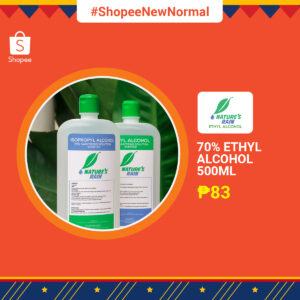 With germs and viruses everywhere, disinfecting and sanitizing your hands (and homes) are strongly recommended. Nature's Rain alcohol comes in two formulations: organic-based ethyl alcohol used for hand sanitation and antiseptic isopropyl alcohol. It comes in a 1 gallon or 500 ml size, and they also accept bulk orders. Check their Shopee page here: https://shopee.ph/Nature's-Rain-Alcohol-70-Ethyl-Scented-1-Gallon-i.221846102.6042860420
Local Katutubo Masks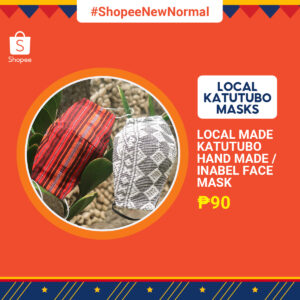 This shop sells face masks from Ilocos made of fully handwoven, Inabel cloth that comes in different designs. The face mask has the same shape as the N-95 mask, giving users full coverage from the nose down to their chin. Visit their Shopee page here: https://shopee.ph/Local-Made-Katutubo-Hand-Made-Inabel-Face-Mask-i.4113243.7539839064
Protecting yourself is essential, and you can do it while supporting small businesses. When you purchase from these stores, you are also sustaining the livelihood of marginalized individuals and micros, small, and medium enterprises (MSMEs) and directly helping them grow their businesses online.
Download the Shopee app for free on Apple App Store or Google Play Store.