Entertainment has definitely gone social and more and more Filipinos search for their favorite videos on Facebook Watch. Which videos merit the most likes, hearts and shares? Pinoys' digital watching habits continue to soar—but which videos captured their eyes and hearts the most?
Organized by adobo Magazine and presented by Facebook Watch, the first-ever adobo Video Fest 2021 is a festival that celebrates the creators and publishers behind the most original, most addictive, and most creative Pinoy content on Facebook Watch. From mukbang to pranks, dance challenges, unique branded content and more, the adobo Video Fest will recognize, stream and award some of the best video content that have been uploaded to Facebook Watch.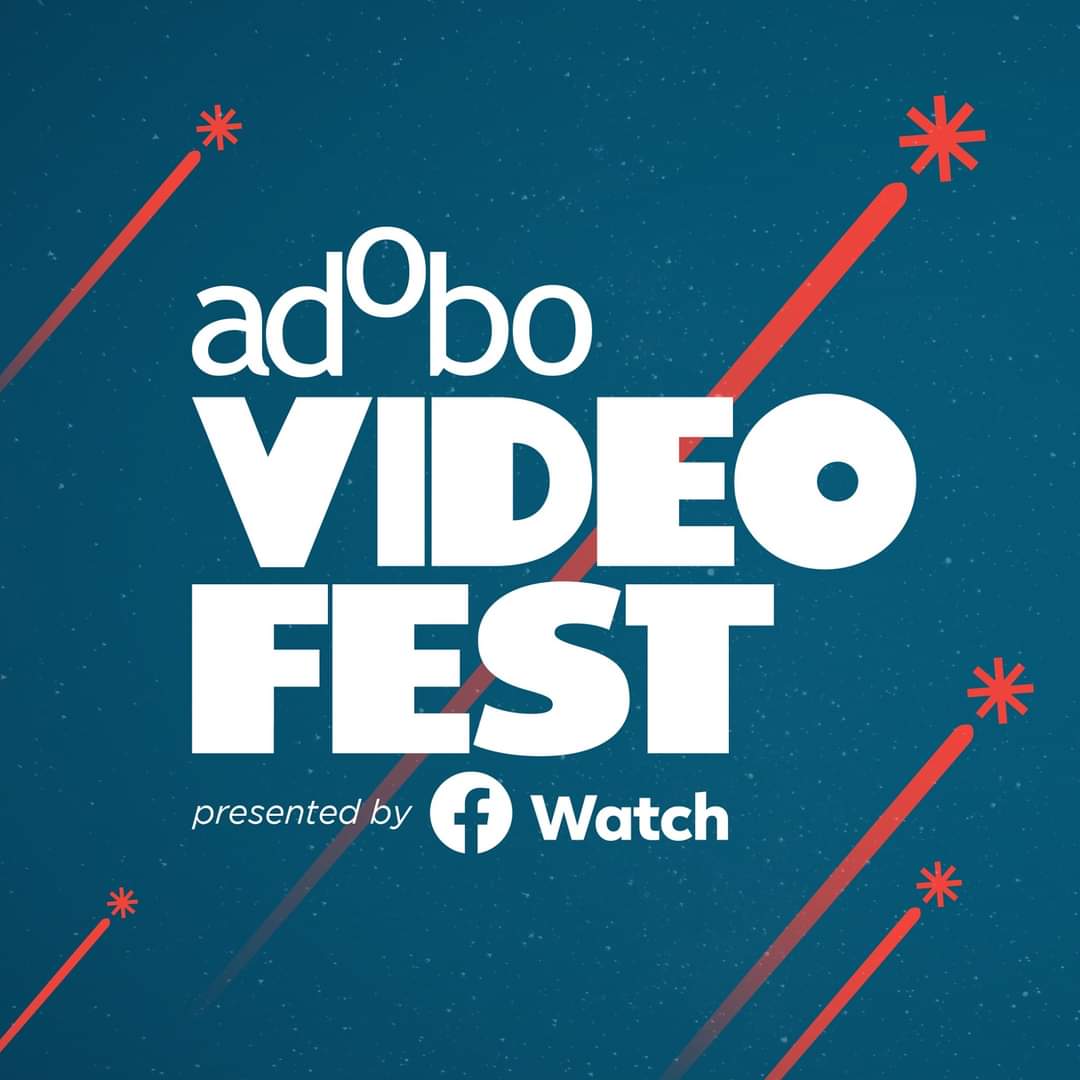 Facebook Watch is the go-to place to discover videos across Facebook and is home to a wide variety of video – from scripted comedy and drama, to competition and reality series, to individual creators and live sports. It is a destination where content, community and conversation come together, with fans joining the conversation by viewing along with others, interacting within show groups, and even connecting directly with creators and talent.
Angel Guerrero, Founder, President, and Editor-in-chief of adobo magazine said, "adobo Video Fest 2021 is the first of its kind and so we, at adobo magazine, are thrilled to be collaborating with Facebook in this feat."
Revie Sylviana Facebook's Entertainment Partnerships Director said, "Publishers and content creators build some of the strongest communities on Facebook – from groups composed of enthusiastic fans to video series that develop loyal followings in Watch. Our support of adobo Video Fest 2021 is part of our commitment to support our diverse community of publishers and creators on Facebook who share original, engaging content that Filipinos love and seek out."
The festival begins with Creative Mobile Video: Masterclasses by Facebook Watch which is a series of three masterclasses that will help both up-and-coming and seasoned content creators harness the power of Facebook Watch.
Two exciting Edu-tainment Web Sessions will be held by Facebook: "Creators in Covid" web session, where creators from the Philippines are joined by creators from around the region to share their creation journey throughout the pandemic. The next web session "Elevate Video Creative Effectiveness for Brands", is a pioneering program that will help advertisers create high impact campaigns using creative content.
Setting the Stage for Mobile Content Production – Understanding the FB Platform, on November 8, 2:00 – 3:00pm PHT+
It's Shooting Day – Lights, Camera, Audio!, on November 10, 2:00 – 3:00pm PHT+
The Cutting Room: Post-Production for Mobile Video on November 11, 2:00 – 3:00pm PHT+
Web Session "Creators in COVID" on November 19, 2:00 – 5:00pm PHT+
Web Session for Facebook advertisers "Elevate Video Creative Effectiveness for Brands" on Facebook on November 25, 2:00 – 3:00pm PHT+
Register here to reserve a slot.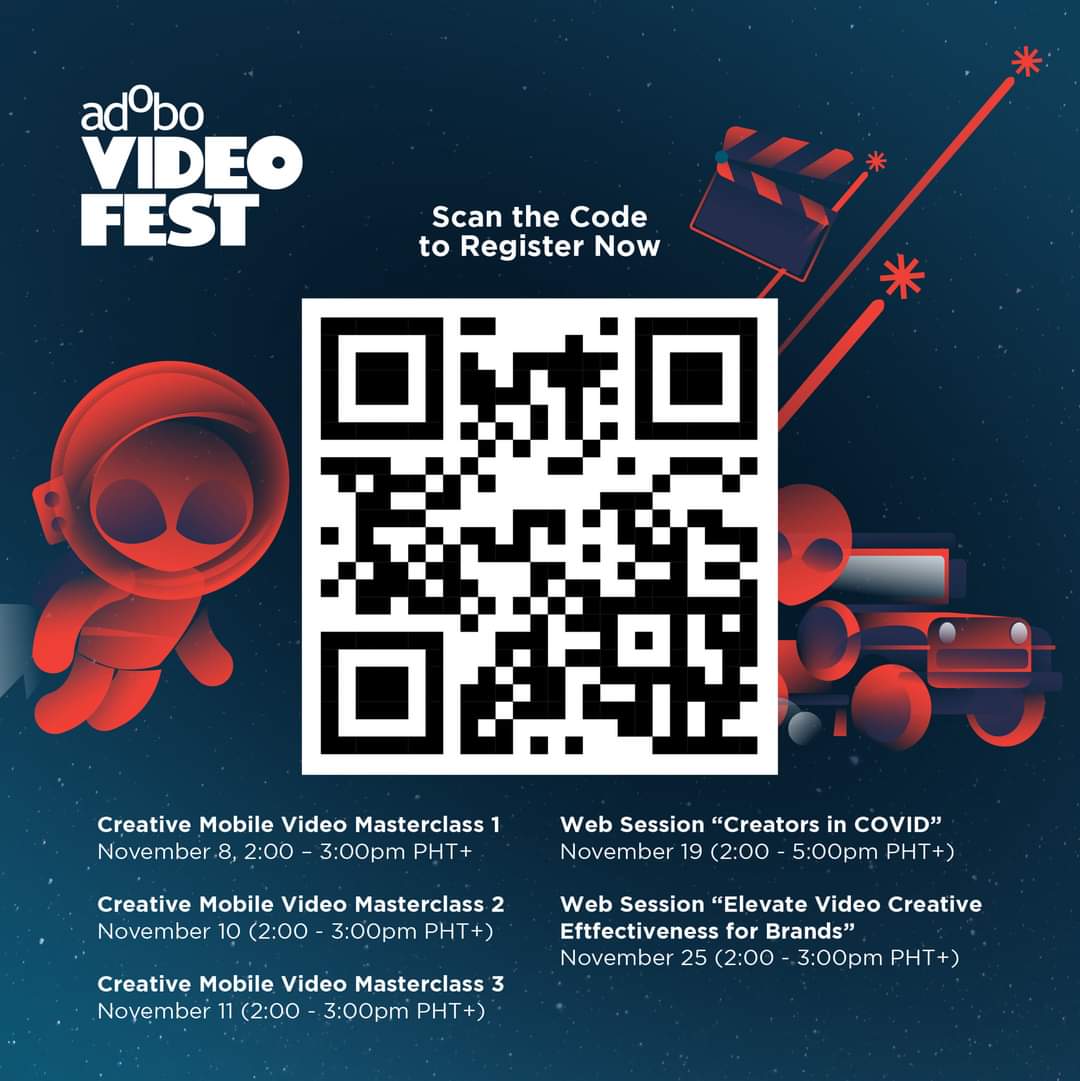 Over 60 entries will be recognized during the Festival Awards night on December 16, 2021, after a rigorous screening process by a jury comprising some of the best names in entertainment and the creative industry. All eligible publishers and content creators who publish videos on Facebook are invited to join!
Submit your entries!
Entries are now open to Filipino content creators, as well as content creators and publishers residing or operating in the Philippines.
Entering your submission is free! Here's how to enter your video for the adobo Video Fest 2021 presented by Facebook Watch:
VISIT adobo Video Fest presented by FB Watch to access category information, guidelines and entry form
DOWNLOAD the Entry Kit here, or REQUEST for the Entry Kit to be emailed here
CHECK entry eligibility via our Submission Guidelines
SUBMIT your entry and receive confirmation by email within 48 hours. You may access the FORM here:https://forms.gle/geYnvKTYxaf8fQeEA
Submissions are now open until November 26, 2021.
Join now and together, let's celebrate the best of the Entertainment We Watch with Facebook Watch.
For any questions, reach out to avf@adobomagazine.com
For Partnerships and Sponsorships: Daisy Torres, daisy.torres@adobomagazine.com, +63917 803 8278
Open for Entries: Oct 25
Creative Mobile Video Masterclass 1: November 8 (2:00 – 3:00pm PHT+)
Creative Mobile Video Masterclass 2: November 10 (2:00 – 3:00pm PHT+)
Creative Mobile Video Masterclass 3: November 11 (2:00 – 3:00pm PHT+)
Creators in Covid Web Session: November 19 (2:00 – 5:00pm PHT+)
Elevate Video Creative Effectiveness for Brands Web Session: November 25 (2:00 – 3:00pm PHT+)
Deadline of Entries: November 26
Video Screening: December 13 – 15
Awards Night: December 16