Worrying about what you'll serve for noche buena or media noche? Don't fret, because Pizza Hut has got your back! Whether you're spending the holidays with family or with friends, you can make your celebration worry-free by ordering your holiday feast in advance!  
With just a few days 'til Christmas and New Year, you can plan your holiday dinner without having to line up at the groceries and spend countless hours in front of the stove or the oven! All you need to do is download the Pizza Hut mobile app, and in just a few swipes and taps, you'll have a delectable feast to share with those you value most.  
Ordering in advance from Pizza Hut is the ultimate holiday hack! No need to prep and cook, just whip out your phone, etvoila, you have a no-sweat holiday feast! So, look no further! Aside from using the app, you can also order through www.pizzahut.com.ph or through the 8911-11-11 hotline—now that's what we call convenient!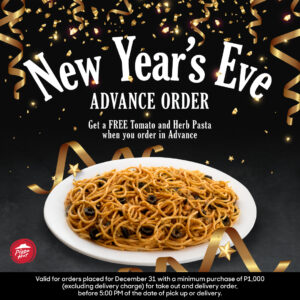 And to make your Christmas and New Year celebration more festive, if you order in advance you'll get a free Family Tomato and Herb pasta with a single receipt purchase of ₱1,000, excluding delivery fee.  
This free pasta promo is only available for advanced orders that are for delivery or pick-up on Christmas Eve and New Year's Eve and are made before 5 PM on the said dates, so make sure you avail of it as early as now!  
Get your holiday feast delivered right to your doorstep, worry-free by using the Pizza Hut mobile app or visiting their website. Pick-up of advanced orders is available for all Pizza Hut branches nationwide. Advanced orders are accepted all year round, up to two weeks before the intended delivery date. To access the full list of operating stores across the country, visit this link: https://www.pizzahut.com.ph/store-list.  
Take away the stress of preparing your holiday dinner by ordering in advance today! 
To get the latest information about the latest offerings and promos from Pizza Hut, visitwww.pizzahut.com.ph. You may also like and follow them on Facebook, Instagram, andTwitter.