Kids and adults look forward to celebrating the holidays with gifts and good food. While Christmas might be different this year, you can still make it special by dining with your loved ones on some home-cooked family favorites.
If you're looking for ideas for your Noche Buena feast, here are some easy-to-cook and delicious recipes that you can try. Level it up even further by using El Real.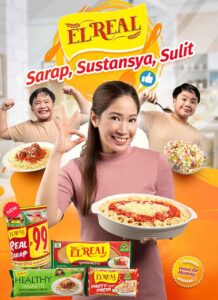 Classic Chicken Alfredo
For a classic pasta dish that your family will surely love, try this Chicken Alfredo recipe:
What you'll need:
900g El Real Spaghetti
1kg Chicken breast fillet strips
2 tbsp olive oil
2 tbsp butter
2 cups cream
1 cup milk
¾ cup water
1 large onion, chopped
6 cloves garlic, chopped
1 can button mushrooms
1 tbsp Italian seasoning
¾ cup grated cheddar cheese
¾ cup grated parmesan cheese
Procedure:
– Cook El Real Spaghetti in lightly salted boiling water. Drain and set aside.
– Heat olive oil in a pan. While heating oil, season chicken strips with salt and pepper.
– Cook chicken strips in pan for 7-10 minutes per side.
– Once cooked, removed chicken from pan. Do not turn off the heat.
Melt butter in the same pan used to cook chicken.
– Sautee minced garlic and onions until soft and fragrant. Add in mushrooms and continue to sauté until fragrant.
– Slowly pour in milk and cream, and mix. Add in water and boil until sauce thickens.
– Slice cooked chicken strips into cubes and toss them in to boiling sauce.
– Season sauce with Italian seasoning, salt, and pepper.
– Serve sauce with cooked El Real pasta and top with parmesan and cheddar cheese.
Enjoy!
Creamy Tuna pasta
Into red sauce more? Try this mouthwatering Creamy Tuna Pasta recipe:
What you'll need:
El Real Sarap Sweet Style bundle pack 1.7kg (800g Spaghetti and 900g sweet style spaghetti sauce)
2 cans tuna flakes
1 large can mushrooms
1 small onion, chopped
5 cloves garlic, chopped
3 tbsps butter
½ cup all-purpose cream
½ cup water
1 cup grated cheese
Salt and pepper to taste
Procedure:
– Cook El Real Party Pasta in lightly salted boiling water for 8 minutes. – – Drain and set aside.
– Melt butter in hot saucepot
– Sautee onions and garlic in melted butter
– Right before garlic turns golden brown, toss in tuna flakes followed by mushrooms and continue to sautee until mushrooms are tender.
– Once mushrooms are tender (about 2 minutes), add in El Real Sweet Style Spaghetti Sauce and let boil for a few minutes.
– Add in water and cream then season with salt and pepper. Continue boiling for 3-5 minutes.
– Serve sauce with cooked El Real spaghetti and top with cheese.
Enjoy!
Made with durum wheat, this pasta can absorb and blend well with your sauces. It's also a good source of iron, fiber and protein so you can be sure that you're serving something nutritious for the family.
This season, have a Merry Christmas with your family by preparing a delicious Noche Buena feast using El Real. Grab this Sarap, Sustansya and Sulit El Real Pasta in groceries and supermarkets nationwide.
For more recipes, follow El Real on Facebook. El Real is a pasta brand from Universal Robina Corporation, makers of well-loved goodies such as C2, Chippy, Cloud 9, Magic Crackers and Maxx.