In 2021, 2.9 million Filipino children aged 0-10 years were estimated to have experienced hunger. Prolonged hunger in children results in malnutrition, which then often leads to stunting or being too small for their age. This issue is often linked to unsafe water, inadequate sanitation, and poor hygiene that often results to children developing various illnesses, diarrhea being one of the most prominent. The alarming number and the need to do something now is what birthed the #BatangMatatag, a movement that aims to extend health, nutrition, sanitation, and education access to conflict-affected areas in the country.
With the vision of building resilient children and communities, the #BatangMatatag movement was started by Save the Children Philippines and Erceflora Kiddie – focusing efforts on providing access to clean and nutritious food to communities in the Bangsamoro Autonomous Region in Muslim Mindanao (BARMM) via the Life Changer for Children initiative of Save the Children where community facilities will be provided to ensure access to hygiene, sanitation, and education.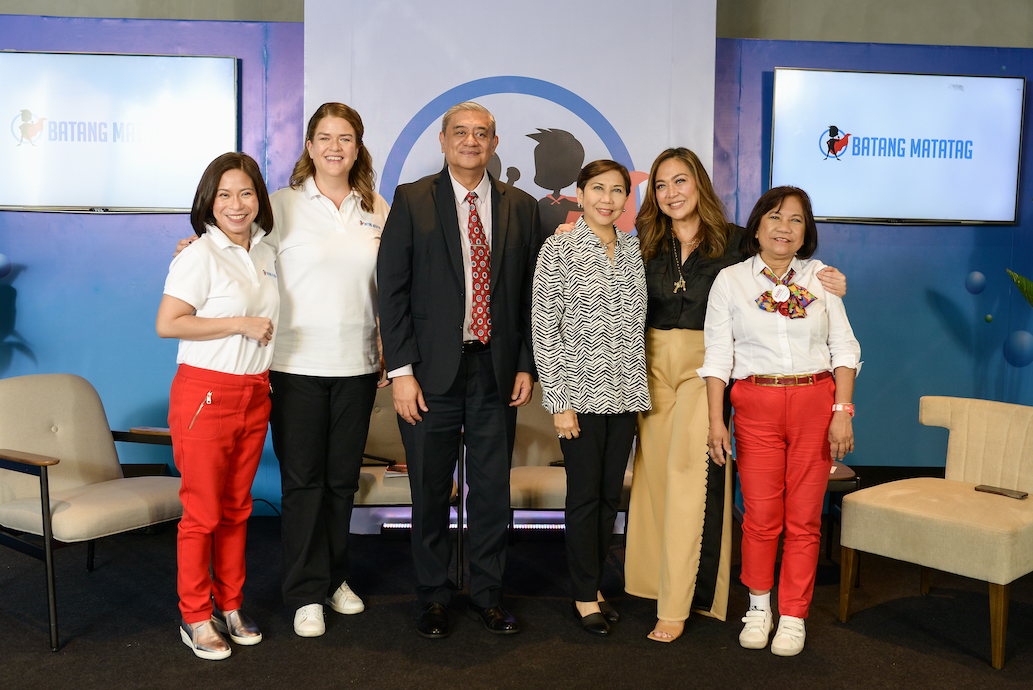 To bring light to the movement, Dr. Joselyn Eusebio, Specialist for Developmental and Behavioral Pediatrics, Carol Ann Stewart, Batang Matatag Ambassador, and Atty. Alberto Muyot, Chief Executive Officer of Save the Children Philippines came together to initiate critical discussions on the state of child healthcare in the country, the situation in BARMM, and how the bigger Filipino community can be part of the solution through the Batang Matatag Movement. Renowned journalist Karen Davila served as the facilitator of the discussion.
"The lack of proper education, nutrition, and sanitation could lead to repeated cases of illnesses like diarrhea. Making people aware and getting them involved allows us to prevent the worst-case scenario from happening," said Stewart.
#BatangMatatag Movement: Taking Action
To provide a more in-depth explanation of the campaign, Stewart shared Batang Matatag's purpose, goals, and key initiatives to build resilience among Filipino children. Stewart also reiterated the importance of forming partnerships to live out their purpose as an organization and how it relates to their self-care mission.
She highlighted that the key to the campaign is realigning people's focus on preventative measures and building the resilience of kids through implementing and maintaining sustainable facilities in conflict-affected areas in BARMM.
"We hope that everyone realizes that they are part of a bigger movement, one that could potentially improve the country's health and nutrition status," Stewart said. "We hope this would be a steppingstone for Filipinos everywhere to continue spreading awareness and maintaining the good practices in proper food preparation and sanitation," she added.
Stunting and Wasting: A danger to child growth and development
To expand the conversation of what Batang Matatag is trying to address, Dr. Eusebio provided insights on how stunting, wasting, and illnesses like diarrhea affect children's growth and development, and the industry's ongoing efforts and plans in addressing the issue.
"Illnesses like diarrhea is a preventable disease; what our communities need is proper awareness and education on easy and accessible ways to prevent it. We hope to address the lack of information on the disease and encourage people to take proactive measures at home and in the community," Dr. Eusebio said.
BARMM: A community in need
Following the conversation on children's nutrition and illnesses like diarrhea, Atty. Muyot of Save the Children Philippines provided context on the situation in BARMM, what the organization does to help conflict-affected communities, and how the #BatangMatatag Movement comes into play.
"BARMM is one of the most underserved areas in the country, but it also has a lot of potential to thrive and prosper with their rich culture and history; can create positive lasting change in the lives of children and communities in BARMM if we collaborate, support, and journey with them, especially children, in realizing their rights," he said.
Atty. Muyot then explained that as a children's right organization, Save the Children Philippines hopes for a future where all #BatangMatatag children live healthy, have access to inclusive and quality education, are protected from all forms of harm, and are able to participate in matters that are important, and which affect them.
Davila concluded the event by emphasizing the importance of "bayanihan", especially parents in making this campaign a success
The #BatangMatatag Movement helps the public to understand the severity of issues like diarrhea and child nutrition, especially in areas like BARMM. Through this, Batang Matatag is working towards building healthier communities where children will survive and thrive, have access to quality education, and be protected from preventable diseases.
Batang Matatag is a movement that has the potential to lead BARMM and the country one step closer to improving the health and nutrition of the Filipino children, and everyone can play a part in it. For every purchase of Erceflora Kiddie, a portion goes to helping improve the lives of children in BARMM.