The leading e-commerce platform in Southeast Asia and Taiwan, Shopee collaborates with adidas to launch "Ready for Sport," its first regional Super Brand Day (SBD) in the Philippines and across five other markets. Through this collaboration, adidas aims to reinvent the online sports shopping experience to reach and engage more mobile-first shoppers. This effort is part of its growth strategy for e-commerce in the region.
More people are working out and shopping from home in this new normal, which has led to a boom in demand for athleisure products and sports gear. The adidas Super Brand Day serves to excite users with a fun and interactive shopping experience on Shopee. For instance, users can participate in sports challenges led by KOLs and celebrities to win prizes and access fitness-related content. As live stream shopping continues to gain prominence among shoppers, adidas will host a free workout session on Shopee Live, where users can score discount vouchers and purchase exclusive adidas products.
Martin Yu, Associate Director at Shopee Philippines, said, "Sports and athleisure is a growing category as more of our users turn to online shopping for convenience and to get the best deals. We're excited to partner with adidas in bringing their first Super Brand Day to Shopee, where users can enjoy a more interactive experience when shopping for adidas products. We're confident that our Super Brand Day campaign's popularity will boost their online visibility, traffic, and sales. We remain committed to supporting brands in achieving their e-commerce ambitions through our robust suite of brand solutions."
Starting November 26, Shopee users will get to access three days of special features on Shopee Live, take part in games and activities, and enjoy promotions on the official adidas store. Users can look forward to:
Exclusive adidas originals on Shopee: The adidas Originals Flower Pack for women and Patch Work Pack for men will be available exclusively on the adidas official store on Shopee.
adidas ORIGINALS Stan Smith Shoes Women White Sneakers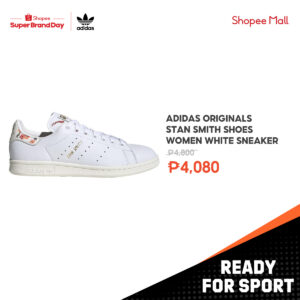 adidas ORIGINALS Superstar Shoes Men White Sneakers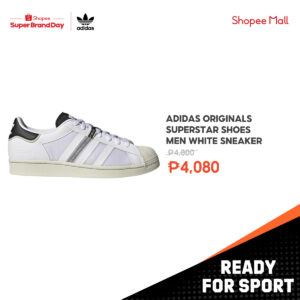 adidas ORIGINALS Superstar Shoes Women White Sneakers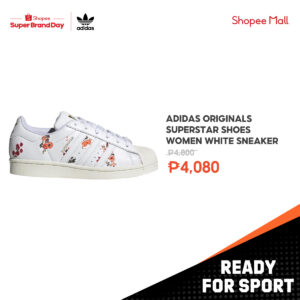 Special Promos: Shoppers can also enjoy up to 50% off and a "Buy 3, get an additional 55% off" promo. On November 27-28, users can look forward to discount vouchers up to 15% off.
adidas 'ReadyforSport' LIVE workout on Shopee Live: Viewers can join a 20-30 minute workout session led by a qualified instructor. They can enjoy vouchers unlocked at the end of the session as a reward for completing the workout. Shopee Live viewers can also win exclusive adidas originals. All featured adidas products will be available for purchase on their official store on Shopee Mall.
Special adidas edition of Shopee Catch: Users can earn points by playing the in-app game, where they will have to catch adidas merchandise using an adidas sports bag while avoiding bombs. Users can exchange points for Shopee coins and adidas discount vouchers. In addition, players can also win discount vouchers of up to 30% off.
Check out the official Shopee store of adidas at https://shopee.ph/adidasph.
Download the Shopee app for free on the App Store or Google Play Store.